Feature
Behind the scenes with Carlos Sainz: Movie night, testing and P6 in the championship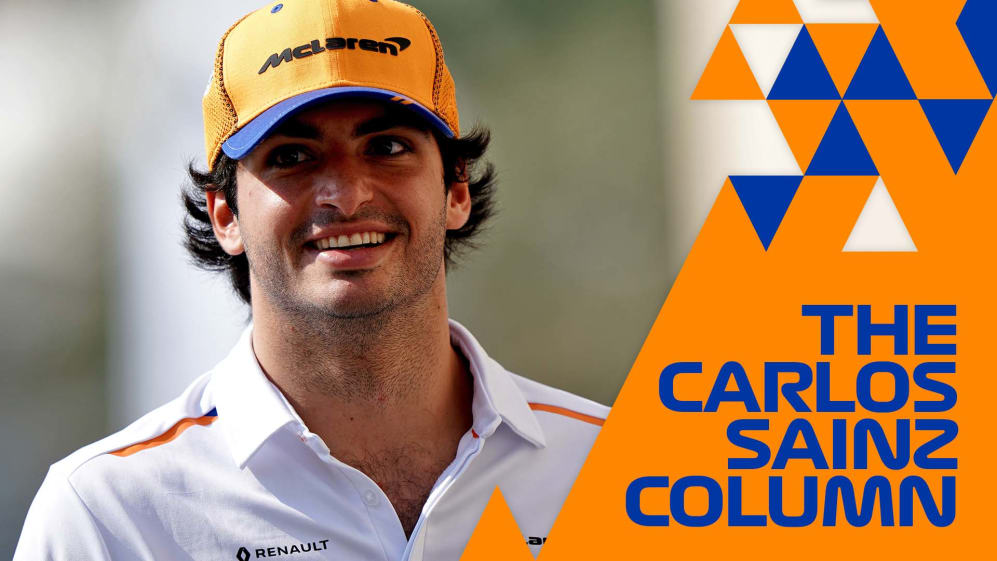 Hi everybody, this has been a strong first season with McLaren and I'm happy to have fought right until the end to secure P6 in the championship and help the team finish fourth in the constructors' championship.
A single point has never meant so much
Abu Dhabi is a great venue and an awesome place to celebrate the close of the Formula 1 season. For me, it was a huge race weekend as I was in the fight against Pierre and Alex to finish sixth in the drivers' championship and securing that position would have been the icing on the cake following a great season for myself and the team.
The motivation was tremendous and we put a lot of pressure on ourselves to treat it like a championship title decider (hopefully in preparation for the near future!) The whole weekend was smooth until Q3. I was a couple of tenths quicker than the rest of the midfield in the opening two segments of qualifying. However, on my last run, I was caught in a chaotic out-lap losing time and temperature on my tyres with the Ferraris, Max and Lewis as they went by. That meant I couldn't prepare the lap properly and I didn't extract the maximum performance of the car.
I started eighth on the soft tyres and was therefore one of the lowest starting drivers on the weaker strategy, as those behind me could start on the more durable medium tyre. Knowing it was going to be tough, we preferred to stay focused on our chances and, heading into the race, we kept ourselves in a positive mood.
We had a good start and I managed to get past Daniel. We were very fast in the first stint, but we decided to go long and lost the position to Daniel as he undercut me. Once I pitted, with the team planning a one-stop strategy, I knew it was going to be a long race on the hards till the end.
We passed Daniel again without DRS on track, putting me back behind Lando. But I was overtaken by Nico Hulkenberg into Turn 8 as soon as he left the pits on fresh mediums, as he extended the first stint even more than us. For the next 30 laps, we kept our positions and I managed my tyres in case I had to go until the end.
At that point, I was wary of Checo and Kvyat, as they had started on the medium tyres – which gave them a much faster strategy. Once they pitted, they had the upper hand on us with the fresher tyres.
Staying out on that one-stop strategy was no longer looking like the right strategy to score the point that I needed and as soon as Checo got behind me we decided to pit again. That meant I had to recover all the way back to Hulkenberg and overtake him in the last laps of the race. Those 15 laps were proper qualifying laps! We were pushing flat-out and I managed to pass Nico on the last lap into Turn 11. You'll see the pass in the video below. It was quite risky, but worth it because it gave me the point that got me P6 in the championship!
Chill time before testing
After a busy weekend, we took Monday off before post-season testing started on Tuesday. We spent some time at the beach during the day and then I headed to a very cool cinema in the evening with my girlfriend, Caco, Rupert and his girlfriend to watch Ford v Ferrari.
It was a pretty fancy place, where you ordered dinner before taking you up to the cinema with super comfy seats (pillows and blankets included) and once the movie started, they served us our meal. I've never seen anything like it! It was a great experience and we ate plenty of nachos!
Back down to business
On Wednesday, I was back in the car to test the 2020 tyres. This test is more important than most people think. I'm a big fan of testing, I enjoy it a lot. I can't understand why some drivers prefer skipping testing instead of having another 100 laps in a F1 car.
We don't do much testing these days, so any chance you get is good to test new tyres or set-ups which you simply do not have time to do during the season. In Abu Dhabi this week I even got to try two different Sparco race suits for next year, which are more fire resistant (although it felt weird to be dressed completely in white!).
If I ever get the chance to drive, I always say yes! Getting back behind the wheel was a great way to finish off a great season with the MCL34, which has been a very good friend. It was a bit sad to say goodbye to him.
Thanks for your support
Since the day I arrived at McLaren, I had good feelings about the team, the car, the atmosphere and the direction this team was taking.
The season had some difficult moments, such as the beginning of the year and straight after the summer break, with different issues out of my control leaving us without points in three consecutive races each time. But we never gave up. I knew we had some bad luck and it was only a matter of time before things started to go our way. We kept our heads down, focused on our core principles and then the points started coming.
There are still many areas of improvement and it would be a tremendous mistake to lose that focus we have been able to keep this whole season. In terms of general performance, we have consistently been one of the few teams fighting to dominate the midfield every weekend and we were rewarded with fourth in the constructors' championship. On top of that, finishing P6 for me in the drivers' championship was probably unthinkable at the start of the season, so it feels great to achieve our most ambitious goals this year.
I´m very grateful to everyone at the team, both at the factory and at the track, and I also want to send a very special thank you to you the fans for such amazing support. I appreciate all the messages and I´m grateful for you coming on this journey and reading my column. Have an amazing winter – then bring on 2020!