Feature
Behind the scenes with Carlos Sainz: Rebounding in the race, hide and seek, and stunning Silverstone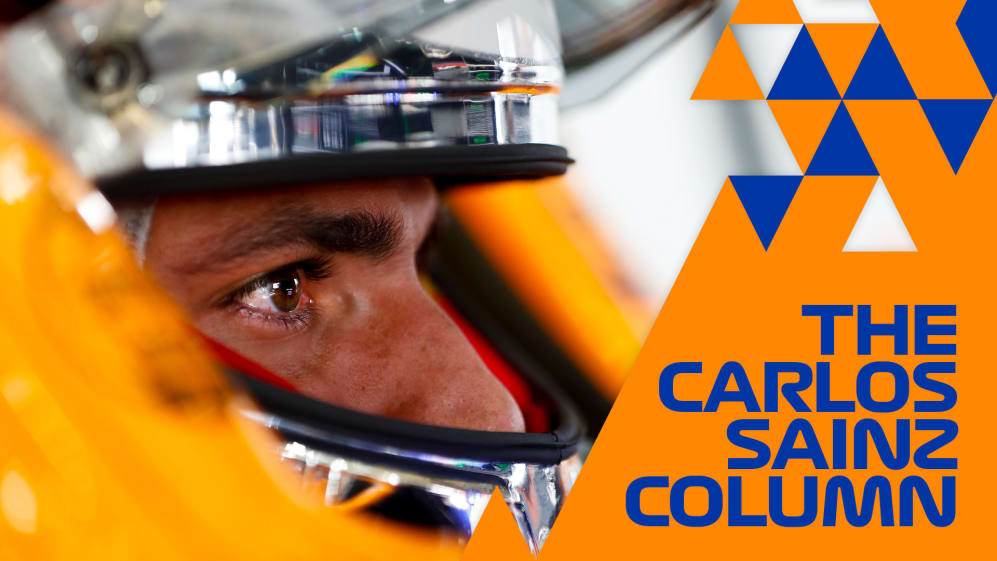 Hi everybody, I was super excited to head to Silverstone. Not only is it a really special Grand Prix in the history of Formula 1, but it is also McLaren's home race and the first time I headed there in papaya colours…
Qualifying proved challenging
I'm obviously very happy with sixth place and best of the rest, especially as qualifying was pretty tough for me. I ended up 13th on the grid and that one-hour session simply shows that the slightest issue during a push lap can cost you a lot of places in this tight midfield.
After a couple of strong weekends where we were definitely fourth-fastest car, people tend to assume we are already ahead of our direct competitors. The reality is that, with such a tight field behind the top three, I would expect to see other teams on top of the midfield depending on the track. Therefore, Silverstone was just another reminder of how hard we need to keep pushing if we want to keep that fourth position in the championship standings.
Personally, Saturday was challenging. The team at the factory did a great effort and a fantastic job in bringing all the upgrades on Saturday before FP3, but unfortunately the early rain that morning meant we lost some valuable time on track. Into qualifying, having a good Q1 is important for a driver. It gives you an idea of how the session might go and allows you to narrow down the areas of improvement. I had a very strong run in Q1, where I felt a bit more comfortable with the car than in the previous sessions. At that point, I felt like Q3 was clearly the target.
But then things changed. The car became more oversteery, I lost the feeling and momentum with the rear of the car and, ultimately, I missed out on Q3 by a tenth and a half with a time slower than my Q1 run. A blink of an eye that in the midfield means a lot!
We have since done our analysis and we now fully understand what went wrong. That helps to be calm about what happened but, at the time, it obviously hurt. As a driver it is key to understand these situations and to keep learning how your car reacts in different conditions.
Bouncing back in the race
Going into race day, I started with the medium tyre and made the progress at the start which I needed to, passing both Alfa Romeos to be the lead car on the mediums. It was another good start. I then waited patiently behind the soft tyre runners as I knew they would pit before me. The key here was to save tyres to make sure I had good pace when they pitted.
When they started to dive into the pits, I started pushing and was actually faster than people who had just pitted for Medium tyres. Before the Safety Car our strategy was going exactly to plan and I was already overcutting other cars. On top of that, the Safety Car came out in a good moment, it´s a fact, and it made our pit stop calmer.
I´ve read here and there that I finished P6 just because of the Safety Car when it´s actually very far from true (even though we will never know what could have happened without it, obviously). If there had not been a Safety Car, I would have done my only stop for Hard tyres and come out just behind Lando and Daniel, who both pitted earlier for the Medium tyre in a two-stop strategy.
Therefore, they still had to pit again and I would have been between 12 and 15 seconds up the road, already in front of the midfield. Looking at the pace of the last stints it was very unlikely the other midfielders could have recovered that gap and then overtake me. The key to my race was not the Safety Car (even though it helped), it was the start and the first stint on a one-stop strategy. Similarly, I think the timing of the Safety Car didn't give Lewis Hamilton the win either because he was also on a one-stop strategy so he would have got ahead eventually.
I'm happy with the race, it's another P6 and another best of the rest result. The only downside of Sunday was that Lando didn't get in the points. He drove really well and him and the whole team deserved another double point finish at our home GP.
Hide and seek
Being the home grand prix of McLaren meant it was a very intense weekend. There were a lot of media appearances and a lot of meet and greets with guests. On Sunday, Lando and myself thought the weekend was over after we had done our post-race media interviews, but we then realised we had one more appearance in the fan forum. We could hear Charlotte Sefton, our Senior Communications Manager, coming up the stairs into the engineer's office to pick us up and we decided to joke around with poor Charlotte. We both run to the far end of the office and pretended to hide from her. As you can see in the video, one of the engineers shouts out "if you don´t move, she won´t see you!" so we are now considering a Jurassic Park nick name for Charlotte. I´m sure you can guess which one!
Even though we were tired, it was an absolute pleasure to attend the fan forum after the race and it was absolutely amazing how many people were still there. I went back to the Paddock with no boots or knee pads (having thrown them into the crowd} but it was totally worth it!
I want to say a big thank you to the British fans for the support they have given McLaren this weekend. I can assure you I definitely felt a great amount of optimism and pride of being part of the McLaren family. You could see a lot of papaya all day long the whole weekend. It has been an honour to drive for McLaren at Silverstone for the first time and an experience I will never forget.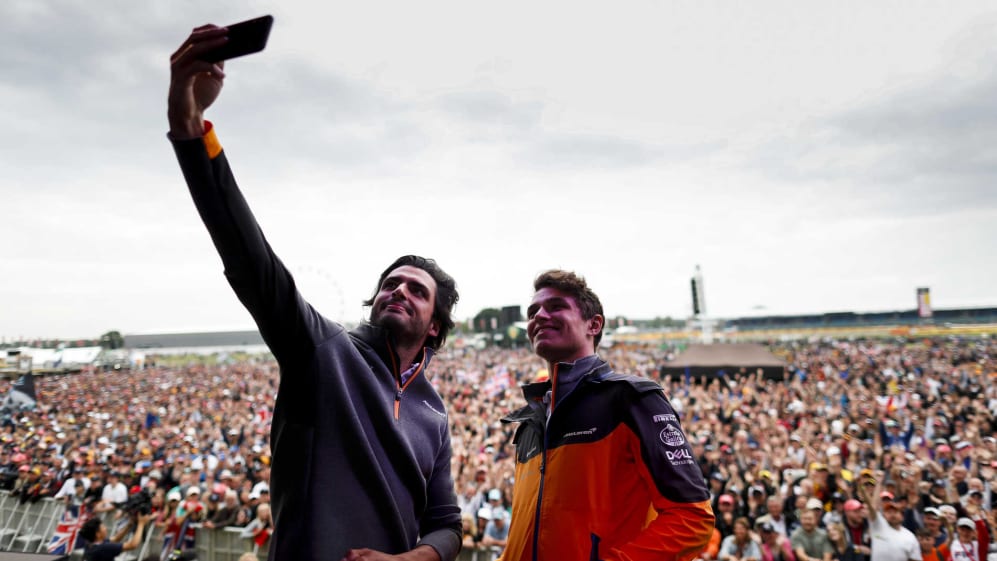 When we got back from the Fan Forum, attention turned to Wimbledon and the Cricket World Cup. Even though I used to play cricket when I was younger (I studied in a British school back in Madrid), I'll confess I´m not a huge fan of the sport but it was a big thing for the team as England were in the final against New Zealand and the cricket had been on the TVs in the motorhome throughout the race weekend. Unsurprisingly, there was a huge cheer when they won in dramatic fashion. As you'll see from the video, my cousin and I didn't really know if it was the end of the game or not. We needed Rupert to confirm! Anyway, congratulations England! Not sure I'm a cricket fan, yet, though!
Silverstone was a stunning spectacle
This British Grand Prix was one of the best races in the recent history of F1. Seeing such great battles between Lewis and Valtteri, Max and Charles, Daniel and myself, etc. pushing flat out in these F1 cars was a stunning spectacle. To be able to battle wheel to wheel at the speeds we are doing nowadays is the best thing possible for drivers and fans.
For me, there is an important factor which led to such a good race. We have had a new track surface at Silverstone, which meant the tyres were not degrading. They were wearing out due to the energy we put into them at these speeds, but not degrading badly. We could basically push flat-out in pretty much every corner throughout the whole race. Not caring about the degradation meant we could take the cars to the limit for longer parts of the race and it was brilliant to see we could still push hard as the fuel levels were coming down. It also made the racing better as we were able to follow another car more closely.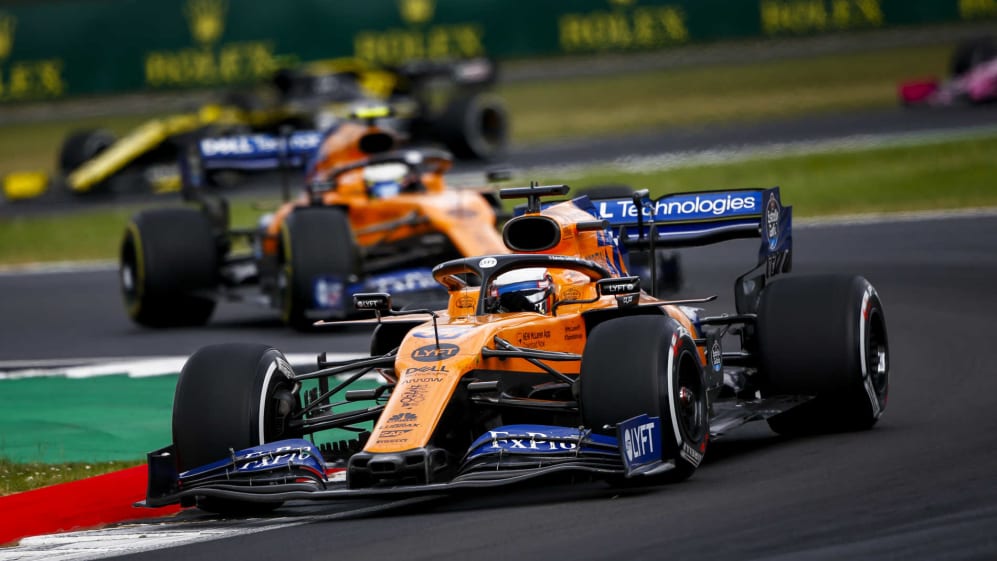 I think it's a great example of what the drivers want from Pirelli in the future - a tyre that allows us to push hard more time. To Pirelli's defence, the cars are super heavy, they create a lot of downforce so there is always going to be a lot of degradation if you don't have a new asphalt like Silverstone. But we had a spectacular race and we should learn from it. It was brilliant for us drivers and that obviously has an impact on the show we can put out there for the fans.
Thanks for joining me on this journey by reading my column. I can't wait to get back on track at Hockenheim and then the following week in Budapest. Have a great couple of weeks and chat to you just before the summer break!