Belgian GP performance 'nothing to be proud of' says Norris after point-less outing for McLaren at Spa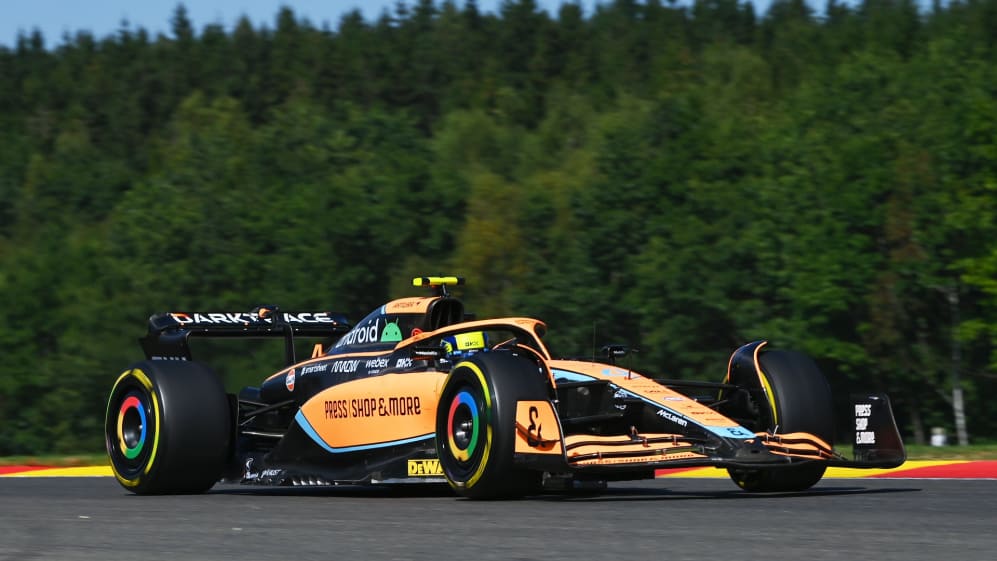 It was a point-less afternoon for McLaren at the Belgian Grand Prix, as Lando Norris and Daniel Ricciardo took the chequered flag in P12 and P15 respectively, and after the race Norris said the team simply didn't have the pace to compete at the famous Spa circuit.
Norris started the race in 17th after taking a penalty for changing components on his power unit ahead of the Grand Prix, and after a steady start the Briton made it up to P9 by Lap 11 before pitting for the hard tyre.
But after making his final stop, he was stuck in a DRS train led by Alex Albon, forcing him to settle for 12th at the flag. And while he was disappointed with the result, he believed McLaren did all that they could over the course of the weekend.
READ MORE: Wolff concedes Verstappen 'in a league of his own' as he urges Mercedes to recover from Spa 'depression'
"It was a tough race, not easy to overtake at all," said Norris. "Conditions were tricky, not a lot of grip, so just getting a good run out of one [corner] and preparing a good overtake was pretty much impossible.
"It was tough. We tried. P12, nothing to be proud of. I think we did the best job we could, so we have to be happy with that, but the pace was just a long way off from where we need to be."
Norris was also asked if McLaren's issue where track specific, to which he said: "I'm not sure. A little bit. I think gaps between everyone looks bigger than normal. The Red Bull are like two seconds ahead of everyone now. Ferrari are a long way ahead of everyone else.
F1 NATION: A dominant performance from Max and Audi's announcement – it's the Belgian Grand Prix review
"Just for this track, running a low downforce I think maybe just exposes more issues and more problems with everyone. So, I hope it's a little bit track specific because Alpine were so much further ahead today. I don't think a lot of it is. A lot of is just they've been quicker all season and today is another day that they are quicker."
He continued: "We will keep working and see if there is anything we can find for Zandvoort but it's also high downforce so I'm also hoping it at least brings us a little bit closer."
After starting in seventh but finishing in P15, Norris' team mate Ricciardo was also asked to discuss his day out at Spa, to which he said: "I… was able to get Albon I think at the start. And then it was a bit of a mess with [Fernando] Alonso and Lewis [Hamilton], and I was trying to get here and there and obviously Lewis was nursing the issue and I kind of just got a bit whatever in that situation and [Sebastian Vettel] got me.
READ MORE: 6 Winners and 5 Losers from the Belgian Grand Prix – Who shone in the Spa sunshine?
"We still obviously had Albon, we thought that was a critical one, but I think a couple of laps later he sailed past on the straights. I think that while his tyres where fresh they could use the straight-line speed and make the gains they needed too. So, we were just too slow on the straight, that was the biggest thing.
He continued: "A little bit unfortunate because after the issue yesterday, it's not the wing we wanted to run but we were forced too, and we knew today it was probably going to hurt us. So then thinking clear air we were quicker, but we never had clear air because if I had it, if I didn't have a slipstream someone would pass me and if I was right behind someone even with DRS, we couldn't make an overtake, so pretty long old day."