Binotto expects advantage to shift 'race by race' between Ferrari and Red Bull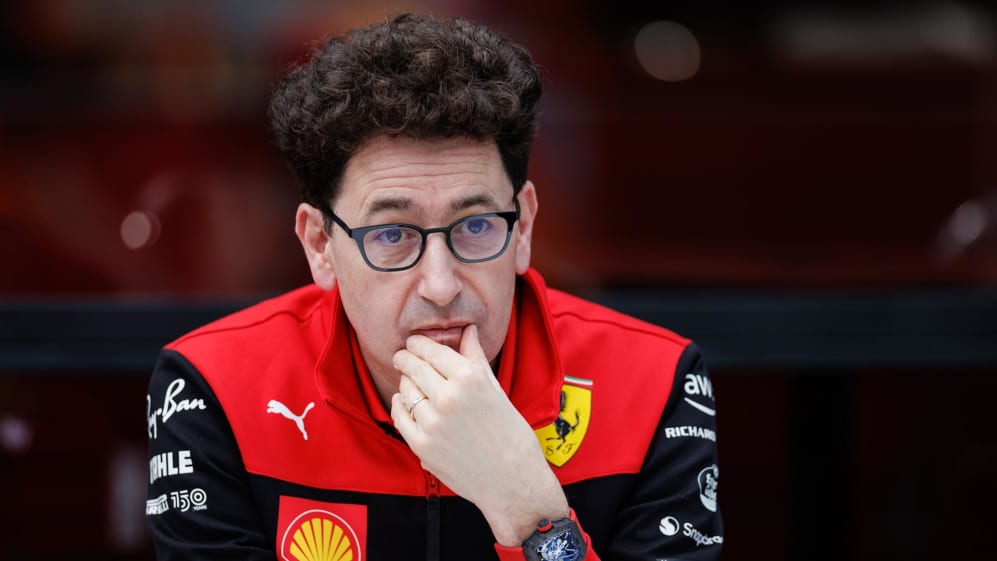 Ferrari Team Principal Mattia Binotto said after the team's challenging home race weekend at Imola that the advantage will continue to swing between his squad and Red Bull – who clawed back their points deficit with a one-two finish on Sunday.
Charles Leclerc stood on 71 points, 46 ahead of Max Verstappen, before the Emilia Romagna Grand Prix weekend – while Ferrari had a 49-point lead over Red Bull – but their respective advantages have been cut down to 29 and 11 points after Red Bull's dominant Imola showing.
F1 NATION: Adrian Newey on the Red Bull vs Ferrari fight – and which team is fastest
"We are a bit unhappy about the results today, but we need to keep our heads up – that's part of racing," said Binotto, after Carlos Sainz retired early on and Leclerc spun before finishing P6 at the end of the race. "Some races may go wrong, as it has been today, but I think we still have a competitive package. We need to keep the smile on and look forward to the next races.
"Certainly, [Red Bull] are strong, and we know that they are developing the cars, but two weeks ago we were in Australia with the best car. Today is the opposite; it will be race by race, the balance can change a bit but again we had a good package here overall. We were second in the quali, second in the wet conditions and in the dry we had a good Sprint," added the Ferrari boss.
The Scuderia, unlike Red Bull, Mercedes and numerous other teams, didn't bring a significant upgrade package to Imola. Binotto explained that his team are still 'reviewing' their position in what will surely be a long development battle.
"We know that developing will be a key element of the season no doubt, we know that Red Bull will be very strong, they are coming back but again we will review the results of today and move forward."
TECH TUESDAY: A look at Red Bull and Mercedes' Imola upgrades as the development race kicks off
As for Ferrari's strategy – the team left with one driver in the race after Sainz's early contact with Daniel Ricciardo – Binotto said there was little choice other than to pit Leclerc late on, on Lap 49, before he crashed at Variante Alta.
"No, it was not necessary [to stop] for tyres, we didn't do that for fastest lap – we did that because we thought it was the best option for us, try to have some opportunity. We knew that Red Bull would probably react, so everybody was resetting on the new tyres, and [we thought] 'let's go for it'.
"And I think Charles was attacking Perez at the time so it was the right choice to pit to create that situation, but obviously he made a small mistake. Again that is something that can always happen, so we should not be too disappointed."
WATCH: Sainz, Norris and race winner Verstappen all feature in the best team radio from Imola
While the result wasn't ideal for Ferrari, they still head to Miami in the lead of both championships and Binotto thanked the fans for their unwavering support at Imola.
"I think we always said we are not only a team; we are a family and we are a family as a team together with our tifosi. That's why I'm happy to see so many people here, so many tifosi," he reflected after the race.