Binotto hails Ferrari progress after no points in France to almost winning at Silverstone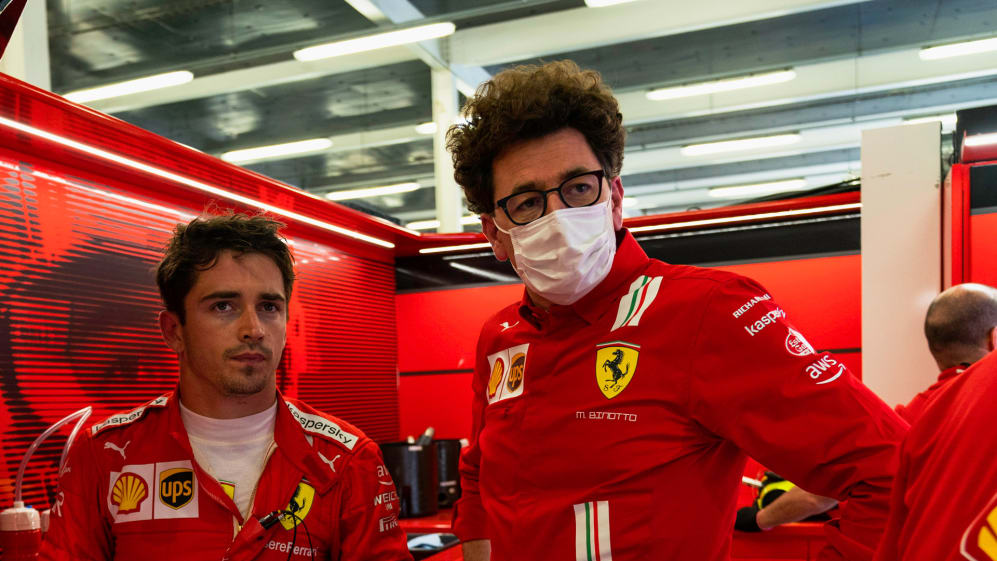 Ferrari Team Principal Mattia Binotto lauded Ferrari's performance at Silverstone as the Scuderia have now scored more points after 10 races this season than they did over the whole of 2020.
A third consecutive double-points haul for Ferrari as Charles Leclerc led 49 laps on the way to P2 and Carlos Sainz's took P6 (hampered by a slow pit stop) marked a huge improvement, given they failed to score in the French Grand Prix, four races ago. And despite missing out on victory in the British Grand Prix by just a couple of laps, Binotto was still happy with the result.
GALLERY: Mick Schumacher drives father's first F1 car – the Jordan 191 – at Silverstone
"I think obviously it was disappointing [to lose out on the victory to Lewis Hamilton] two laps from the end but I think we should be pleased as well: pleased with the race performance, for the entire weekend performance.
"After France as well I think the team results, we somehow understood the weaknesses and now this is three races in a row where we have had good pace in the race, which was a weakness at the start of the season, showing that as a team we are progressing and that is what I am more pleased [about] especially when we look at the second part of the season," he said.
France was a moment of concern for the Maranello squad, as their lack of competitive pace left Sainz and Leclerc shocked, with a number of factors contributing to their difficulty in getting the front tyres to work properly.
Binotto was coy about the work his team had done to rectify those issues for the next three races as he said: "I won't go into the details, but we certainly worked a lot in the simulator with simulations, with the drivers, with the team, trying to get a better understanding of what's wrong, how to address it – and I think this is what I'm happy and pleased, to see the progress."
READ MORE: Hamilton open to Verstappen talks before Hungary, and says 'there needs to be respect on track'
Hungary hosts the next race and the Hungaroring is a venue that is thought to suit Ferrari, with a string of low-speed corners, and historically high temperatures. With Leclerc finishing second last time out, does he see a win on their horizon?
"Not the win; the one two!" was his, perhaps slightly tongue in cheek, prediction.