Hamilton open to Verstappen talks before Hungary, and says 'there needs to be respect on track'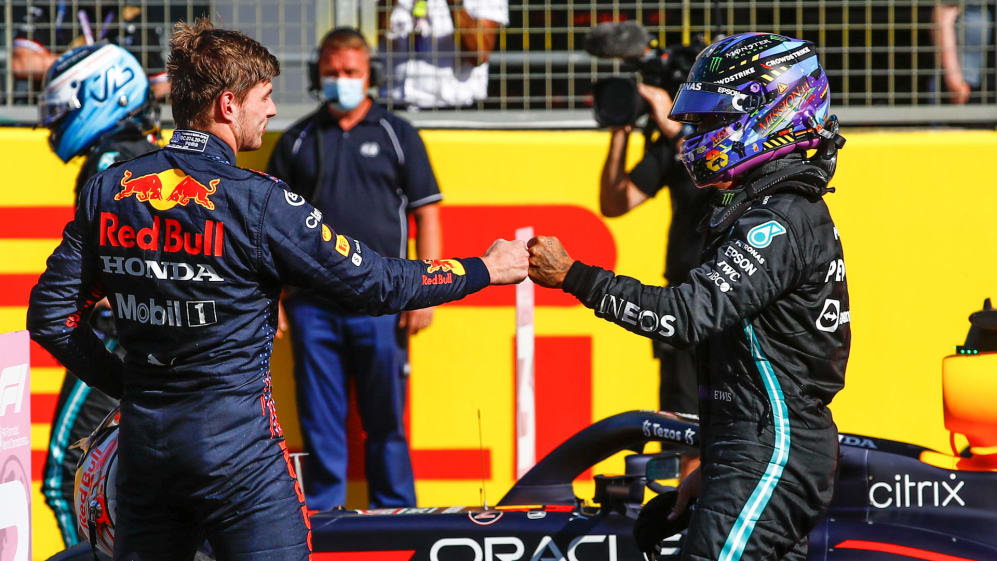 A war of words erupted between Red Bull and Mercedes after Lewis Hamilton and Max Verstappen collided in Sunday's British Grand Prix, but it is not clear whether the championship protagonists themselves will have words of their own before resuming battle at the next round of the season in Hungary.
The clash at the Hungaroring will see Hamilton and Verstappen go into the race just eight points apart in the championship after the Red Bull driver retired in a Lap 1 crash for which the Mercedes driver was given a 10 second penalty on Sunday. Despite the penalty, Hamilton was still able to take victory.
Mercedes boss Toto Wolff said "it takes two to tango" while Red Bull's chief Christian Horner called Hamilton's win a "hollow victory", and Verstappen branded the Briton's celebrations "unsportsmanlike". As for Hamilton, he asserted that he would "not be bullied into being less aggressive" – but with tempers fraying, will he and Verstappen clear the air ahead of Hungary?
"I don't know," replied Hamilton. "I'm open to it, I don't have any issues, I mean, I don't really know what we'll say. Just game on, we'll just keep on attacking, there needs to be respect on track, but if not, this will happen more often I guess. And I tried my hardest just to stay as clean as possible," he maintained.
"He cut across me and we collided, and I was quite frustrated, because we have to give space for one another and anyway, I knew I had the penalty, and I knew I was going to have to give everything for the team and for the fans here… and just never gave up."
In 2020, Hamilton won his eighth Grand Prix at the Hungaroring to equal Michael Schumacher's record of eight wins at a single venue and became the first driver to lead 150 Grands Prix.
READ MORE: Ross Brawn on why he hopes we don't see a repeat of Hamilton and Verstappen's clash
Just four points behind Red Bull before Round 11, Mercedes are pushing hard to retake the championship lead in Hungary, as Trackside Engineering Director Andrew Shovlin explained after the race at Silverstone.
"We came here to win and to close the gap in the championships so we should be very satisfied with our work this weekend," he said on Sunday.
"We're nearly half-way through and there's hardly anything in it, we know that Red Bull are going to bounce back strong so from first thing tomorrow morning we'll be putting all our efforts into the next race in Budapest."