Binotto says Ferrari's US Grand Prix showing proved they've made 'big step forwards' with power unit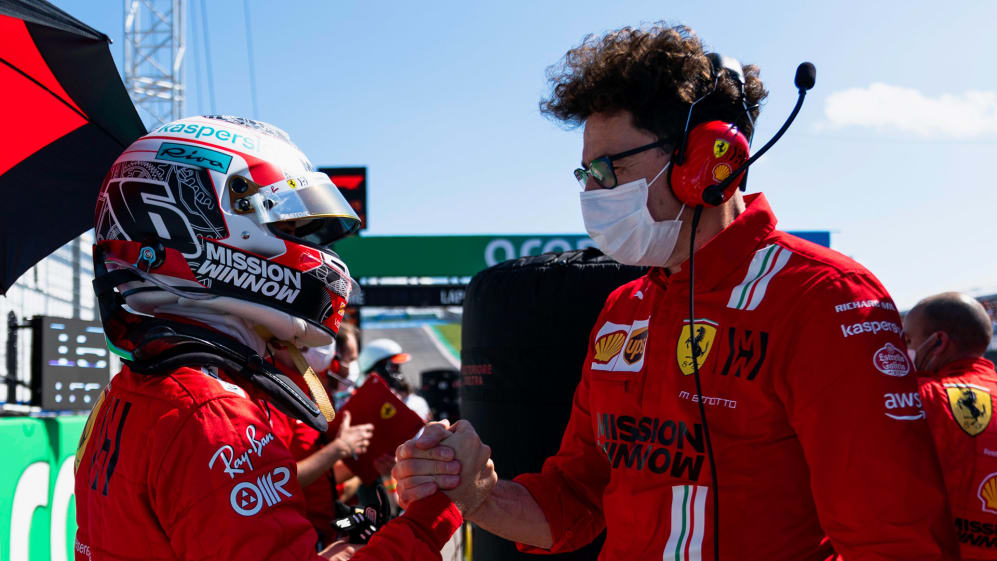 After implementing a significant engine upgrade for Carlos Sainz and Charles Leclerc earlier this season, Ferrari clinched a double points-finish at the Circuit of The Americas – which team boss Mattia Binotto says is proof the Scuderia's new powerplant is paying dividends.
Ferrari produced a midfield-topping display on Sunday as Leclerc finished fourth – more than 20 seconds ahead of McLaren's fifth-place Daniel Ricciardo – and Sainz settled for seventh after a slow second pit stop cost him a chance at finishing behind Leclerc and saw him lose out to Valtteri Bottas and Ricciardo at the end. Regardless, Binotto saw this result as a huge positive for the engine department.
READ MORE: 'I really didn't think he was going to pull that off' says Horner after Verstappen seals tense US GP win
"If you look generally-speaking this season McLaren has been always very competitive in medium, high speed corners and again it is the case here in Austin. But I think if I look at the overall performance this weekend we have been ahead of them," said Binotto after the race in Austin.
"This was [evident] in quali and Charles… finished 25 seconds ahead of Ricciardo. Generally speaking in the overall balance of the lap we have been clearly fastest this weekend. That's is why I think it's a shame with Carlos not having been ahead of the end of the race with Charles."
Asked to quantify the difference Ferrari's power unit made in the United States, Binotto added: "The power is always available with the straight line so you get the benefit at the start of the straight line and as well at the end. I think the way we can quantify, if we look at this weekend, we are running max downforce but we are somehow matching the speed of others – or almost matching the speed of the others.
"If you consider last year, it's a really big step forwards. We still know there is a gap to the best engine today, but we believe that that gap is not so dramatic... "
WATCH: Hear every driver's over the line team radio from the United States Grand Prix
With Mexico up next, another circuit that demands high-downforce and a strong, reliable power unit at high altitude, Binotto said the US GP field test of the Ferrari PU will bode well for Mexico City – especially as they sit just 3.5 points behind McLaren with five races remaining.
"On paper it [COTA] was not a circuit that was suiting obviously our car so that's why I am pleased with progress we have seen in the last races, certainly helped by the power unit in the quali and the race and that gives me confidence as well for the next races," he added.