Black Friday is coming – and now's the time to grab yourself some amazing F1 deals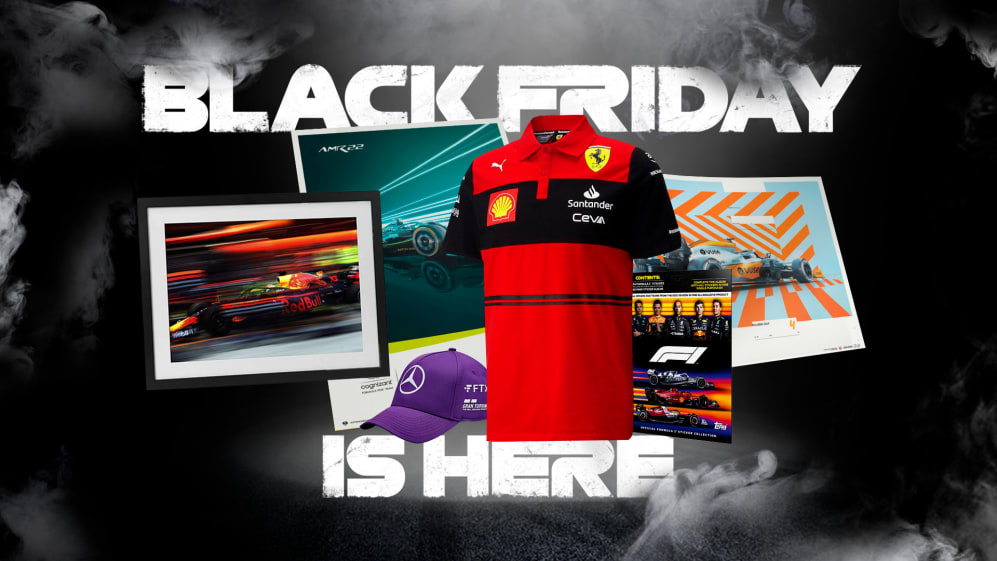 2022 was already a gift of a season, with records smashed as a new generation of cars hit the track for 22 flat-out Grands Prix. But with no more races this year to treat yourself to, why not be good to yourself by bagging an incredible Black Friday deal.
We've got something for every Formula 1 fan, from apparel deals for your favourite F1 team, to discounts on our F1 Topps series, to amazing F1 Experiences promos. Check out our Black Friday deals below.
F1 Store
There'll be daily offers on the F1 Store, ranging from 30-60% off from November 21-28. Shop by driver or by team to hoover up T-shirts, caps, backpacks, model cars and much, much more. Check out the F1 Store here.
F1 Authentics
Own your very own piece of F1 history at F1 Authentics. From race suits and helmets, to car models and even used race car parts, you're bound to find something unique – made all the sweeter by up to 50% off from November 21-30. Head to the F1 Authentics site here.
F1 Manager
Drive every decision with F1 Manager 2022, the officially licensed F1 management game. Make your mark in F1 as Team Principal of one of the 10 official F1 teams. Now 35% off on Steam and PlayStation until November 28. Find out more here.
F1 Topps
F1's collaboration with the legendary Topps cards series also comes in for the Black Friday treatment, with up to 30% off from November 21-28. Find out more here.
F1 Print Store
Grab yourself an incredible, eye-catching piece of artwork from Automobilist's F1 Print Store. With posters celebrating everything from James Hunt's 1976 title-winning McLaren M23 to the final race of four-time champion Sebastian Vettel, you're sure to find something to brighten up your living space this Black Friday. Simply head to the F1 Print Store here and enter code BLACKFRIDAY22 for up to 40% off from November 21-27.
F1 Experiences
If the 2022 season has whetted your appetite for heading to a race in 2023, make the experience all the more unforgettable by claiming a 5% discount* on fan packages from November 22 to December 2. Head over to the F1 Experiences site and use code DEAL2022 – and book yourself the trip of a lifetime.
* Please note the discount code does not apply to the following: Paddock Club™, Paddock Club™ Team, Legend, Ticket + Hotel, Ticket + Hotel + Transfer, United States Grand Prix Champions Club and F1® Experiences Lounge, and all Heineken Silver Las Vegas Grand Prix Official Ticket Packages. The discount code cannot be applied to past purchases and is only applicable during the promotional period.