'Blindsided' and 'sandwiched' – Albon, Magnussen and Hulkenberg react to their opening lap crash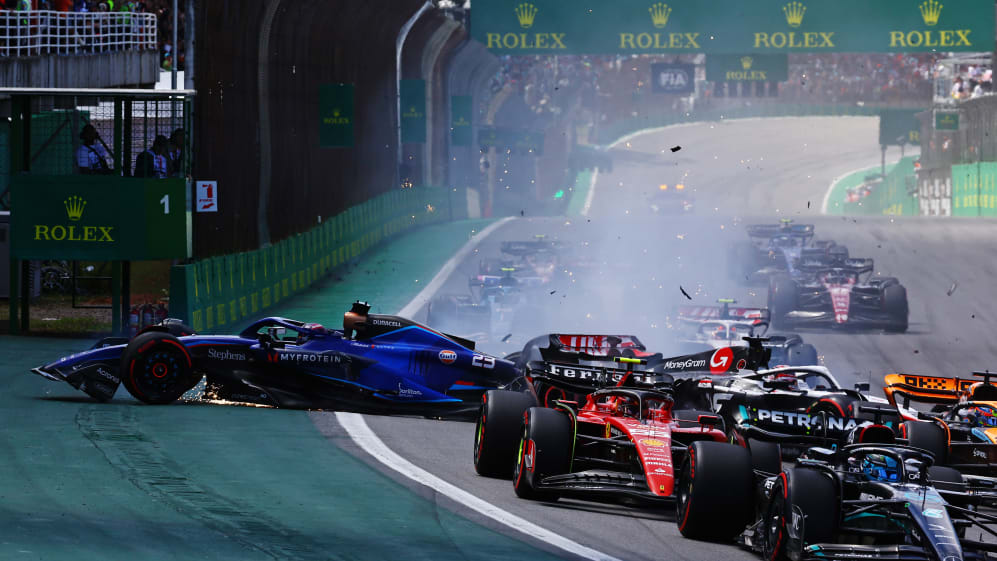 There was a dramatic start to the Sao Paulo Grand Prix on Sunday as a three-car incident off the line set in place a chain reaction, taking out other cars and eventually leading to a very early red flag.
The initial crash was between the Williams of Alex Albon, and the two Haas cars of Kevin Magnussen and Nico Hulkenberg. The German started in 11th spot, but had a slow getaway, while Magnussen, starting 12th, was alongside and soon past his team mate on the inside. Albon from P13 had a great launch and shot up the outside.
READ MORE: Verstappen seals record 17th win of the season from Norris and Alonso in Sao Paulo Grand Prix
The onboard cameras tell one story, with it initially looking like Albon hit Magnussen, before it was revealed that the Williams was actually hit first, by Hulkenberg – which sent him into Magnussen. But riding onboard with Hulkenberg's Haas, you see that Magnussen starts to move across, squeezing his team mate, which sends him into the Williams.
"I got a really good start and then I think Albon squeezed Nico [Hulkenberg], they had contact, and that sent Albon into me like a chain reaction," said Magnussen afterwards, with the Dane immediately spinning off and into the barriers after the contact, for his fifth DNF of the season and second in a row.
"A bit of a racing incident I think," was Albon's assessment. "I had a great start; I think it was one of the strongest starts on the grid, pulled alongside the two Haas [cars], felt like we were almost there to overtake them but after looking at the external cameras, the driver on the inside was a bit blindsided, started to move across and obviously there is myself and another Haas in between."
FACTS AND STATS: Verstappen passes Prost on wins, Alonso matches Prost on podiums
Albon was also out of the race instantly, but Hulkenberg was able to make it back to the pits and have his car repaired during the red flag period. For him, the incident had a touch of déjà vu about it.
"It was a typical start situation where it got too tight there, and it was very similar to what happened to me in the Sprint in Qatar with Esteban [Ocon] and Checo [Perez], I got sandwiched," the German said. "You can't really bail out at that point, so I made contact with Albon which then put him into Kevin [Magnussen]. It was unfortunate but there wasn't much we could do."
Hulkenberg finished the race in 12th, the damage fixed but the car still lacking pure pace around Interlagos. He finished ahead of Daniel Ricciardo and Oscar Piastri though, who were the other two caught up in that initial incident.
Piastri was running just ahead of the three sandwiched cars having started 10th, and Magnussen initially tagged the back of his rear wing, breaking it and causing the Aussie to pull into the pits at the end of Lap 1 to retire the car. In some ways, his fellow Aussie was even more unlucky – Ricciardo missing the melee by staying well to the left of the race track, only for a damaged tyre carcass from Magnussen's car to be kicked high into the air, landing directly onto his rear wing.
While the red flag enabled both McLaren and AlphaTauri to mend those respective rear wings, with Piastri and Ricciardo both a lap down, it was always going to be a long afternoon for them at the back of the field.
HIGHLIGHTS: Relive the best action from the Sao Paulo Grand Prix as Verstappen nets his 17th win of 2023
Their disappointment was shared by Albon, who had to watch from the sidelines as Yuki Tsunoda scored in the other AlphaTauri, who are fast making inroads into Williams' lead in the constructors'.
"I'm just frustrated as we are in a championship battle and we can't lose out on points like that and we kind of opened up the race for others to score points," Albon said. "With all the retired cars throughout the race and many out of place with damage from the crash, we really could've been on for points, so it's disappointing when the championship fight is so tight."