Bottas admits he could have completed team-ordered swap with Hamilton sooner – but Briton sees no issues
No driver likes being asked to let his team mate past, but it's something Valtteri Bottas dutifully did for Mercedes' greater good in Sunday's Spanish Grand Prix – even if he admitted he could have let him by sooner.
Switched to a two-stopper in a bid to beat Red Bull's Max Verstappen, who he'd been running behind since losing position at the start, Lewis Hamilton found himself closing rapidly on team mate Bottas in the closing stages as the Finn – on much older tyres – ran second to Verstappen.
READ MORE: Late pass secures Hamilton victory in Spain after race-long battle with Verstappen
Bottas was told over team radio not to hold up eventual winner Hamilton, but initially appeared to resist those calls before ultimately the switch was made. Afterwards Bottas, who finished third, was asked if he'd let Hamilton by as early as possible.
"No, I definitely didn't let him by earlier," he responded, "but I was doing my own race as well. It's always calculating things. I was trying to get Charles [Leclerc] off of the pit window so I could stop again and try to go for the extra point [for fastest lap]. So the main thing in my mind was my own race.
"There wasn't too much [talk on team radio]. They told me not to hold him up too much, but like I say I was doing my own race, and I'm not here to let people by, I'm here to race, so that's how it goes."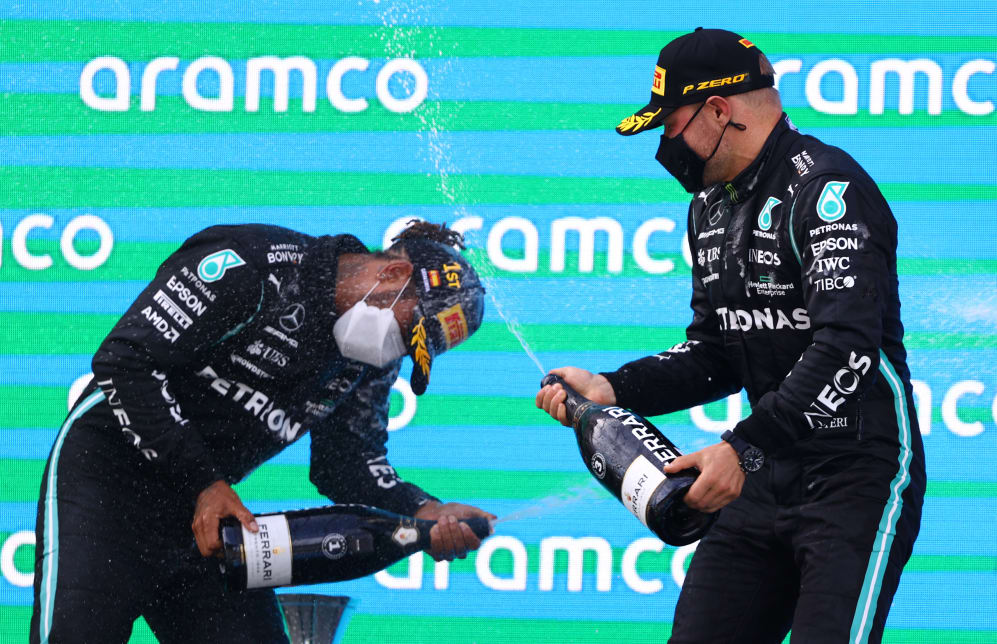 Expanding on that thought in the press conference, Bottas added: "As a racing driver you prioritise yourself, your race, because that's what you do. But also you work as a team so you don't want to ruin the win for the team if it's not possible for you. So I tried to do the best thing I could for us as a team and for myself.
"It's always hard doing those kind of things. Ask the other driver if he predicts what's going to happen and where to go, but I think in the end it was kind of OK."
READ MORE: 'P4 the best we could have done' – Leclerc delighted with 'very competitive' Ferrari performance in Spain
For his part, Hamilton harboured no ill will towards his team mate for making things tougher for him, in part because he said he was unaware he was to be gifted the position.
"We're the best team mates," said Hamilton. "Honestly I didn't know that he had a message, so in my mind I was like 'we're racing' and that's totally fine for me, particularly early on in this part of the season.
"So in my mind I was like 'I have to get close and go for an overtake'. We were on massively different strategies, so I was going to get him at some stage because I had much better tyres. We were going into Turn 10 and I thought there was a gap there but I wasn't quite sure, and then there was a gap and Valtteri was completely fair – I hope I didn't lose him much time.
"This is how we win as a team. Sometimes we're in that position where we have to put the team first. Getting second and third is good but getting first is obviously max points, and that's key."
Indeed, with Hamilton taking victory in Spain, the Briton moved 14 points clear of Verstappen in the championship race. Bottas' third place meanwhile helped Mercedes extend their lead over Red Bull in the constructors' standing to 29 points after four rounds.