Bottas calls Russell battle 'really good fun' as he claims P5 in Emilia Romagna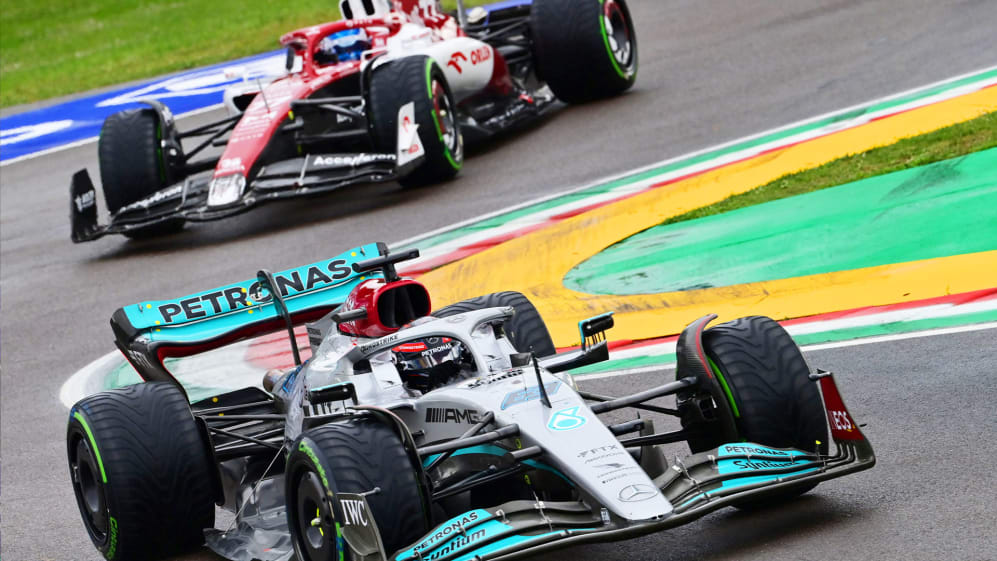 Valtteri Bottas managed a season-best P5 finish in Sunday's Grand Prix after taking yet more points with P7 in the Sprint – with the Finn leaving Imola praising the pace of his Alfa Romeo.
Bottas qualified eighth and finished seventh in Saturday's Sprint – two points in the bag – and then worked his way up to P5 in the race, finishing ahead of late spinner Charles Leclerc for 10 more points. The Finnish driver couldn't, however, catch George Russell's Mercedes for an extra place, later explaining that a slow pit stop on Lap 18 hurt his chances.
READ MORE: 6 Winners and 5 Losers for the 2022 Emilia Romagna Grand Prix: Who made the best of the mixed conditions?
"Yes, it was a good race," said Bottas, who also got caught up in the Lap 1 crash between Carlos Sainz and Daniel Ricciardo (see below). "I mean, even with a bit of contact in Turn 2 – luckily there was not damage. The pit stop for sure compromised the race a bit. After that we had really good pace, I could push flat-out all through the race. I was catching the Mercedes pretty well, and unfortunately didn't quite have the pace towards the end to overtake them – but good points."
Asked if he'd enjoyed having the pace to battle with his former Mercedes team, meanwhile, Bottas replied: "Yes – really enjoying it. It's really good fun. The upgrades we had this weekend definitely made the car even stronger, so it's a good feeling."
Team mate Zhou Guanyu didn't fare as well, taking P15 in the race. His DNF in the Sprint after contact with Pierre Gasly meant that the Chinese rookie had to start from the pit lane, unable to unleash the potential of his Alfa Romeo C42 in the same manner as Bottas.
"Actually, it was a smooth race but there wasn't a lot of action going on," said Zhou. "Unfortunately, yesterday put us in a position that we couldn't really fight too much. Williams had very good top speed – it was quite clear when I was right on the back of his [Nicholas Latifi's] car, but I couldn't make any moves until the DRS was activated.
READ MORE: Why Sainz's qualifying crash had ramifications that stretched across the whole weekend
"The car definitely has good potential and gives me more confidence for the coming race but unfortunately this weekend after the Sprint race crash, it was ruined."
On 25 points, Alfa Romeo are fifth in the standings heading to Miami.