Feature
Why Sainz's qualifying crash had ramifications that stretched across the whole weekend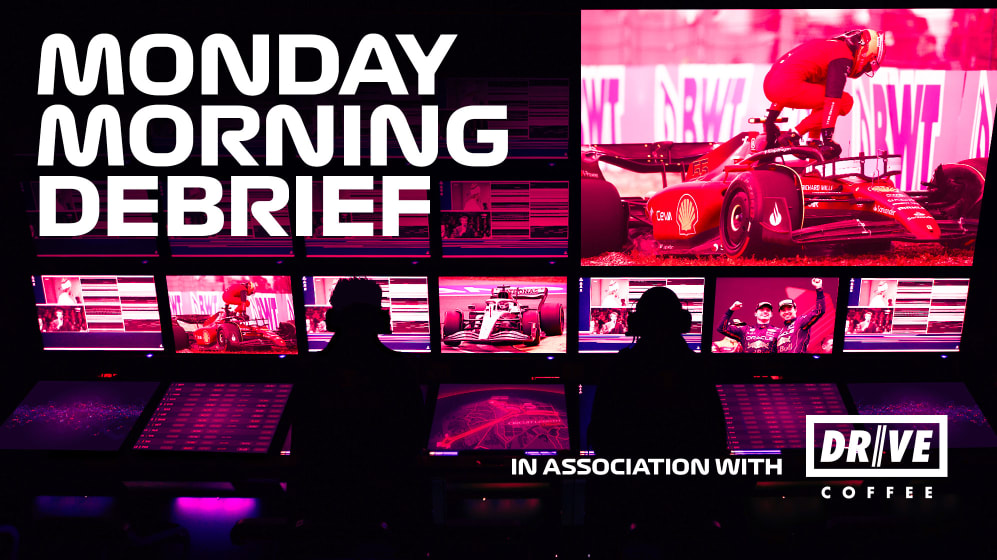 A Red Bull one-two and an accident-punctuated race for Ferrari left the Imola tifosi disappointed. Max Verstappen controlled the race beautifully from pole, benefitting from Sergio Perez always being there as a barrier from attack by Charles Leclerc, the only Ferrari in the race once Carlos Sainz had been punted into the gravel on the opening lap by Daniel Ricciardo.
But the complexion of this race was largely defined by another Sainz incident – his accident in Q2 on Friday. Without this and the red flag it caused, the whole complexion of the weekend would have looked quite different. It was an incident which had a whole flurry of consequences.
The accident itself – initiated by a spin on the entry of Rivazza 2 on a track dry enough that everyone was on slicks – puzzled Sainz. "The target was to put a banker lap in, knowing that the rain was going to come…. I wasn't pushing that hard at all. I didn't believe I was exposing myself to any risk. The car surprised me in that corner and I missed it."
READ MORE: 'I paid for Ricciardo's mistake' says Sainz, after ending second straight race in gravel trap
It is now believed that rainwater had collected on the exit kerb of Rivazza 1. His outer rear wheel went over that kerb and was therefore still wet as he turned into Rivazza 2, immediately spinning him off and into the barriers.
Ironically the red flag he caused and the subsequent rain ensured he graduated to Q3 but could take no part in it – thereby putting him 10th on the grid for Saturday's Sprint. From there he made a good recovery to fourth, his starting position for the Grand Prix. Starting three places ahead of him in the Sprint, Perez also delivered a recovery drive – to third.
Verstappen put destiny in his own hands by winning the Sprint and therefore starting first for the Grand Prix. The benefit of P1 was enhanced hugely on Sunday because of heavy rain a few hours before, followed by an F2 race. It meant that the left-hand side of the grid, on the racing line, was massively more grippy than the right.
READ MORE: 'It seemed easy on the TV' says Verstappen after dominant Imola showing
Everyone on the Verstappen side of the grid made up places, everyone on the Leclerc side slid backwards. As Verstappen took off into the lead and Perez easily out-accelerated Leclerc, it put Red Bull very much in command immediately – and thus was the race defined. Leclerc could find no way past Perez despite harrying him for lap after lap as Verstappen escaped up the road.
Had Sainz not crashed in qualifying and been able to finish the Sprint ahead of Perez (who only qualified seventh) rather than behind, those dynamics off the grid of the Grand Prix would likely have been very different, with Sainz on the grippier side and Perez on the wetter side. It would likely have prevented Perez from getting in place to form a barrier to Verstappen – and for the Ferraris to be running second and third.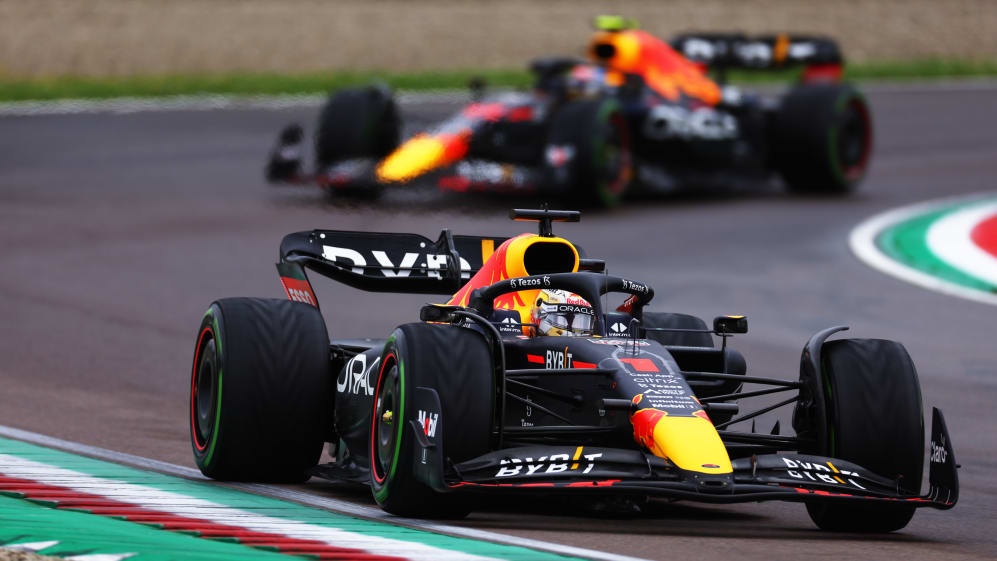 Sainz wouldn't have been in place to have been taken out by Ricciardo and the Ferrari prospects would have been much improved. Verstappen may well still have won regardless, but it would have been a much less straightforward race for him – and a much better one for Ferrari.
The other significant consequence of the Sainz red flag in Q2 was the impact it had on George Russell and Lewis Hamilton, ensuring there was no Mercedes in Q3 for the first time since Suzuka 2012. Unlike every other car, the Mercedes needed two laps to get its tyres up to temperature.
Russell and Hamilton had completed their first flying laps – with Russell 0.3s ahead of Hamilton on what were intended to be just tyre prep laps – when the red flags came out, so denying them what would have been their 'proper' attack laps. As the rain then arrived and the session timed out, they had no chance of improving. Otherwise, both Mercs had the pace to have comfortably made Q3.
READ MORE: Hamilton concedes he's 'out of the championship' fight after tough run to P13 at Imola
From those compromised grid slots, Russell and Hamilton could finish only 11th and 14th respectively in the Sprint, defining their starting positions for the Grand Prix. This of course put Russell on the grippy side of the grid and Hamilton on the slippery side – and this was reflected in their respective starts, with Russell vaulting straight up to seventh, Hamilton mired several places further back and behind many slower cars.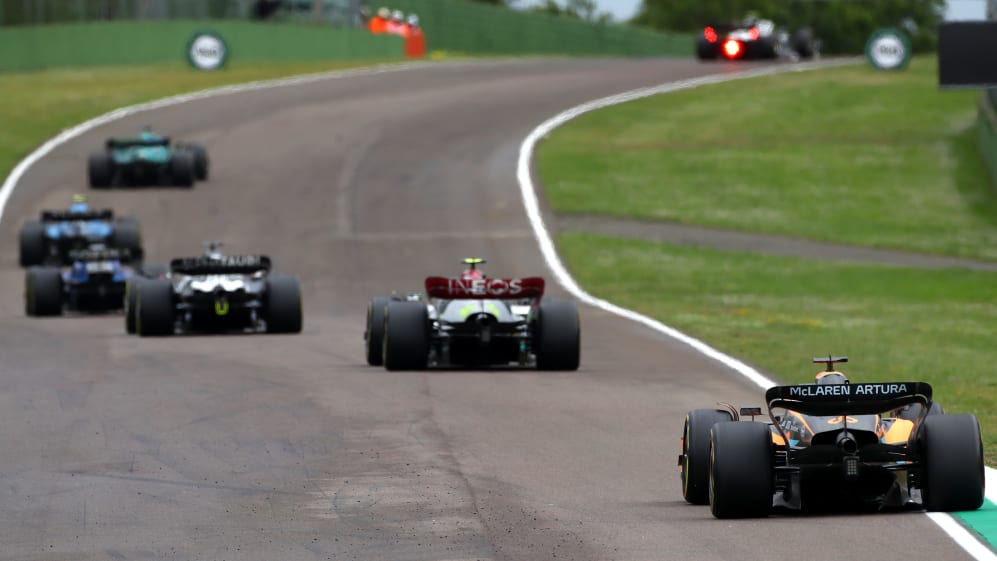 Russell further benefitted from Valtteri Bottas being delayed by the Sainz/Ricciardo incident and so was running sixth within a few corners – the foundation of his great drive to fourth.
Hamilton by contrast was stuck in a train of slower cars, all able to tow each other along. He spent his first stint unable to find a way by the AlphaTauri of Yuki Tsunoda and the second stuck behind the sister car of Pierre Gasly. When DRS was enabled after 34 laps, it just made the chance of passing even lower as Gasly was always able to benefit from the DRS tow of Alex Albon in the quick-on-the-straight Williams. That was the essential difference between Russell's fourth place and Hamilton's 13th.
All of these consequences from a little bit of rainwater on a kerb on Friday afternoon…
HIGHLIGHTS: Relive the action from the race in Imola, as Verstappen dominates to lead Red Bull 1-2