Report
Bottas holds off Verstappen and Perez to claim first win of 2021 in damp Turkish GP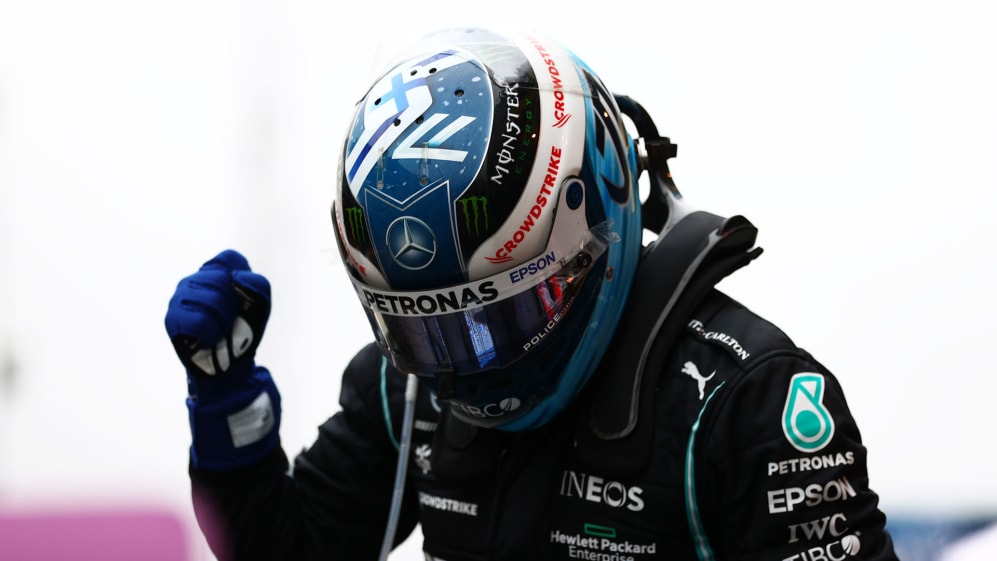 Valtteri Bottas won an engrossing Turkish Grand Prix that was run in damp conditions, with Red Bull's Max Verstappen and his team mate Sergio Perez completing the podium.
Light rain peppered the track well before the race and while the rain stopped, conditions called for intermediate tyres throughout.
Bottas led the race away from pole, his Mercedes team mate Lewis Hamilton having started 11th thanks to his 10-place engine related penalty, while Verstappen followed the Finn. By Lap 11, Hamilton was up into the top five having passed Pierre Gasly. The defending champion would be promoted to fourth when Sergio Perez pitted on Lap 38.
AS IT HAPPENED: All the reaction from Bottas' win in the Turkish Grand Prix in Istanbul
The pit stops came thick and fast from Lap 35 as Lando Norris was first to choose new inters, Verstappen in next on Lap 37 from P2, and Bottas pitting from the lead one lap later. Charles Leclerc was released into the lead but on Lap 48 of 58 he decided the gamble to forgo a pit stop wasn't going to pay off and came in for new inters. Bottas delivered his first win since Russia 2020 with a flawless performance from then on, a bonus point given as he also took fastest lap.
Leclerc's stop put Hamilton into third, the Briton seemingly trying to make it to the end on his starting tyres, or at least make it to dry conditions. The looming clouds said otherwise, and he finally boxed on Lap 51 – his tyres having turned into slicks. He was left furious, asking his team: "Why did we give up that place?!" P5 would be his final spot.
FORMULA 1 ROLEX TURKISH GRAND PRIX 2021
Turkey
2021
Race results
POSITION
TIME
POINTS

1

Valtteri

Bottas BOT

Mercedes

1:31:04.103

26

2

Max

Verstappen VER

Red Bull Racing

+14.584s

18

3

Sergio

Perez PER

Red Bull Racing

+33.471s

15

4

Charles

Leclerc LEC

Ferrari

+37.814s

12

5

Lewis

Hamilton HAM

Mercedes

+41.812s

10
That promoted Leclerc back into the top three but he was passed by Perez on Lap 52, the Red Bull driver taking P3 and his first podium since France. Leclerc finished fourth as Hamilton could not catch the Ferrari driver in the closing laps.
AlphaTauri's Pierre Gasly took sixth, having shrugged off a five-second penalty for a Lap 1 collision that sent P5 starter Fernando Alonso into a spin. Next on the board was Lando Norris, who was one of the earliest to pit for new inters (on Lap 35) and who settled for seventh having started there.
Driver of the Day: Sainz gets your vote after dazzling 11-place climb in Turkey
Carlos Sainz managed a brilliant recovery to P8 as engine penalties saw him start 19th, the Ferrari driver up into the points by Lap 14. His foray up the order was somewhat hurt by an 8.1s pit stop late on, without which he could have been in touching distance of Norris ahead.
Lance Stroll finished P9 having started eighth for Aston Martin, bumped up a place thanks to a pass on Alpine's P10 finisher Esteban Ocon with five laps remaining. Ocon started 12th but made up two places with Alonso and Yuki Tsunoda dropping out of points contention thanks to respective spins.
As it happened
A fine drizzle welcomed drivers on their laps to the grid, for which intermediate compounds were donned – and there was speculation that a dry line would make itself known soon after the start… a dry line that never did materialise.
With several drivers out of their expected starting places, the surface covered in a sheen of moisture, there was a massive sense of anticipation before the lights went out. And the start delivered, Bottas leading from Verstappen – while Alonso and Gasly came together through Turn 1 to send the Spaniard into a spin, Gasly receiving a five-second time penalty for that. Alonso then tipped Mick Schumacher into a spin, the Spaniard receiving a five-second penalty himself.
READ MORE: 'It was a pleasure' – Sainz hails Istanbul recovery drive to P8 as 'one of my most enjoyable races'
Hamilton made up two places in the opening laps but Yuki Tsunoda proved a tough obstacle for him, the AlphaTauri driver having started ninth (and up to P8 after Lap 1 thanks to Alonso's spin) only to be passed at Turn 3 on Lap 8. Other big movers at the start were Alfa Romeo's pair of Antonio Giovinazzi and Kimi Raikkonen, making up four places each at Lap 1 – while Carlos Sainz had made up five places from P19 to shrug off his engine penalty, by Lap 5.
By Lap 10, Sainz had made it to P11; Hamilton to P6 as the pair carved their way through the field while Bottas kept a steady 2.5s lead at the front. Sainz finally made it into the points on Lap 14 but his move on Sebastian Vettel at Turn 1 ended up with the Ferrari driver making contact with the Aston Martin – leaving Vettel unamused – but with no investigation deemed necessary.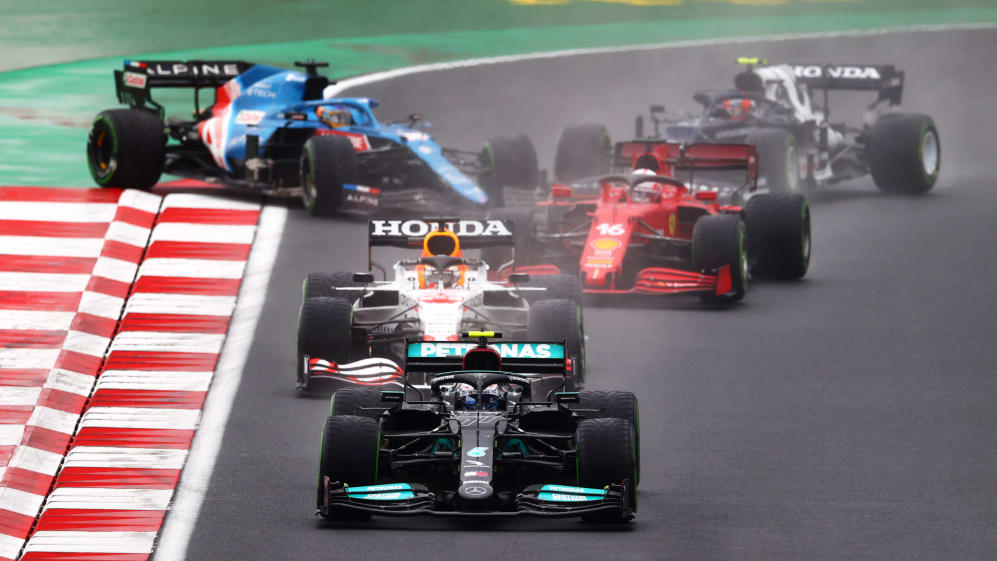 Hamilton's top five position was confirmed with a pass on Gasly at Turn 12, and soon he started to complain that his intermediates were starting to wear. And a little bit behind Hamilton, Sainz was well into the top 10 having passed Tsunoda at Turn 12 on Lap 18 for P9.
The question remained: When would the slick tyres come into play? A cursory glance at the intermediates on Lap 20 showed that they were transforming into slick tyres, the tread having all but vanished. Few were worried by that development.
READ MORE: 'I should have trusted my gut' – Hamilton reveals why he was left frustrated by Mercedes strategy in Turkish GP
Ricciardo was first to bite and pit for new intermediates, on Lap 23, with team mate Norris watching intently from seventh to see how he would perform. It was then that Tsunoda coincidentally lost his chance to score a point, spinning from 10th to emerge between the Alfa Romeos in P13.
Back to Hamilton's charge up the field: He was bearing down on Perez midway through the race, held up momentarily by Nikita Mazepin, the blue-flagged Haas driver not looking in his mirrors at Turn 11. On Lap 35, Hamilton made a move on Perez and they were wheel-to-wheel from Turns 12 to 14, side-by-side throughout the final three corners and down the main straight, the Mexican keeping P4 through Turn 1 much to his team's delight.
The pit window properly opened on Lap 35 when Norris pitted for new inters, Verstappen following suit to emerge third on Lap 37, triggering Bottas to stop a lap later alongside Perez, whose stop released Hamilton into P4. Lap 43 saw Hamilton called into the pits but he declined, causing his team to run back into the garage with those intermediate tyres in hand. The Briton suspected that the circuit may dry out soon, or maybe that he would be able to finish without pitting.
In the lead, was Ferrari's Leclerc – the driver on Hamilton's train of thought, that he didn't have to pit and could indeed stay out on his starting compounds if he wanted. A Lap 45 lockup put him right into Bottas's grasp and the Monegasque had the unenviable task of keeping the Mercedes behind. He was then told to box and Leclerc agreed that the gamble wasn't going to pay off, essentially letting Bottas by for the lead at Turn 1 on Lap 47 before his stop.
Bottas would continue flawlessly, adding fastest lap to his accolades, to win for the first time since Russia 2020 – while Verstappen followed 14.5 seconds back in P2.
From P3, Hamilton would end up pitting on Lap 51 at the request of his team to emerge fifth. He was left furious, asking his Mercedes engineers and strategists: "Why did we give up that place?!" That was followed by an 'I told you so' radio message as the Briton's tyres went through the customary graining process and stopped him making headway past P5. Leclerc would finish ahead, in P4, having been passed by Perez on Lap 52.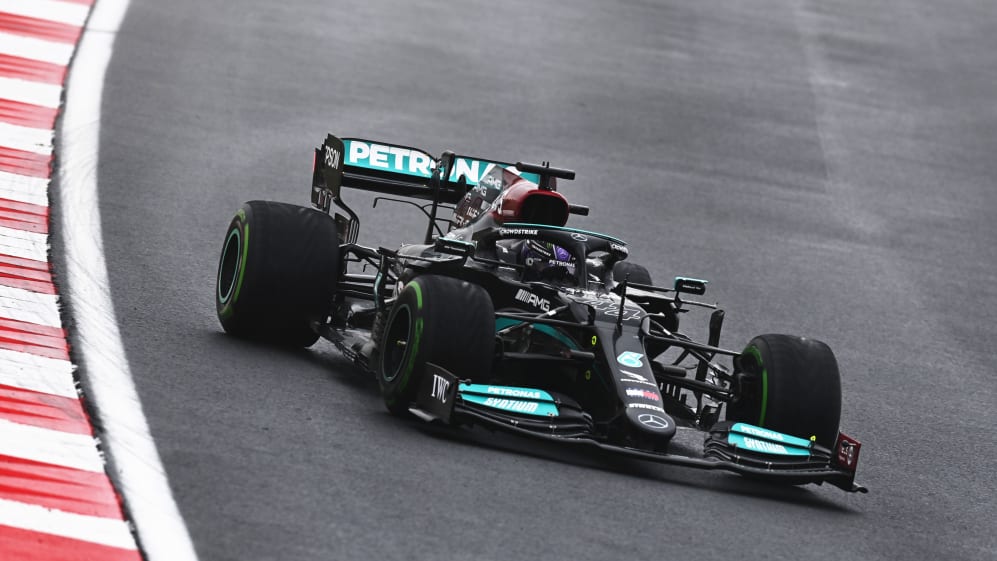 The Mexican therefore rounded out the top three and took his first podium since the French GP, Perez taking advantage of the fact that Leclerc's intermediates were graining – as seemed to be the trend today – and slowing him down.
Sixth was Gasly, who served his five-second penalty on Lap 40 and emerged sixth from that stop having started fourth on the grid. And in seventh was the McLaren of Norris, who pitted earlier than most on Lap 35 to finish where he had started.
READ MORE: Verstappen calls Red Bull double-podium in Turkey 'a very good result' as Perez revels in Hamilton battle
Sainz's recovery drive was hampered by an 8.1-second pitstop on Lap 37, and he ended up eighth – losing out on the fastest lap bonus point to Bottas late on – ahead of Aston Martin's Stroll in P9. Ocon drove steadily and without pitting to P10 for the final point as team mate Alonso and AlphaTauri's Tsunoda spun out of the top 10.
Antonio Giovinazzi and Kimi Raikkonen made up four places each at the start but finished 11th and 12th at the flag, Raikkonen particularly incensed that he was eventually called into the pits as he desperately wanted to make it to the end on his starting compounds.
In 13th was Ricciardo, the Australian struggling to make headway with a suspected rear brake issue. He found pace after his Lap 23 stop and made late progress, finishing ahead of 14th-place Tsunoda, who spun on Lap 37 and ended up well away from his P9 starting slot.
Williams' George Russell started 13th but ended up 15th, having lost out to the Alfa Romeos at the start. Next was Alonso, the Spaniard spinning early with contact from Gasly, then taking a five-second penalty for tagging Schumacher, in P16 for Alpine ahead of Nicholas Latifi, who could not recover from his Lap 1, Turn 9 spin.
READ MORE: Bottas relieved to win with 'one of the best races I've ever had' after dominant display in Turkey
Intriguingly, Sebastian Vettel opted for mediums on Lap 38 and his ensuing laps saw the four-time champion head off the track multiple times, retreating back into the pits – with a spin at pit entry – for intermediates a lap later. He finished 18th – leaving Schumacher 19th and Mazepin last as the pair rounded out the standings for Haas.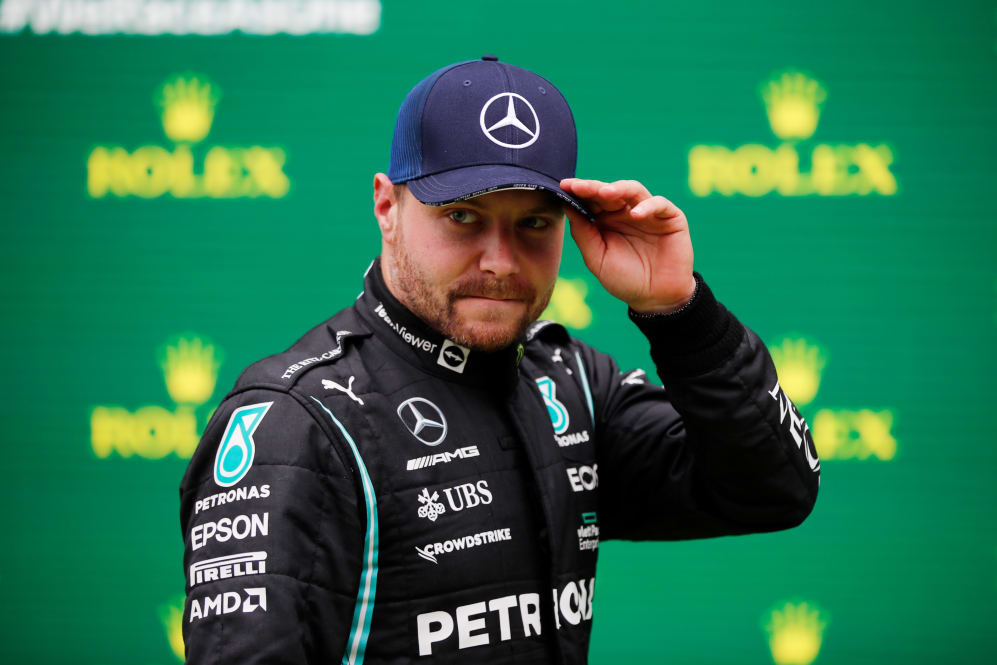 Key Quote
"I think from my side, I have to say, probably one of the best races I've had ever. Just apart from that one little slide, everything was under control, but like I said before the race, the car has been good in every condition and I had good confidence with it and could really control it. It's not easy to choose the strategy here with these conditions, when to stop and which tyre and everything, but I'm glad everything went smooth for once for me and that's nice.
"When there's only one drying line, it doesn't need much that you go off, so definitely needed to focus all through the race. So difficult one and it feels like a well-earned victory" – Valtteri Bottas, Mercedes
What's next
Max Verstappen leaves Turkey with a six-point lead in the championship and we have a week to catch our break – after the title lead has swapped hands four times in the last six Grands Prix – with the United States Grand Prix on October 22-24.