'It was a pleasure' – Sainz hails Istanbul recovery drive to P8 as 'one of my most enjoyable races'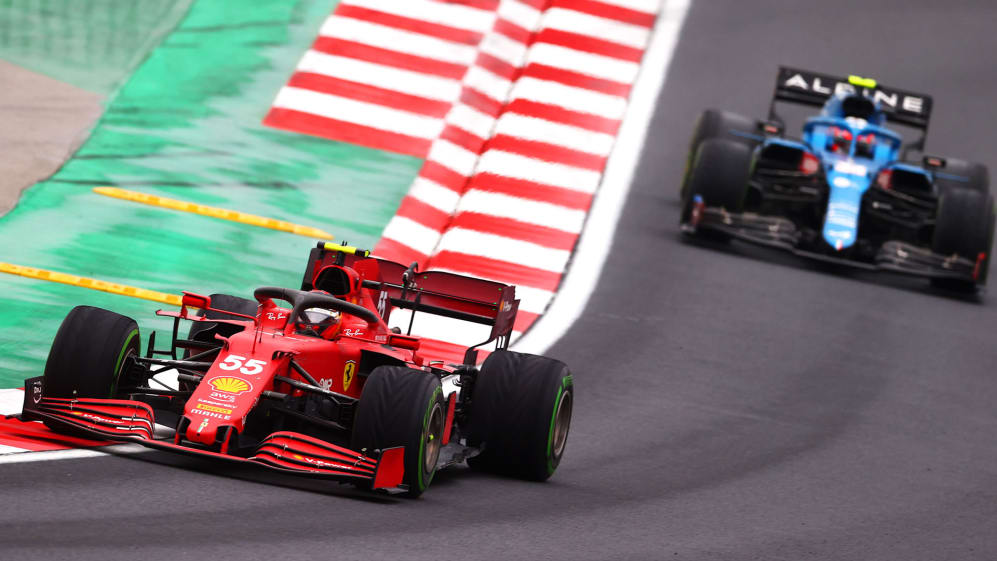 From 19th to eighth at the flag was one of the most enjoyable races of Carlos Sainz's career, but he feels he could have been in the top five in Turkey if it wasn't for a slow pit stop.
Sainz started from the back of the grid in Istanbul as a result of exceeding power unit components, but gained one position before the start thanks to Daniel Ricciardo taking the same penalty. The Spaniard duly made a number of overtakes on his way into the points, regularly passing cars into Turn 12 as he quickly climbed through the field.
READ MORE: Bottas holds off Verstappen and Perez to claim first win of 2021 in damp Turkish GP
"It was very enjoyable to be honest, probably one of my most enjoyable races as a racing driver," Sainz said. "When you have the pace I had today and a track that allows you to overtake – especially when it's wet – it was a pleasure. I could push really hard, obviously a shame about the pit stop that just us the possibility to finish in the top five today but it is what it is. Congrats to the team because the car today was really nice to drive."
That 8.1-second pit stop wasn't the only worrying moment for Sainz, who slid into Sebastian Vettel at one stage in what was his least clean overtake of the day.
"We had very strong pace in the wet and then as the track was drying out we were following the conditions really well. There were a lot of overtakes, I did every single overtake on track – I didn't get lucky at any point, I had to send it a couple of times!
"With Seb it was a tricky one, I already said sorry to him because I was a bit over-optimistic. But these Mercedes engines are a little bit difficult to pass so you either go for it under braking or you don't pass them. I wanted to keep the recovery going and I didn't want to get stuck, and it worked."
READ MORE: Turkish GP Facts & Stats - Championship lead changes hands for 4th time in 6 races
That attacking approach was something Sainz says he was given freedom to take given his lowly starting position, and the performance bodes well for the rest of Ferrari's season.
"I had to be [attacking]. I guess starting from the back you have to be aggressive and today was the day to try and take a bit more risk and it worked well. One by one, I could overtake into Turn 12, I could make my moves, make them stick, show my pace across the whole race. A shame about that slow pit stop that probably cost us a chance to be fighting a bit further ahead but it's not a day to regret.
"I think we did great as a team, we were very strong all the time on track and we showed that we could have been fighting at the top. But I'm happy to have taken the penalty and move on.
"It's looking good. Now I can just focus on the performance in the last six races, and I'm glad I took it and made the most out of it."
RACE HIGHLIGHTS: Relive all the Turkish GP action as Bottas takes first win in over a year