Bottas: Opening test my best in F1
Valtteri Bottas has hailed this week's opening test in Barcelona as the best of his career after posting the outright fastest time and comfortably topping the mileage charts during his first official outing with Mercedes.
The Finn completed 324 laps of the Circuit de Barcelona-Catalunya during his two days in the new W08 – 57 more than Ferrari's Sebastian Vettel, who clocked the second highest number. He also worked down to a 1m 19.705s on day three, which proved to be the fastest lap any driver set across all four days.
"During two days of driving I did the most amount of laps I've ever done, which is always very nice and very useful in this new era of F1," Bottas told reporters. "It was a very good test overall, the best so far for me.
"[Quick lap times] do not have a special meaning because it's only testing and there's no reward to that really. We weren't particularly focusing on lap times this week – the priority all week was getting the mileage in and finding any issues with the car.
"For me it was important to get the mileage, so I was happy that I got to do plenty of running and at the same time was able to go through the test programme of the team. So I think overall it was a good week."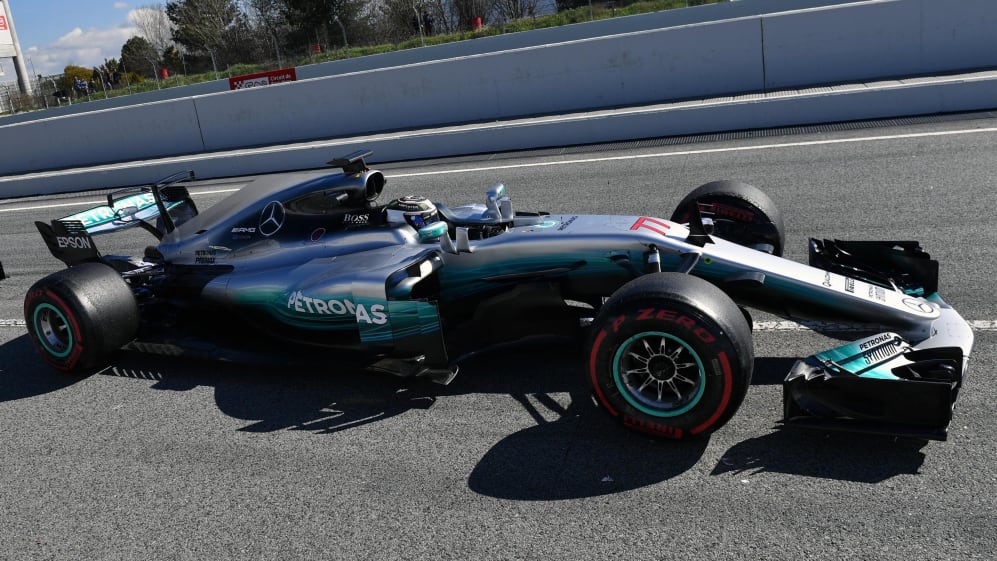 Everything is going in the right direction - I feel more and more comfortable with this new car
Asked to describe how he'd rate his own performance behind the wheel, Bottas said he believed he'd made good progress given his relative unfamiliarity with both the team and car.
"Everything is going in the right direction," he said. "I feel more and more part of the team, I feel more and more comfortable with this new car. I have to say it is quite different to drive in terms of car behaviour to the past.
"For sure with the regulation changes, but in general how the car feels, the handling and everything, there are some things to get used to and I'm getting better and better every day. With the set up changes, how the team works, all the tools you have in the steering wheel and how they affect the car balance on track - all these things I'm getting more comfortable with every lap.
"So far it's been good progress but I will need to work hard next week to be ready for Melbourne."
Looking ahead to next week's second test, Bottas said the aim was to continue to 'improve day by day', noting that it was still difficult to judge the relative strengths of Mercedes' rivals.
"We are definitely hoping we can make good steps forward and from this week to next we can be better," he said. "Obviously from the running this week it is tricky to make detailed analysis of where we are compared to other teams and we don't know what the other teams are bringing next week or to Melbourne.
"But definitely we are aiming to improve day by day and now we have the weekend to work on all the things we tried out this week. For me also I have a weekend to take in everything that I learnt this week, which was a massive amount. So we'll try to analyse all that and be better next week."
The second and final pre-season test begins in Barcelona on Tuesday.