Bottas says floor damage cost him '50 points of downforce' as Mercedes reveal size of debris he hit
He beat Lewis Hamilton to pole position and made the perfect getaway at the start of the Emilia Romagna GP, but Valtteri Bottas's hard work was undone on lap 2 when he inadvertently collided with debris on the track. That resulted in significant damage to his floor and left him to struggle home to second place, as Hamilton took another win.
Bottas was leading Red Bull's Max Verstappen and Hamilton when he ran into a chunk of carbon fibre discarded from Sebastian Vettel's front wing after the Ferrari made contact with Kevin Magnussen's Haas. He managed to retain his advantage over Verstappen after the Dutchman attempted to undercut him, but as he struggled to cope with the damage he fell back from Hamilton as the Briton assumed the lead, with Bottas then going off the road at Turn 17, allowing Verstappen to pounce for P2.
READ MORE: Hamilton wins wild race in Imola as Mercedes clinch seventh-straight constructors' title
He would ultimately get the position back after Verstappen's tyre-related spin late on, but that was only small consolation to the Finn.
"It was on the racing line and I didn't have enough time to react," said Bottas of the debris. "I saw a big piece of carbon so I decided the only thing I had time to do was aim how to hit it. So I decided to go straight over it instead of it going under one of the tyres and possibly causing a puncture. But unluckily it got stuck under the floor and apparently it [cost] like 50 points of downforce, which in lap time is quite a big chunk."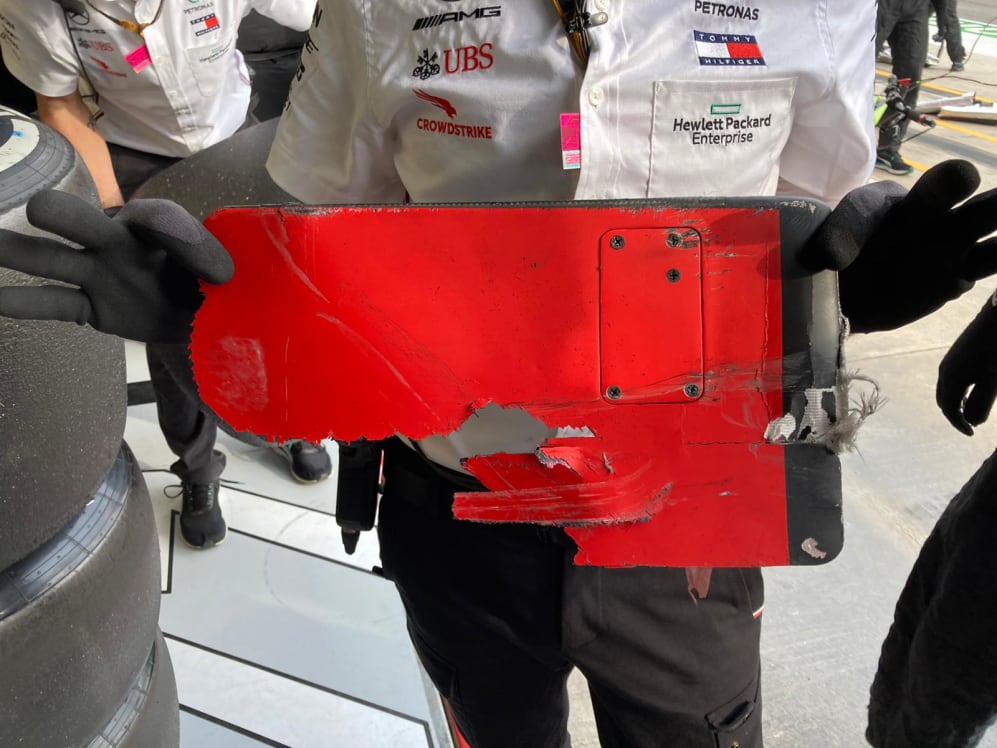 From then on, the Finn said, he had no chance of fighting for the win.
"How it affected me, I'd say mainly in high-speed corners the car was sliding a bit," he explained. "And in some braking [zones] it was a bit unpredictable. Sometimes I would lock the wheels and sometimes it was stopping pretty quickly. So it was not really consistent the downforce I had on the car, so it made it really tricky. I didn't quite have the pace.
"Max was putting a lot of pressure on and eventually he got through because I had to push over my limits to try to maintain my position and had a lock up. Not my day. I didn't have a chance with that debris on the car to fight for the win. But at least we secured the one-two which is the perfect way to secure the seventh [constructors'] title for the team in a row."
Asked whether he thought race control should have done more to remove the debris from harms way or do more to warn the drivers of it, Bottas said: "Actually I got a warning from my engineer that there could be some gravel maybe at Turn 7, because they could see some kind of warning. But there was no yellow flag and it was a big piece of debris and I didn't have enough time to go around it.
"It would be good to get a better understanding of why there was no sign that there was a big piece of carbon, as obviously it's dangerous if that goes flying around. But it sure didn't help my race today."
Sunday's result means that Bottas has only been able to convert one of his four 2020 pole positions into a victory, and means Hamilton can tie up the drivers' championship at the next race in Turkey.