Bottas to Mercedes, Massa to re-join Williams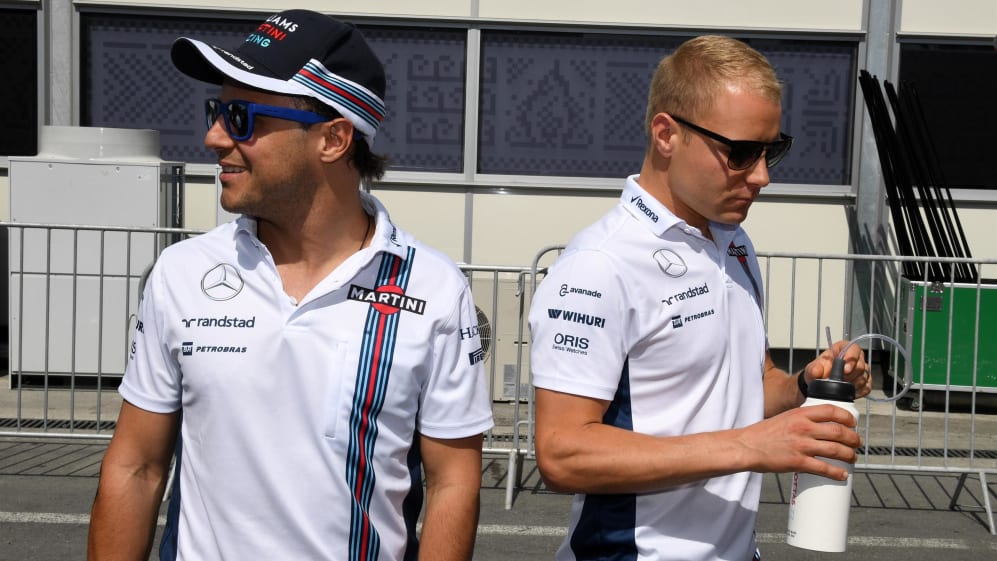 Valtteri Bottas will line up alongside Lewis Hamilton at Mercedes in 2017 after Williams agreed to release the Finn from his contract. Bottas' place at Williams will be taken by Felipe Massa, who is to come out of retirement to re-join the team on a one-year deal.
"It's mega to be driving a Silver Arrow this year," said Bottas in an address to the workforce at Mercedes' UK factory in Brackley. "I can't wait to get working properly.
"My goal is immediately at the first race to get all the points that are available. I guarantee I will be giving it all.
"I want to thanks Toto [Wolff, Mercedes-Benz head of motorsport] and everyone at the Mercedes and Daimler boards for this opportunity.
"This is my fifth season in F1. I got nine podiums with Williams, but I'm still missing my first win, so that's my first mission."
On lining up alongside three-time world champion Lewis Hamilton, the Finn added: "I think with Lewis we are going to be a strong pair together. I really respect him as a driver and a person.
"I'm sure we are going to close, and we're going to be both pushing each forward. I'm sure we can work as a team."
Toto Wolff, Mercedes-Benz motorsport chief, said Bottas was the ideal candidate to replace outgoing world champion Nico Rosberg.
"I think Valtteri fits very well in our team, as a driver he's very fast, and he has also the heart in the right place.
"He shares our values and passion," Wolff added. "He's modest and humble and he's hard working."
A 15th season of F1 for Massa
The announcement that Massa will come out of retirement to replace Bottas, which came on the same day as Mercedes protege Pascal Wehrlein was confirmed at Sauber, means the Brazilian will race for Williams for a fourth consecutive season.
"Firstly, I am very happy to have an opportunity to return to Williams," said the 35-year-old, who will partner teenage rookie Lance Stroll this season.
"I always intended to race somewhere in 2017, but Williams is a team close to my heart and I have respect for everything it is trying to achieve. Valtteri has a great opportunity, given the turn of events over the winter, and I wish him all the best at Mercedes.
"In turn, when I was offered the chance to help Williams with their 2017 Formula One campaign, it felt like the right thing to do. I certainly have not lost any of my enthusiasm for racing and I'm extremely motivated to be coming back to drive the FW40. The support from my fans over the last few weeks has been a huge boost and I'm grateful for that. I also look forward to working with Lance; I've known him for many years and seen his talent develop during that time, so I look forward to seeing what we can achieve together."
Speaking about the moves, Claire Williams, Williams' deputy team principal, said: "I'm delighted that Felipe has agreed to come out of retirement to be a part of our 2017 campaign. With Valtteri having a unique opportunity to join the current constructors' champions, we have been working hard to ensure that an agreement could be made with Mercedes to give Valtteri this fantastic opportunity.
"Valtteri has been part of the Williams family since 2010 and in that time has proved a huge talent, securing nine podium finishes. I would like to take this opportunity to thank him on behalf of the whole team, and wish him a successful season as he joins Mercedes.
"Felipe has always been a much-loved member of the Williams family, and having the opportunity to work with him again is something we all look forward to. He was always going to race somewhere in 2017, as he has not lost that competitive spirit, and it was important that we had a strong replacement in order for us to let Valtteri go. Felipe re-joining us provides stability, experience and talent to help lead us forward. He is a great asset for us."