Brawn GP engineers 'thought we'd got our sums wrongs' ahead of fairytale start to 2009 season
The story of Brawn Grand Prix's fairytale season in Formula 1 in 2009 is one of the most unbelievable and heart-warming in F1 history. And speaking on Formula 1's Beyond The Grid podcast, several members of the Brawn squad – who stayed on as the team morphed into the all-conquering Mercedes works outfit – recalled what it was like to live through that whirlwind 2009 season.
The Brawn GP BGP 001 machine was born under a bad sign, when the plan to field the car as the 2009 Honda works car went up in smoke when the Japanese manufacturer pulled out of F1 at the end of 2008 – with around 300 of the team's workers made redundant, leaving the possibility of racing the car at all in 2009 hanging in the balance.
READ MORE: 5 of F1's biggest winter testing shocks
Current Formula 1 Managing Director of Motorsports Ross Brawn and Nick Fry would ultimately step in to save the team, while arranging a deal to run Mercedes engines in the car for 2009. But with work having begun on what became the BGP 001 midway through 2008 – and with Honda having exploited a loophole in the new regulations that would allow them to run the controversial 'double diffuser', in spite of attempts by the FIA to reduce downforce – it soon became clear that the Brawn car was a bit of a monster…
"We knew it would be a decent car because we put so much effort into it, and we started so early," remembers Andrew Shovlin, Mercedes' current trackside engineering director, who spent the 2009 season as eventual champion Jenson Button's race engineer. "The year before at Hockenheim, which was about mid-season, was the point where we said, 'Right, we're just going to forget about 2008 and we'll focus on the new rules in 2009.'
"But really, the only time we started to think this was properly quick was when we didn't go testing and everyone else was at a test… in Portimao. There was a [2008] Toro Rosso there and it… was the quickest thing by miles, and… we had pretty much recovered all the performance and [were estimating that we] would be as fast with our car.
"So you were sort of going… 'Well hang on a minute, this means that we're nearly two seconds quicker than anyone else' – and then you think that we must have got our sums wrong… But nothing prepared you for when you started running it in Barcelona, and you were like, 'Oh my God, this looks properly fast.'"
READ MORE: From DAS to the double diffuser – 5 F1 innovations that caught rival teams napping
Brawn GP may have been saved from the brink, before using their dominant early season form – including a one-two finish in their first ever race, the 2009 Australian Grand Prix – to miraculously win that year's drivers' and constructors' titles. But according to Ron Meadows, now Mercedes' sporting director, the team only made it through the season thanks to a hand-to-mouth existence – including the use of freelance pit crew members...
"We had a one-two [in Melbourne] and we certainly didn't deserve a one-two because I think we were first and fourth because we had two shocking pit stops… but Seb [Vettel] and [Robert] Kubica hit each other in the last few laps," Meadows recalled.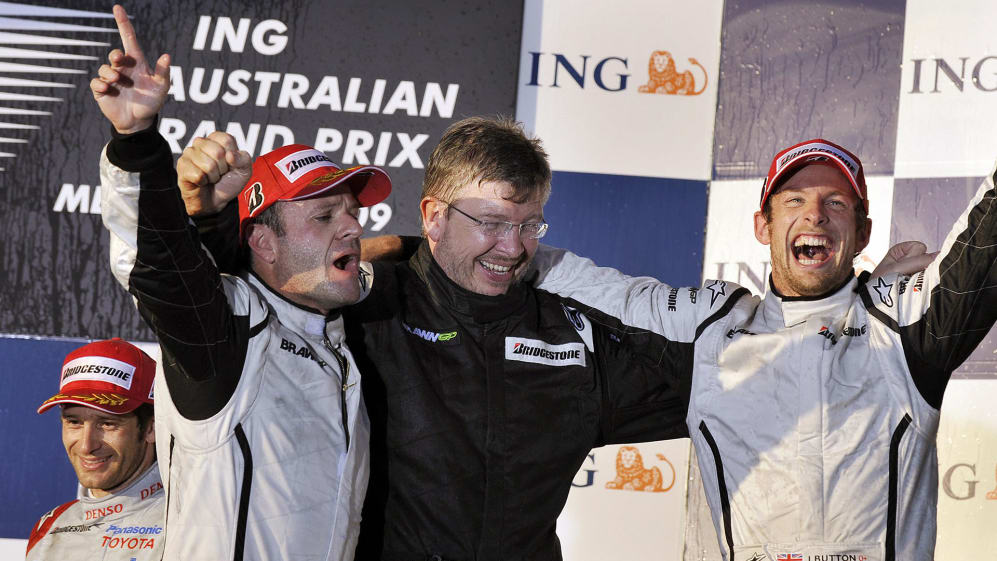 "The issue we had was refuelling: our normal refueller from previous years had left the team as part of the redundancies. We wanted to keep him, but he decided he wanted to go and be a plumber.
"So we got through Melbourne and realised we needed to make some changes. So I called him and he came along as a weekend warrior. He'd fly in Saturday night to do the fuel for a day rate, then straight after the race, he'd go home to do his plumbing job for a fortnight and then come back again."
"It was quite good value, because it knocked about eight seconds off the pit stops!" added Shovlin.
READ MORE: Long-serving Mercedes staff reveal 'heartbreak' of Schumacher failing to win for Silver Arrows
Also appearing on Beyond The Grid was James Vowles, chief strategist for the team in 2009, and now in the same role with Mercedes, who concluded: "That year… it honestly had a lifetime of memories. Every race had something… each race had its own unique set of memories that are embedded in all of us forever, and it won't change. And those feelings are extraordinary by comparison to most things."