Feature
BRAZIL PREVIEW: The stats and info you need to know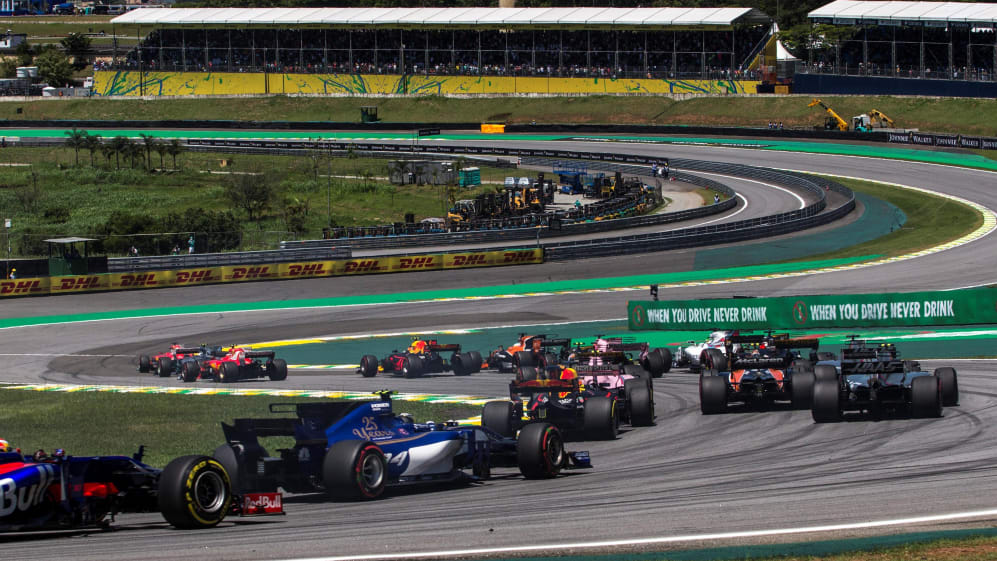 Formula 1 returns to the home of the Brazilian Grand Prix as the drivers prepare to take on the undulating and intimidating Interlagos. Here's your crib sheet for this weekend.
The Brazilian Grand Prix is always one of the racing highlights of the F1 season. Unreliable weather, a long, banked start-finish straight and a tricky mid-lap section makes for a challenge that the drivers all love getting stuck into.
Lewis Hamilton may have wrapped up the fifth of his world titles at the Mexican Grand Prix last time out, but there's still plenty to play for in both Brazil and Interlagos. Mercedes and Ferrari will continue their fight to see who comes away from 2018 with the team honours, while there'll be a few drivers with some scores to settle as the season draws to a close…
So let us jet to the land of Senna and Fittipaldi and prepare for the 46th Brazilian Grand Prix, and the 36th at Interlagos. Here's what you need to know ahead of the weekend.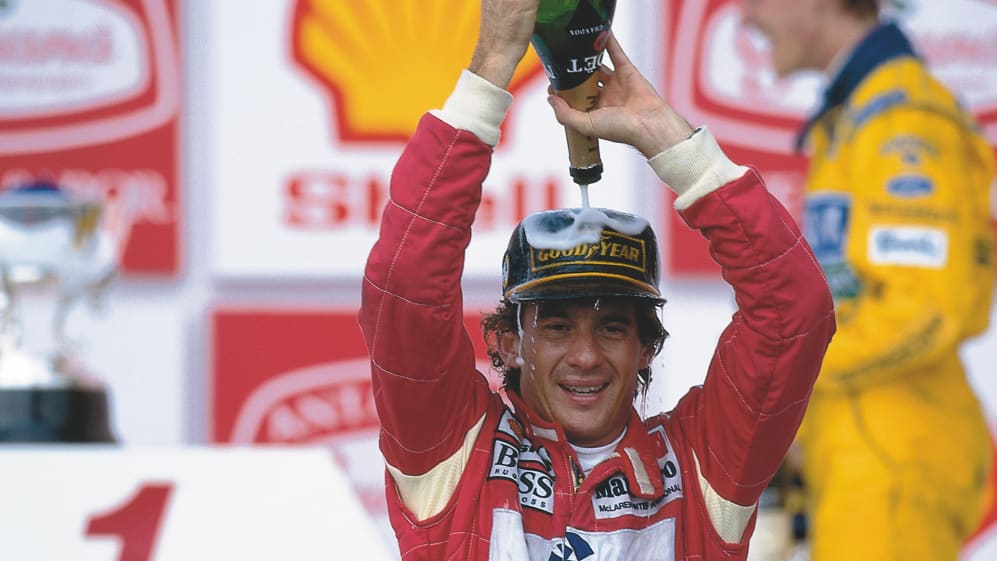 The form book…
Mercedes will be looking to sew up their fifth consecutive constructors' title at Interlagos, and they'll be helped in that plight by their form around the Autodromo Jose Carlos Pace – a track their car tends to fly at. Analysis of qualifying from the last four Brazilian Grands Prix since 2014 – all of which have seen a Mercedes starting on pole – gives the team a pace advantage of, on average, 0.363s over the next fastest opponent from another team around Interlagos.
That average was brought down last year, however, when Valtteri Bottas qualified just 0.038s quicker than the Ferrari of Sebastian Vettel, before the German went on to pip Bottas for the win, the first for a non-Mercedes runner since Vettel's victory for Red Bull in 2013. And in a 2018 season where Ferrari have looked Mercedes' equal, if not their better, at tracks where the Silver Arrows have previously dominated, it could well be that Ferrari finally reverse Mercedes' outright pace dominance at Interlagos this year.
If Mercedes do manage to hold off the Scuderia and triumph once again, however, victory may well come from Valtteri Bottas rather than Hamilton. The Finn was very publicly moved aside in Russia to help Hamilton in the drivers' race. And with that championship now settled, Mercedes will be anxious to pay back Bottas with some win bonus dosh and a bit of glory – especially given that Bottas is currently on course to become the first Mercedes driver to fail to win a race in a season since 2012.
Red Bull called Mexico their last proper time in 2018 to take a win, and although Max Verstappen got the job done in some style two weekends ago, the team were right in that, in F1's hybrid era, the Brazilian track hasn't tended to suit them.
In qualifying since 2014, Red Bull have only ever had a car that was third fastest or less at Interlagos, the team tending to be out-horsepowered up the hill and onto the start-finish straight, then out-horsepowered again in the long drag from Turns 3 to 4.
Their only post-2014 podium was Verstappen's third place after his epic drive in the rain in 2016. That's bad news for Daniel Ricciardo, who's desperate to ensure that he takes at least one more podium with Red Bull before he leaves for Renault at the end of the year – his chances having taken a cruel hit with yet another mechanical failure in Mexico.
But rain could help the Bulls' cause – and it's looking likely there'll be some of that, as we'll see…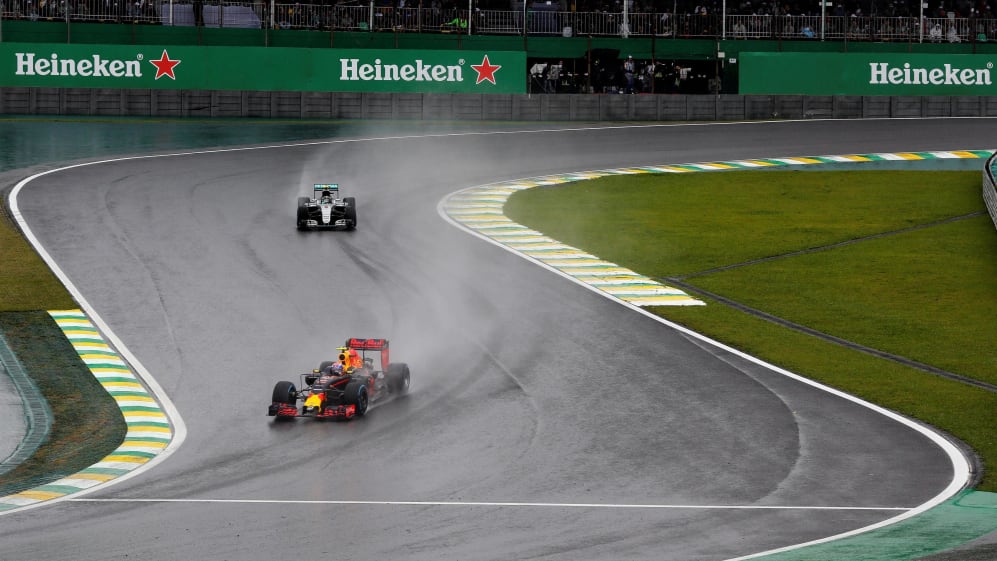 The stats that matter…
This year's Brazilian Grand Prix will see Interlagos tie with Hockenheim as the seventh most-used Grand Prix venue, with its 36th appearance.

This year's race will be the first ever held on November 11.

Victory for Lewis Hamilton would mark his 50th in Formula 1's hybrid era – he's already the fifth most successful driver of all time in terms of his post-2014 wins alone!

Since 2014, Red Bull have led a total of zero laps at Interlagos.

Sebastian Vettel leading for 11 laps would see him clinch Michael Schumacher's record for laps led at Interlagos – currently 236. Seven laps led for either Vettel or Raikkonen will give Ferrari the record for the most laps led by a constructor at Interlagos, currently held by McLaren.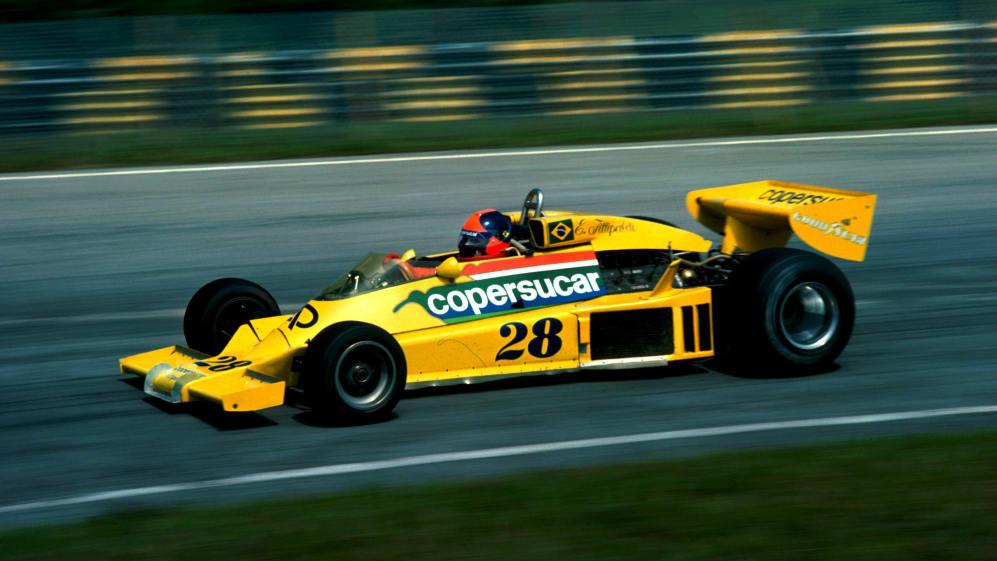 Mercedes, meanwhile, need to lead just 16 laps to make it into the '5000 laps led' club – only the fifth team to ever achieve the feat.

Daniel Ricciardo's pole position in Mexico was the only segment or session the Australian had led in the previous four Grand Prix weekends.

Kimi Raikkonen remains the only driver to have started in the top six at every Grand Prix in 2018 – but the Iceman has never started on pole in Brazil.

Lewis Hamilton has only managed to outqualify a team mate once in Brazil in the past five years, when he beat Nico Rosberg to pole in 2016.

Brendon Hartley has outqualified Pierre Gasly twice at the last three races, having only done it five times in total this season.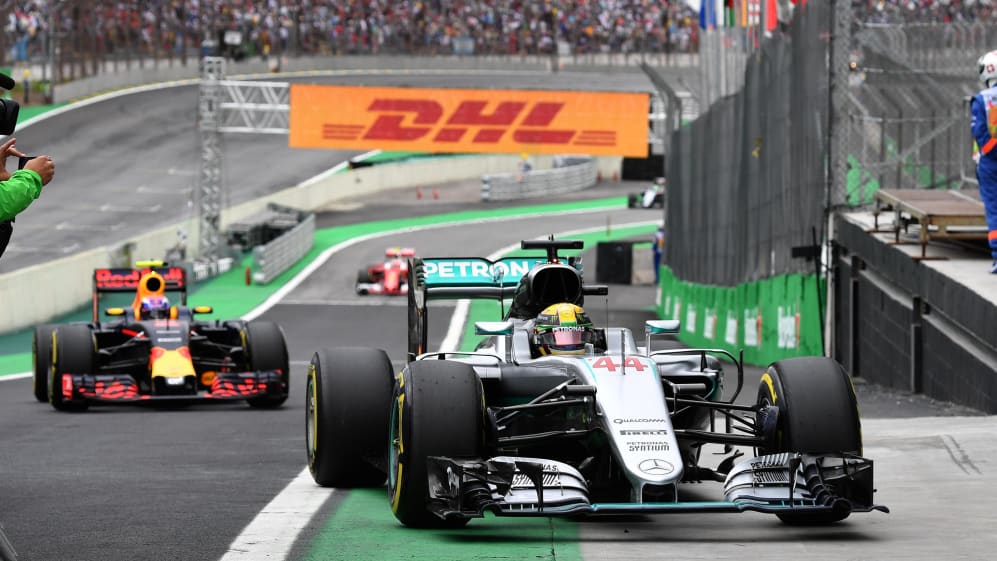 The circuit…
Banking and an anti-clockwise layout at Interlagos make it one of the most peculiar challenges on the Formula 1 calendar, and one that definitely leaves the drivers' neck muscles in need of the Magic Sponge come Monday morning.
First built in 1938 on land that was deemed too swampy for housing, the track at one time could be run as a mahusive oval (hence the banking) while a full lap of the circuit used in F1 up until 1980 clocked in at an epic 8km – a kilometre longer than the current Spa-Francorchamps layout. However, the 1990 redesign gave us more or less the punchier, shorter track the drivers know and love today. And they really do love it.
"It's an incredible circuit and I've always enjoyed racing there," said Fernando Alonso ahead of the 2018 race. "It's a track where many great races have taken place and it's always a little bit unpredictable."
Coming off the banking into the S bends named in honour of Brazil's favourite racing son, Ayrton Senna, the track then plunges downhill to Turn 4 before looping back into the modern, rollercoaster-like infield section, through tricky, uncomfortably cambered corners like Ferradura (Horseshoe), Pinheirinho (Little Pine Tree) and Bico Do Pato (Duck Bill). Those turns invite drivers to attack the entry but will punish them with locked inside wheels if they overcommit – or worse, as Lewis Hamilton found out in qualifying last year.
Out of Juncao, the drivers then begin to loop back up the hill and round onto the start-finish straight – what looks to be a gentle climb through a softly opening corner, but which can bite hard, as Mark Webber found out while driving for Jaguar in 2003.
Time to go onboard with your man Romain Grosjean as he drives a virtual lap of the track in his Haas VF-18...
The tyres…
Pirelli have called up a relatively tough selection for Brazil. That's largely because, although the lap is the third shortest on the calendar at 4.309km, it's a busy one, with the corners coming thick and fast in the middle part of the lap and a higher concentration of traffic that the drivers need to move off-line for. Many of those corners are also quick – and in the case of the start-finish straight, banked – putting high energy loads through the tyres, particularly the right-rear on this anti-clockwise layout.
"We're not expecting anything very different to what we've seen during previous years in Brazil," says Mario Isola, Pirelli's Head of Car Racing. "The only change is that we're bringing a nomination that is one step softer. The current medium and soft are similar to last year's soft-supersoft tandem that formed the winning race strategy, while this year's supersoft – the softest tyre we have selected for the weekend – is roughly equivalent to last year's ultrasoft, which didn't come to Brazil. So, this tyre effectively makes its debut at Interlagos.
"Dealing with traffic and going off-line is always an important aspect to managing the race in Brazil, and due to the high energy loads from the fast corners and possible high temperatures, degradation will be another factor to bear in mind – although we don't expect it to be excessive under normal circumstances."

The forecast…
For those of you who enjoy a wet Brazilian Grand Prix – and there have been some good ones over the years – you might be in luck this weekend, with a 40 per cent chance of rain predicted on Friday, rising to a 50 per cent chance across Saturday and Sunday. That rain will be accompanied by some chillier-than-usual temperatures as well, with highs of just 20 on Friday, falling to around 18-19 for the rest of the weekend.
When does the Brazilian Grand Prix start?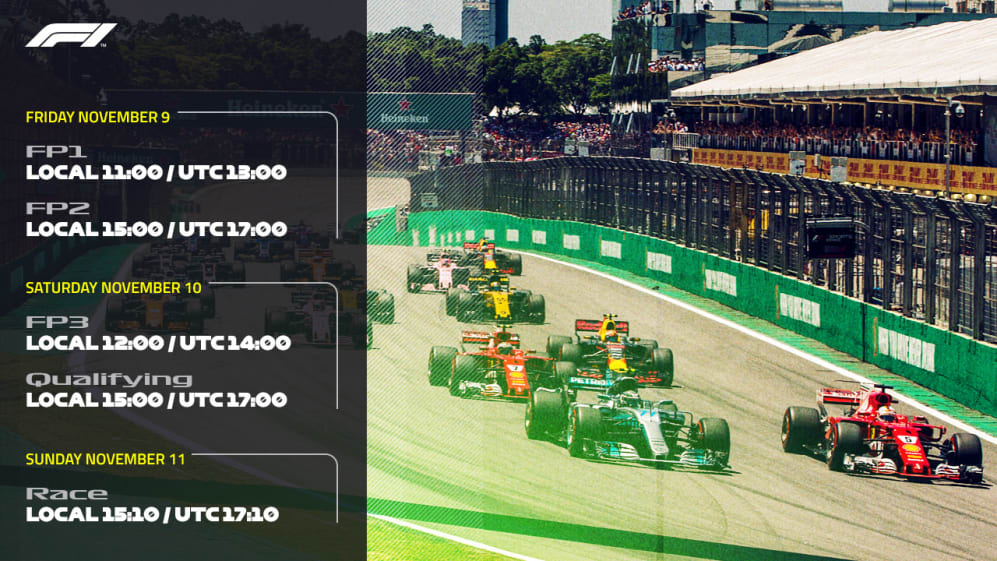 Fantasy F1 – get in the game!
Have you picked your Fantasy F1 team yet? If not, don't panic – you have until just before qualifying to get involved and try to win some amazing prizes.
It's free to play. Click here to sign up!
Watch full F1 Race replays or Highlights on F1 TV Access. Sign up now. Only available in certain regions (view full F1 TV Content Schedule here)