Feature
Brazil stats - Vettel win Ferrari's first in Brazil for 10 years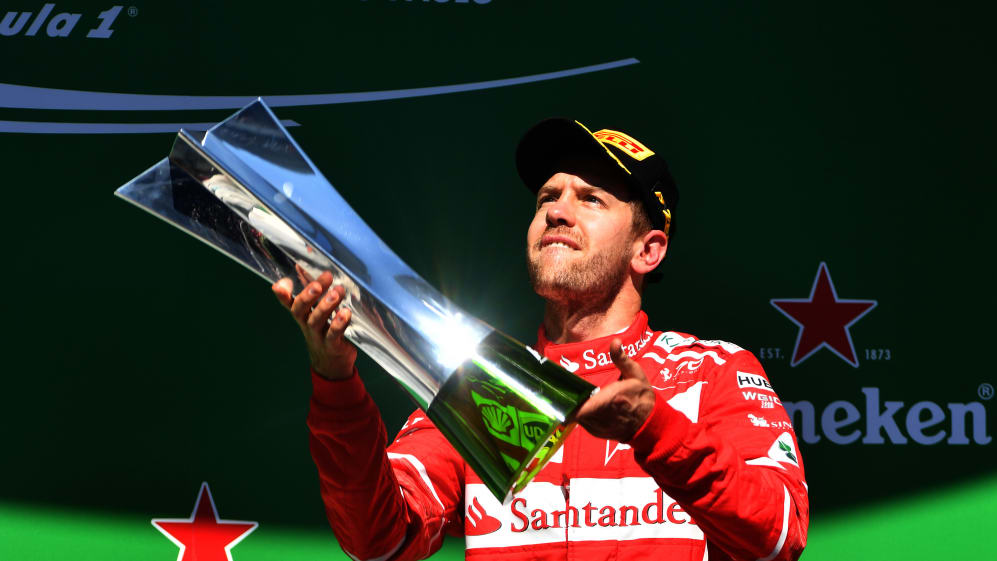 The last race in Mexico saw Sebastian Vettel's dream of a fifth world title extinguished. But the German responded in superb fashion in Brazil with what was a statistically significant victory - for both him and Ferrari...
Mercedes may have snatched pole away from them on Saturday, but Sunday belonged to Ferrari who, with Sebastian Vettel first and Kimi Raikkonen third, scored their fifth double podium finish of the season.

Moreover for the Prancing Horse, it was their first victory in Brazil since Felipe Massa's emotional championship near-miss in 2008. Since then only Red Bull, McLaren and Mercedes had won at Interlagos.

With his third career victory in Brazil, Vettel snapped his own winless streak, which had lasted seven races and stretched back to Hungary in July. The German now has five wins in 2017 – four fewer than Lewis Hamilton – and has virtually assured himself of second position in the drivers' championship, holding a 21 point advantage over Valtteri Bottas heading to the Abu Dhabi season finale.

Vettel's victory - the 47th of his career - was the ninth for a German driver in Brazil, which is the same number of wins achieved by Brazilian drivers on home soil. No other country can lay claim to as many victories in the South American nation.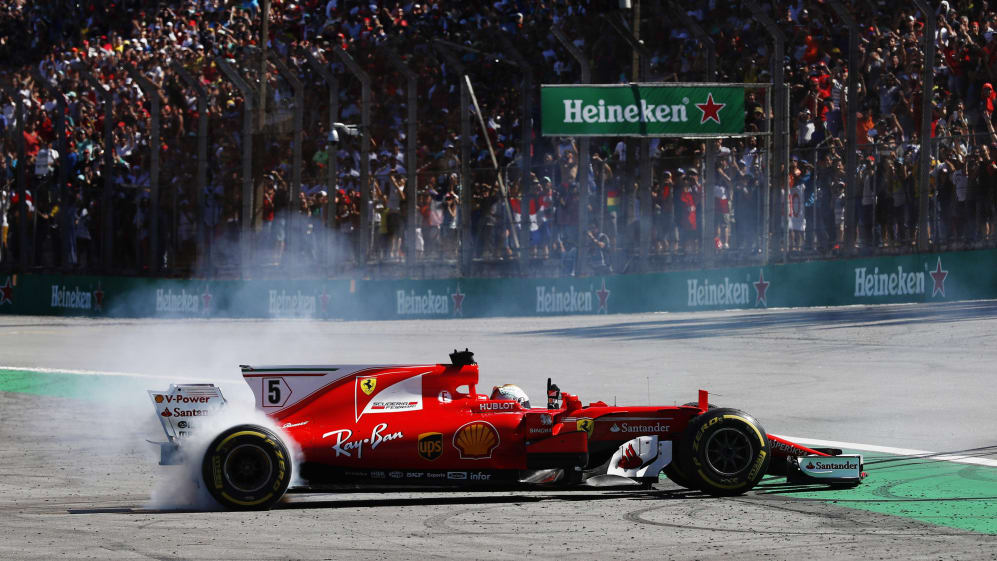 Vettel also vaulted past two home heroes – Ayrton Senna and Felipe Massa – in the category of laps led in Brazil. When it comes to spending time at the head of the field, only Michael Schumacher (236) and Alain Prost (235) have been in P1 for longer in Brazil than Vettel (225).

On the overall laps-led chart, Vettel also gained a place, moving past Senna (again!) for the third most laps led of all time with 2,990. Michael Schumacher (5,111) and Lewis Hamilton (3,514) remain out of reach for now.

Kimi Raikkonen still hasn't won since 2013, but he did at least break a streak dating back to the same year. With third place at Interlagos, the Iceman captured a third successive podium finish – the first time he's done that since China, Bahrain and Spain in 2013 when he was driving for Lotus.

For the second time from three career pole positions, Valtteri Bottas failed to convert P1 on the grid into victory - but he did collect his first ever podium finish in Brazil. Lewis Hamilton's absence from the rostrum – for the second race in a row and seventh time this season – means Bottas and Vettel now have the same number of podiums in 2017 as the Briton – 12.

Vettel, incidentally, is now just two podiums away from a century in Grand Prix racing - something only Michael Schumacher, Alain Prost and Lewis Hamilton have achieved before.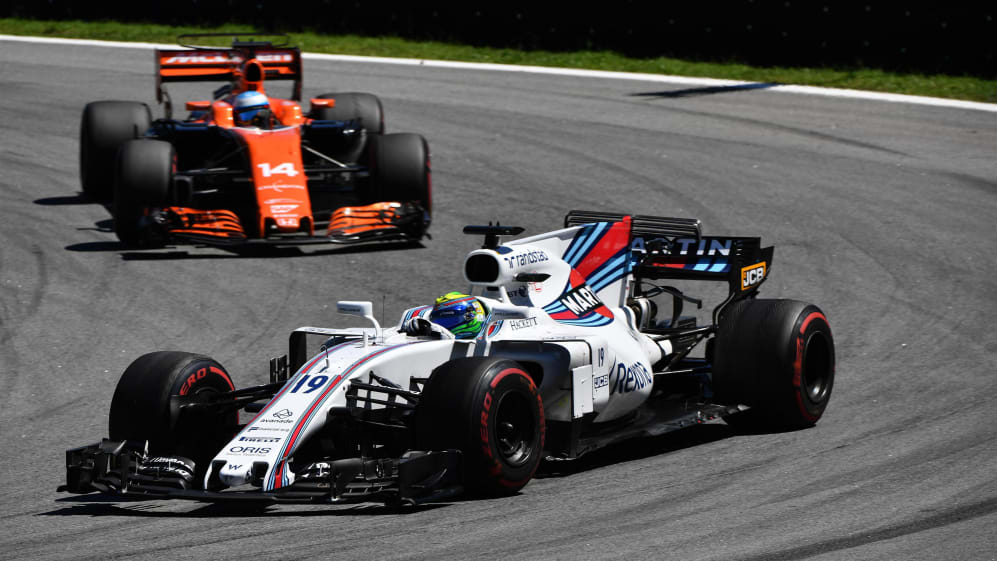 Lewis Hamilton may have missed the podium, but his determined drive to fourth place from the pit lane was significant in its own right. In making up 16 places he equalled the most positions gained in a race at Interlagos, matching the exploits of Ukyo Katayama (25th to 9th) and Gianni Morbidelli (23rd to 7th) from the 1992 race.

Hamilton also became the first driver to lead a race after starting from the pits since… Lewis Hamilton! The Briton did it at Hungary in 2014.

And speaking of Hungary, you have to go all the way back to the Hungaroring in July for the last time neither Red Bull driver finished in the top four.

In his final race on home soil, Felipe Massa scored his second-best finish of the year – and best result in 16 Grands Prix – by coming home in seventh. With six world championship points gained, Massa also moved back in front of rookie team mate Lance Stroll in the drivers' standings, which is significant if only because the Brazilian hasn't scored more points than a team mate over the course of a season since 2008 (though he did miss half of 2009).

Fernando Alonso, who finished just behind Massa, also re-passed his younger team mate in the standings as he scored points for the second race in a row and just the fourth time this season.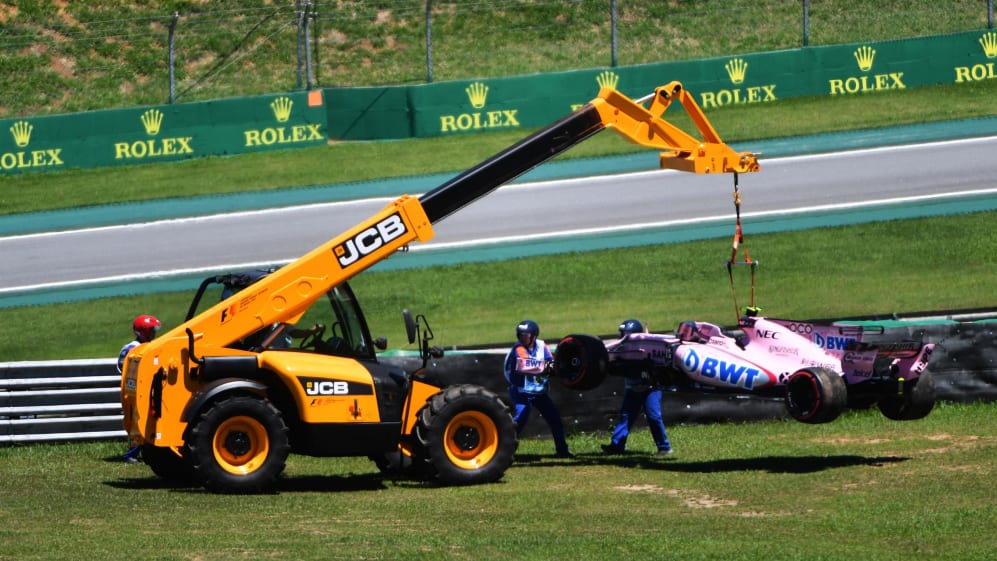 On the subject of point-scoring streaks, Lewis Hamilton is now up to 24 consecutive races in the top ten, tying him for joint second of all-time with Michael Schumacher and leaving him just three shy of matching Kimi Raikkonen's record.

Mercedes team mate Valtteri Bottas is 10 races behind Hamilton on 14, while Force India's Sergio Perez extended his own streak to seven races by finishing ninth in Brazil.

But while Perez marched on, team mate Esteban Ocon's remarkable streak of finishing all 27 races since the start of his Grand Prix career came to an end, and just like the previous holder of that rookie record Max Chilton, a first-lap crash was to blame. It meant the Frenchman missed the points for just the second time this year – a truly remarkable feat all the same.

By contrast, Nico Hulkenberg entered the Brazilian weekend off the back of retiring from three consecutive races for the first time in his career. However, the Renault driver halted that skid in style as he finish 10th and claimed the final world championship point – his first top-ten finish since Belgium.

The next and final Grand Prix of the season takes the teams and drivers to Abu Dhabi. If Ferrari, on 495 points, score three more points at Yas Marina, they'll surpass McLaren (2011) for the most points scored in a single season by a constructors' championship runner up. It's not the title they were hoping for, but it would be some achievement nonetheless.