Verstappen: 'The car was flying' on Brazil pole lap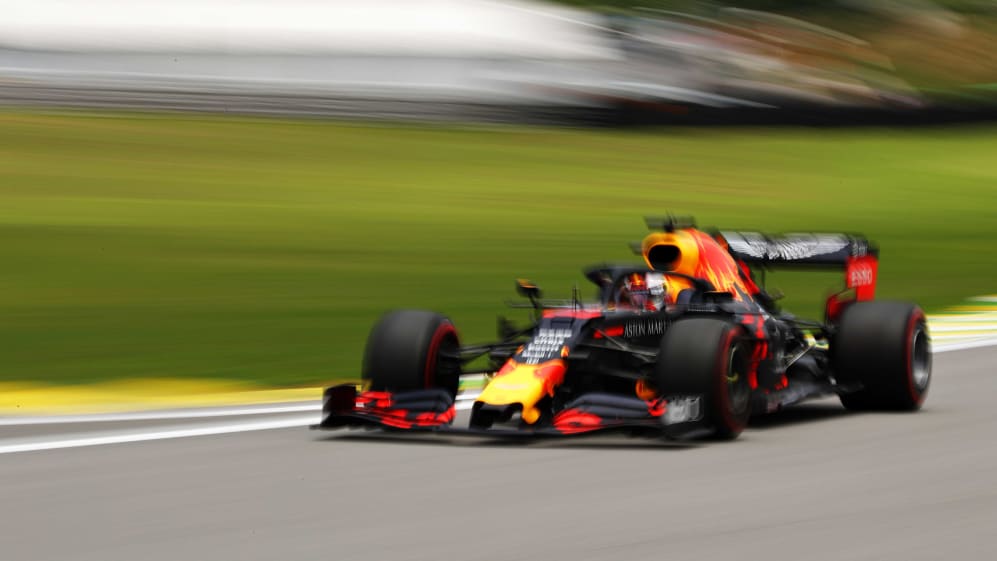 From the start of qualifying for the Brazilian Grand Prix, the body language of the #33 Red Bull suggested that Max Verstappen had his eyes firmly set on taking his second career pole position. And after doing just that, the Dutchman confirmed that his Red Bull RB15 had been "on fire" (in a good way) around the snaking Brazilian track.
Having previously secured just one pole position in his career – at Hungary earlier this season, although he was stripped of his Mexico pole after a yellow flag infringement – Verstappen set out his stall early in qualifying, heading both Q1 and Q2.
READ MORE: Verstappen snatches sensational Interlagos pole
Such was his pace advantage that, on his first effort in Q3, Verstappen managed to claim provisional pole despite a lairy, wide moment in the track's middle sector. But then a smoother run on his second flying lap saw him trump Ferrari's Sebastian Vettel by 0.123s, as he stopped the clocks at 1m 07.508s.
I tried a different line, so it gave me a bit more oversteer and then of course I went a bit wide. But then the second lap was a bit better so all good
And after letting engineer Gianpiero Lambiase know over team radio on the way back to the pits that "the car was on fire", Verstappen was still buzzing when he faced the media.
"The car was really good," he beamed after securing Honda's first pole position at Interlagos since the great Ayrton Senna's for McLaren in 1991. "Throughout qualifying, the track temperature was changing a bit so we had to adjust for that. But straight away from Q1, the car was just flying and it was actually really enjoyable to drive, so very happy with this pole position.
"I tried a different line," added Verstappen, explaining his early Q3 error, "but also the track was a bit warmer, so it gave me a bit more oversteer and then of course I went a bit wide. But then the second lap was a bit better so all good."
With his team mate Alex Albon qualifying P6 on his first visit to Interlagos, Verstappen's pole was a fitting 46th birthday present for Team Principal Christian Horner, who was full of praise for his Dutch driver – as well as for Honda's engineers.
"All credit to Honda," he said. "They're doing a wonderful job to get what is now officially their second pole position in the hybrid era. It's a high altitude track, it's tough on engines and if you think of where they were a few years ago, the effort that's going in is really impressive.
"I think [Max] just got the car hooked up. The whole package was working really well. The circuit got a little tricky at the end there and it was difficult to improve, and he just eked out those last little gains and a brilliant qualifying from him."
Verstappen will now look to achieve what he nearly managed last year, when he was set to take a comfortable win before tangling with his old Euro F3 rival Esteban Ocon as the Frenchman tried to unlap himself. And reminded of the incident in the post-qualifying interviews, Verstappen clearly laid out his intention for Sunday: "We'll of course try to finish it off now."