Feature
Breaking down the critical dilemma facing the teams' strategists on race day in Barcelona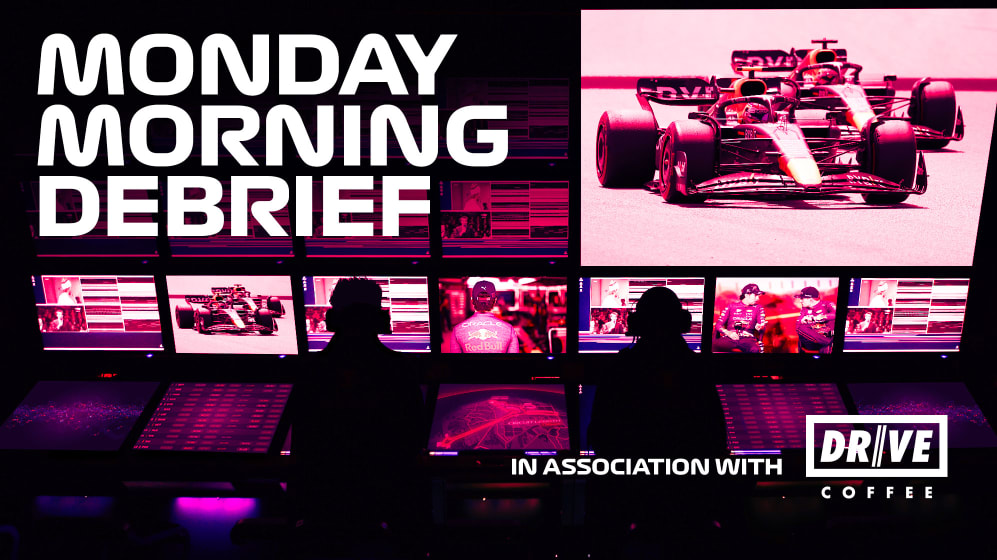 Once Max Verstappen had been sent by a gust of wind into the Turn 4 gravel trap on Lap 9 of the Spanish Grand Prix, his victory required the failure of Charles Leclerc's Ferrari power unit and the compliance of Red Bull team mate Sergio Perez. Playing the perfect team game, Perez twice allowed Verstappen through in pursuit of the win and, of course, of the world title. But ordinarily, Verstappen's off and Leclerc's retirement would have opened up the route to a Perez victory.
The circumstances of the race made it a strategically tricky one for Red Bull, complicated further by Verstappen's faulty DRS mechanism.
In the gusting of a Turn 4 wind Verstappen went from second, hard on the heels of Leclerc, to fourth. He re-joined from the gravel directly behind Perez, who was deeply embroiled in a struggle with George Russell's Mercedes for second. That struggle had to be called off for the time being as Perez was instructed to allow Verstappen passage. He'd be allowed through later, he was assured, when he needed to make his two-stop strategy work. For now, the plan was to put Verstappen on a three-stop.
READ MORE: Verstappen says he enjoyed 'really cool fight' with Russell on the way to Spain victory, as he addresses DRS issue
Once Perez had acceded and allowed his team mate by, Verstappen attacked Russell for all he was worth, but the combination of the Red Bull's faulty DRS mechanism, Russell's fierce defence and the Merc's very strong end-of-straight speed meant Max couldn't pass on track. At this point, Perez felt he was being held up and that his strategy was thereby being compromised.
"We didn't know at the time which strategy was going to be the best one," said Perez later. "I only felt that in the first stint when I gave the position to Max, that I was told that I was going to get it back and when I was on the two-stop, I felt that I could have gone through Max and George a bit earlier to try and make the strategy work. But probably it wouldn't have been enough."
Perez felt that Verstappen's three-stop ended up being the better strategy. He won with it, after all. But was it? As Checo said, it was impossible to call it in advance, for it depended upon the exact tyre deg picture. Such were the super-high temperatures around a track which puts enormous energy through the tyres that they were effectively saturated. Was it faster to take in the additional 21s time loss of an extra stop but be able to push harder? Or to back off a little and stop only twice?
HIGHLIGHTS: Relive the action from a dramatic race in Spain as Verstappen leads Red Bull 1-2
Track position and the tactical contingencies of the moment ended up being more important than the mathematical theoretical fastest time. But in that theoretical world, to buy the extra 21s for a pit stop requires you to average 0.32s per lap faster on a three-stop than on a two. If you could make the tyres last long enough for a two-stop by slowing less than 0.32s per lap, then the two-stop was faster. It looks like it was – for the top cars at least.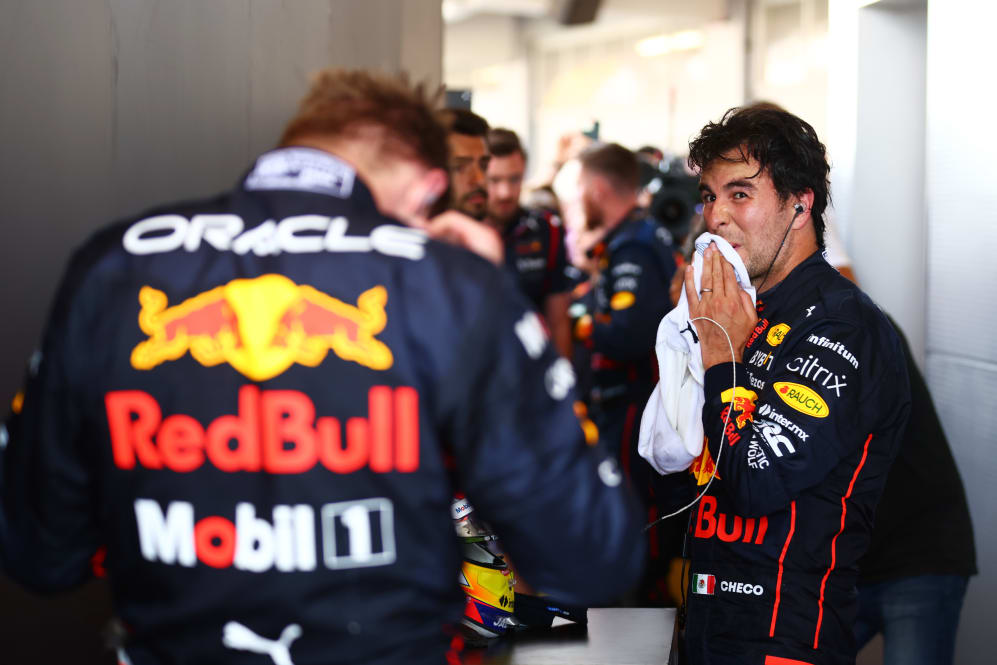 We need to distinguish between a genuine three-stop and a race run as a two-stop but with a free third stop taken as an add-on. Although Verstappen was switched to a three because he'd lost track position, Carlos Sainz was switched to a three because with his diffuser damaged (like Verstappen, he'd been off at Turn 4) he was eating through the tyres. This allowed Mercedes to pit Russell for a third time for free (i.e. with no position loss) and this in turn allowed Red Bull to pit Perez for a third time so as to get onto a set of softs with which he could take the point for fastest lap off Lewis Hamilton.
But both Russell and Perez – like Hamilton – were on nominal two-stop strategies. Circumstances just allowed them to make a third stop for free and therefore protect themselves from being on old tyres on any safety car restart.
READ MORE: 'This is the start of our season' says podium finisher Russell after duelling with Verstappen in Spain
Mercedes' numbers suggested a two-stop was actually faster, that it was possible to give up less than 0.3s per lap to do it. But track position trumps that. "During the race, you make that decision," explained Verstappen. "They put me on three early on, because of being stuck, having my DRS issue, we decided to be a little bit on a different, more aggressive strategy, because if I wouldn't have had that DRS issue, I could have cleared George earlier and I would have opened the gap again. And then you're in a different situation where maybe then we do a different [i.e. two-stop] strategy, but we had to improvise a bit."
They did so to perfection, even though it required Perez's generous co-operation to make it work.