'This is the start of our season' says podium finisher Russell after duelling with Verstappen in Spain
George Russell said that his Spanish Grand Prix podium represented a turning point for Mercedes in 2022, given he finished third in a heavily-upgraded W13 after going wheel-to-wheel with Max Verstappen.
Russell briefly led in Spain but was outdone by Verstappen and Sergio Perez as Red Bull secured a one-two – with pole-sitter Charles Leclerc retiring and Carlos Sainz finishing fourth for Ferrari. Given Russell scored his podium in a car donning a significant upgrade package, he was grateful for Mercedes' hard work.
READ MORE: Verstappen leads Red Bull 1-2 after Leclerc retires from rollercoaster Spanish Grand Prix
"Yes, I mean, it feels great to be on the podium and I think this showed the hard work and effort that's gone on at the factory both at Brackley and Brixworth. We've always said, you have to be there at the end to pick up the pieces, to pick up the points, especially on days like today.
"It was incredibly tough out there for the cars and the drivers. But I feel like we're making progress and I feel like we, as a team, have turned a page and I feel like this is probably the start of our season now."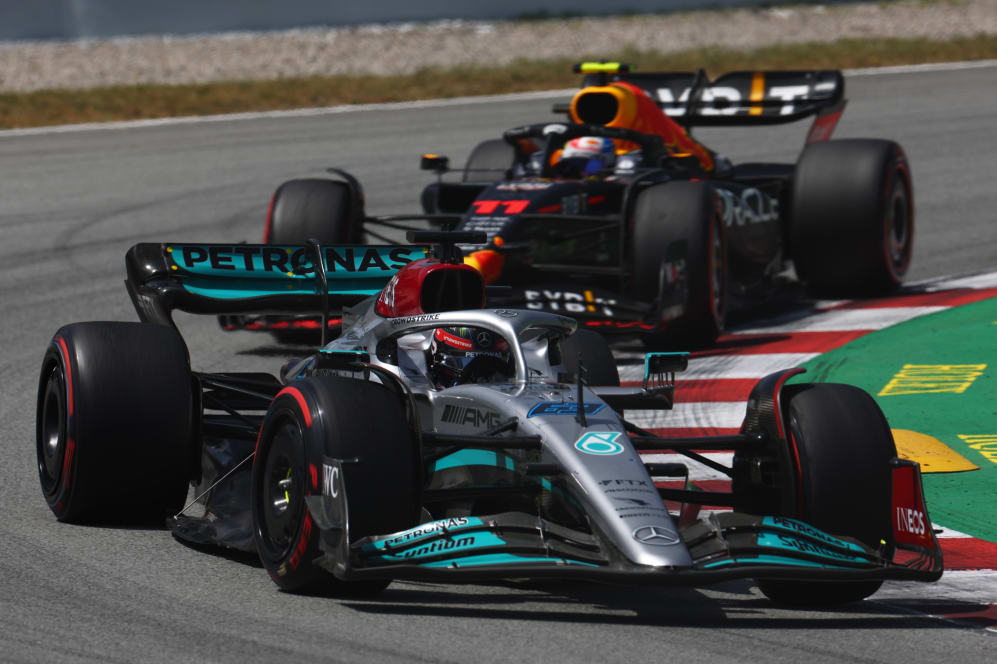 The works driver went on to explain that Mercedes had made a major step in performance having "solved their issue" – perhaps alluding to the bouncing problem that has previously plagued the Silver Arrows this season.
"I feel like this was more genuine; I feel like we have probably halved the gap to the frontrunners compared to the rest of the season, and I think we know there's probably more performance to find.
READ MORE: 'We cannot afford for this to happen' – Leclerc reflects on losing shot at Spanish GP win after power unit issue
"It's been a season of problem-solving as opposed to trying to find more performance and bring more performance to the car, and I think we've now finally solved our issue and we can now focus on bringing more performance. So, yes, we're six races behind – but there's no reason why we can't claw this back."
As for his long and hard-fought battle with Verstappen, Russell was thrilled to be fighting against the reigning champion and his rapid RB18.
"It was satisfying because we truly fought for it. I felt for Max to be honest having the DRS troubles, but I felt like we didn't make it easy for him. I don't know how it looked on the TV… But ultimately, they had the pace on us today. Sorry for Charles as well."
An overheating engine made things difficult for the Briton, however, as he did everything possible to keep Verstappen at bay.
DRIVER OF THE DAY: Hamilton's epic comeback gets your vote
"I was managing tyres, the engine was overheating, and trying to go as fast as possible to keep him behind – you're juggling so many things – and then in the last five, six laps, it's just like, 'bring it home, get it to the end of the race…
"But the team did a great job to not allow us to go over the limit and have to retire the car. Nobody enjoys these challenging races with really difficult temperatures but that can make the difference. Proud of everybody to bring this home."
Team mate Lewis Hamilton finished fifth, having surrendered a place to Carlos Sainz late on – due to overheating – but Mercedes still managed to outscore Ferrari, with Monaco up next.