Verstappen says he enjoyed 'really cool fight' with Russell on the way to Spain victory, as he addresses DRS issue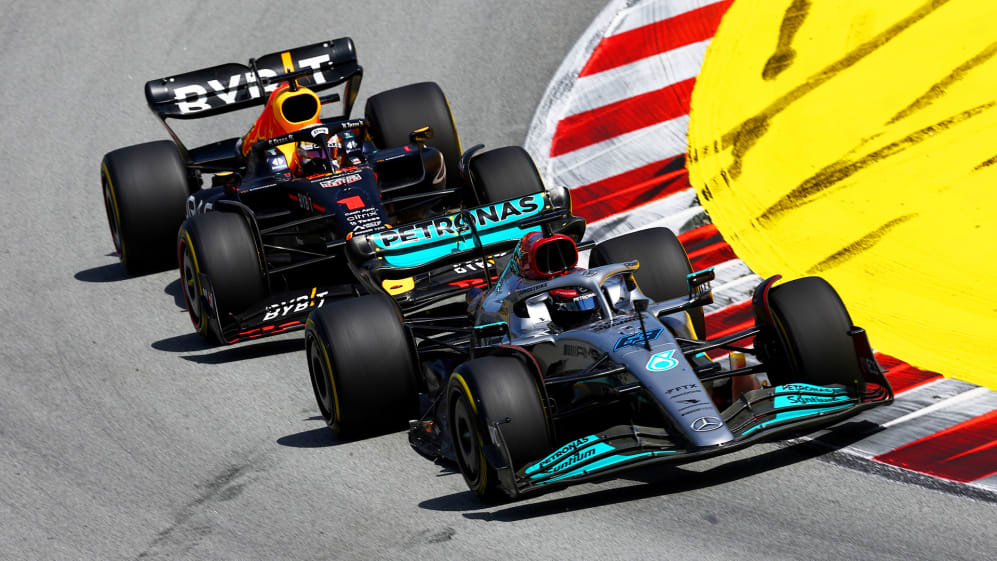 Max Verstappen said he'll be able to look back on his battle in Barcelona with George Russell with a smile, as he went on to win the 2022 Spanish Grand Prix. But Red Bull's reigning champion admitted he was "frustrated" by a race-long DRS issue that had perhaps stopped him passing even sooner.
Verstappen qualified second but fell down the order after an early off-track excursion at Turn 4. He then found himself battling with George Russell for P2 and the lead when Charles Leclerc retired. The battle was hard, fair, but not easy, as the championship leader recounted.
READ MORE: Verstappen leads Red Bull 1-2 after Leclerc retires from rollercoaster Spanish Grand Prix
"A bit of a race with two halves," said Verstappen, "because the first 30 laps were very frustrating for me after I went off in Turn 4, first of all, which really caught me by surprise because I didn't feel like I was actually braking later or throwing more speed into the corner. But it was very gusty out there today… that caught me out by surprise, that was not ideal of course.
"Of course I was a bit frustrated at the time because I couldn't get [Russell] because of DRS issues, but the fight itself was really cool also. I think that lap where I did go down the outside and George went around the outside and I was around the outside of Turn 3 again, I think that was a really cool fight.
"I look back at it and I'll smile now; at the time of course I was a little bit frustrated. But it was a really good and tough battle, I think."
As for the DRS issue, Verstappen explained that it wasn't easy to drive while trying to diagnose the malfunctioning system.
DRIVER OF THE DAY: Hamilton's epic comeback gets your vote
"I mean, I could have shouted [something] back on the radio, but there is nothing you can do because I mean, I'm not stupid; once you get the light and the activation beep then you press the… paddle and if it doesn't open, there's clearly an issue.
"I spammed it like 50 times at one point on the straight and it's just not opening, so there was clearly an issue. I tried all different kinds of things: stay off the kerb, on the kerb, open it a tiny bit later. It was just broken or malfunctioning so yes, we clearly have an issue there on this wing."
The Dutchman did however warn that Red Bull were off the pace of Ferrari this weekend and admitted that Leclerc was "pulling away" before his unfortunate retirement from a comfortable lead.
READ MORE: 'We cannot afford for this to happen' – Leclerc reflects on losing shot at Spanish GP win after power unit issue
"We have to be realistic; we were off on one-lap pace and in the race, the first stint before I went off the track, Charles was pulling away a little bit. Of course, we have the lead of the championship, but you see you have to be super reliable… we have to work on our performance a little bit more. But for now I think this race – very positive for the team."
Perez backed up the team's one-two finish and helped Red Bull leave Spain with the lead of both championships – as they look to win again in Monaco.