Fernando Alonso's Saudi Arabian Grand Prix podium reinstated after review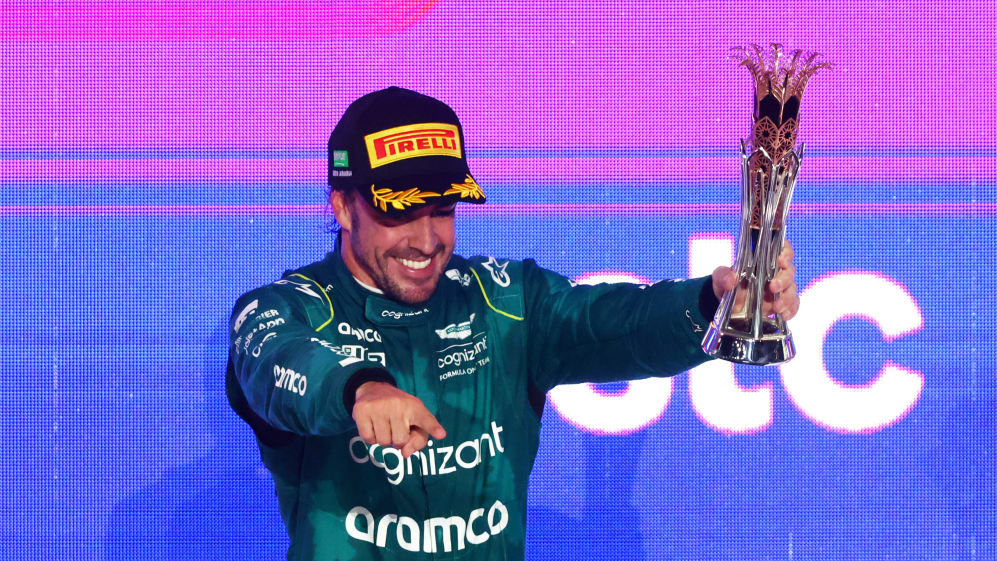 Fernando Alonso has regained his third-place finish in the 2023 Saudi Arabian Grand Prix after Aston Martin requested a Right of Review on Sunday night…
Alonso briefly led the race in the opening laps but was soon handed a five-second penalty for lining up outside his grid slot. However, the two-time champion was then handed a further 10-second penalty for not serving the first penalty correctly, which dropped him out of the podium places and promoted Mercedes' George Russell to P3.
The stewards originally ruled that, due to the rear jack touching the car prior to the five seconds having elapsed, the penalty had not been served correctly.
EXPLAINED: Why did Fernando Alonso originally get a penalty in Jeddah?
However, the FIA have now reversed their decision, releasing a document that said Aston Martin had submitted a letter to review the 10-second penalty.
"In support of the Petition for Review, the Stewards were shown minutes of the latest SAC meeting and video evidence of 7 different instances where cars were touched by the jack while serving a similar penalty to the one imposed on Car 14 without being penalized.
"The clear submission by the Team was that the alleged representation of an agreement between the FIA and the teams that touching the car in any way, including with a jack, would constitute 'working' on the car for the purposes of Article 54.4 (c) of the Sporting Regulations, was incorrect and therefore the basis of the Stewards' decision was wrong.
Oops! Error retrieving Twitter post
"In the light of the Petition, the Stewards had to decide if there was a 'significant and relevant new element [that was] discovered which was unavailable to the parties seeking the review at the time of the decision concerned'. If there was such an element(s) then the Stewards would need to consider whether the decision needed to be modified in any way.
"Having reviewed the video evidence presented and having heard from the Team representative of Aston Martin and the relevant members from the FIA, the Stewards determined that there did exist significant and relevant new evidence as required under Article 14.1.1 to trigger a review of the decision, in particular the video evidence and the verbal evidence from the Team and from the FIA. It was clear to us that the substratum of the original decision, namely the representation of there being an agreement, was called into question by the new evidence.
"We therefore proceeded to hear the substance of the request for review. Having reviewed the new evidence, we concluded that there was no clear agreement, as was suggested to the Stewards previously, that could be relied upon to determine that parties had agreed that a jack touching a car would amount to working on the car.
"In the circumstances, we considered that our original decision to impose a penalty on Car 14 needed to be reversed and we did so accordingly."
Alonso therefore retains his third-place finish at Jeddah and his 100th F1 career podium finish.