Norris to take 5-place grid penalty at Spa as McLaren confirm gearbox change after Q3 crash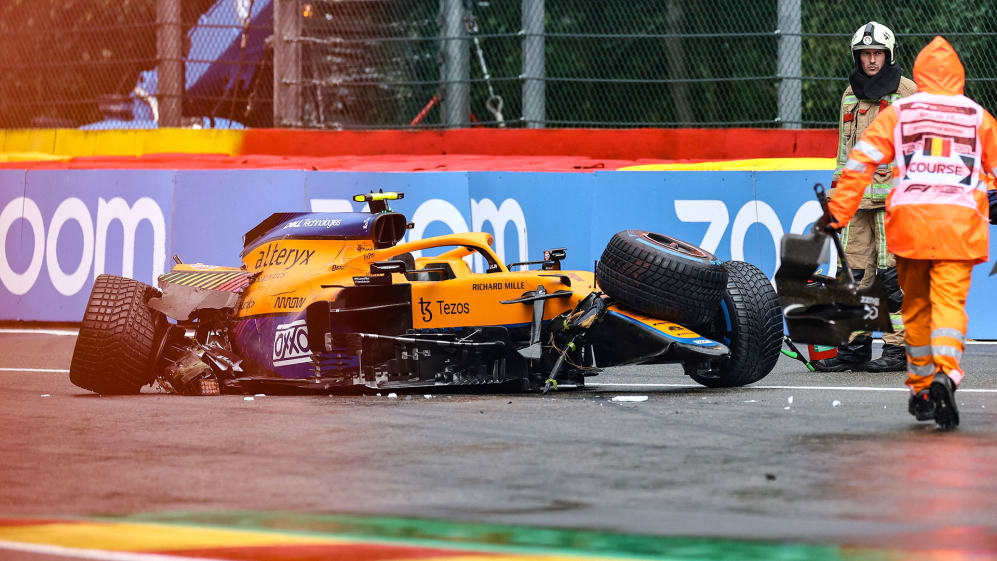 Lando Norris will take a five-place grid penalty for today's Belgian Grand Prix after McLaren confirmed they have changed the gearbox in his MCL35M following his high-speed crash in qualifying on Saturday.
The 21-year-old had topped Q1 and Q2 at Spa, and looked to be in contention for his first ever pole position, before he crashed early in Q3 at Raidillon in a dramatic shunt that did substantial damage to his car, and saw him taken to hospital for checks and a X-ray on his elbow.
He was released on Saturday evening and cleared to race, as McLaren assessed the damage to his car. And on Sunday morning they confirmed they had changed the gearbox - but not the chassis - meaning he will have to take a five-place grid penalty, but not start from the pit lane.
READ MORE: Verstappen denies Russell shock pole in dramatic wet qualifying session at Spa
"After assessing the damage to Lando's car, we have decided to change the gearbox, resulting in a five-place grid penalty," a McLaren spokesman told F1.com.
It means Norris will start the race from 14th position - pending any further penalties. Having failed to set a time in Q3 he was classified 10th, but was moved up to ninth as Valtteri Bottas, who qualified eighth, already had a five-place grid penalty to serve in Belgium, following his involvement in the Lap 1 multi-car crash in Hungary last time out.
Norris said on Saturday evening that he was bruised but was ready to race - and said he thought he could have been in the fight for pole had he not crashed.
"First of all, I'm doing good, but I've been better! I think just a bit bruised. Obviously, it was quite a big impact and I think my body's just been thrown around a little bit but I'm good. I'm ready to race tomorrow and I want to get back on track already because it didn't end the way I wanted it to," he said.
READ MORE: Russell on the front row, the Lap 1 drag race, and rain – What To Watch For in the Belgian GP
"Everything was going extremely well. Since the first lap in Q1, things were going perfectly and the car was feeling hooked up. I felt confident with the car. It was tricky going out in Q3 because, even on the out-lap, I was saying how wet it was because I was aquaplaning quite a bit.
"It was just a difficult situation to be in. How much do you want to push? How much do you not? I think, a combination of pushing a bit too much for the weather at that point and aquaplaning a little bit in the middle of Eau Rouge obviously didn't end too well.
"I feel bad because things were going very well. I think I could have fought for pole position, but I've now given the team a lot of work to do. We'll see where we start and try to score as many points as possible. Finally, a big thanks to all the marshals and medical staff for their help and hard work today."