Stewards take no further action over 'unnecessary' Verstappen-Stroll FP2 crash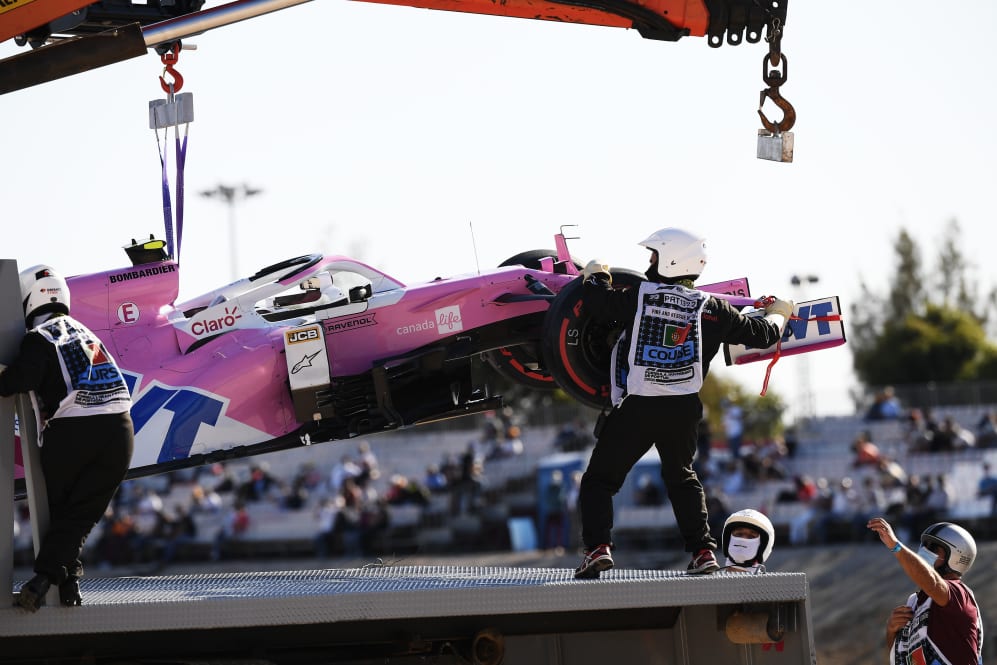 Red Bull's Max Verstappen and Racing Point's Lance Stroll had a dramatic coming together in Free Practice 2 for the Portuguese Grand Prix, with the contact between the pair leaving Stroll in the gravel – and Verstappen decidedly unimpressed…
Following an earlier red flag stoppage after a fire on Pierre Gasly's AlphaTauri, Verstappen was circulating Portimao and about to attempt a fast lap when he moved aside at Turn 14 to let Stroll – already on his own push lap – through.
FP2: Bottas quickest again as Verstappen and Stroll collide in Portimao
Stroll's intention, according to Racing Point, had then been to go straight into a second consecutive fast lap. But Verstappen, keen to get on with his own push lap, tried to out-drag the Racing Point down Portimao's main straight.
The pair arrived at Turn 1 with Verstappen just alongside Stroll's RP20, with Stroll appearing not to see the Red Bull in his blind spot, before taking the corner and hitting Verstappen, causing Stroll to spin into the gravel – and bringing out the session's second red flag.
"Is this ******* guy blind?" was Verstappen's immediate response on team radio – and his mood hadn't improved significantly when he faced the media after the session, despite ending up second overall to Mercedes' Valtteri Bottas in Free Practice 2.
"To be honest, I don't want to talk about it too much," said Verstappen. "I was so surprised that he just turned in. I was coming up to him, so I don't know where I had to go. I was starting my lap, he'd just finished his lap… It's FP2, but it's just a shame that we touched. It was just so unnecessary."
WATCH: Gasly's FP2 session brought to a halt after AlphaTauri catches fire out on track
Asked if he could have backed out of the corner to avoid the contact, Verstappen replied: "Could he have backed out of it? There's always a discussion that could go on forever, but it's just silly."
Later on, Stroll gave his own version of events, saying that he was focused on making switch changes going down the main straight, having expected Verstappen to leave a gap behind him.
READ MORE: Racing Point say they've 'learned' from their handling of Stroll's illness after FIA give them 'reminder'
"It was unfortunate," said Stroll. "He let me through into the last corner, and then I expected him to take a gap, so I was busy looking at some things on my dash on the main straight, and once I looked up, I was just focused on the corner. I didn't expect anyone to be alongside me and I don't think he expected me to be on a second push, so it was just unfortunate."
Both Verstappen and Stroll were summoned to explain themselves on Friday evening to the stewards, who eventually ruled that no further action was necessary following the incident, stating: "The drivers agreed in the hearing that the incident was the result of a misunderstanding between them and that with hindsight, both could have contributed to avoid the incident" – while Stroll added that he and Verstappen had "cleared the air" and it was "all good" between them after the stewards' meeting.