Verstappen handed further 10-second penalty for Lap 37 collision with Hamilton in Saudi Arabian GP
Max Verstappen has been handed a 10-second penalty for causing a Turn 27 collision with Lewis Hamilton in the Saudi Arabian Grand Prix, plus two penalty points.
The title protagonists were embroiled in a bizarre incident on Lap 37 of the Saudi Arabian Grand Prix when Verstappen, who was asked to return the lead to Hamilton having been deemed to gain an advantage going off track earlier at Turn 1, slowed to let his rival past.
READ MORE: Verstappen gives his view on controversial Hamilton incidents, as he says it 'wasn't worth fighting' after mid-race penalty
Hamilton, however, was caught off-guard by the slowing Red Bull and attempted to jink left in avoidance, clipping the car ahead and damaging his front wing. Verstappen received a five-second penalty for the earlier Turn 1 incident, with both drivers summoned to the stewards for this Turn 27 scrap.
The stewards saw fit to hand Verstappen a further 10-second penalty and two penalty points (taking him to a total of seven over the 12-month period) with their report reading: "At Turn 21 the driver of car 33 [Verstappen] was given the instruction to give back a position to car 44 [Hamilton] and was told by the team to do so 'strategically'. Car 33 slowed significantly at Turn 26.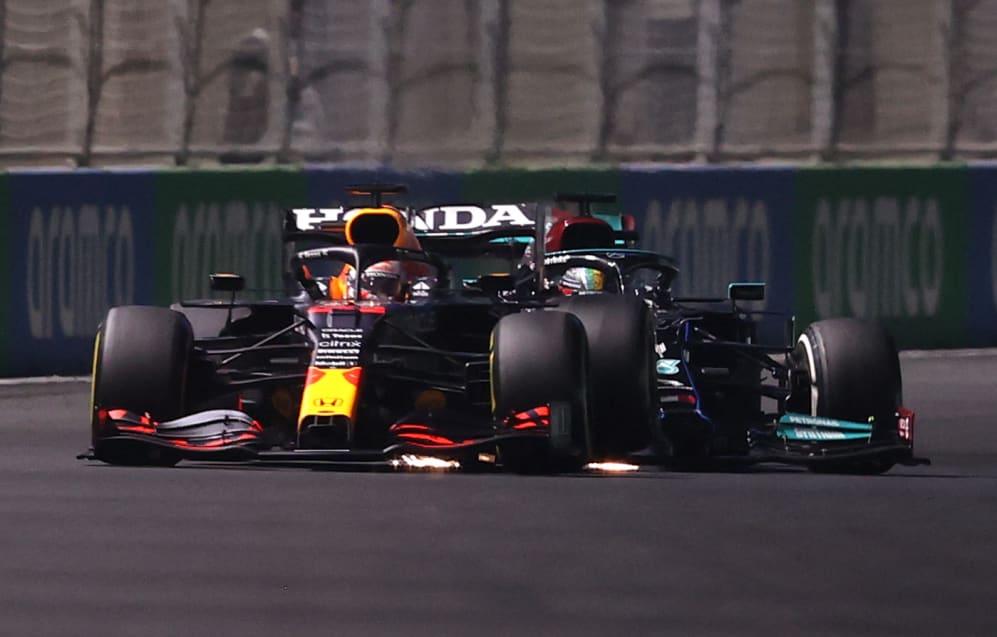 "However, it was obvious that neither driver wanted to take the lead prior to DRS detection line 3. The driver of Car 33 stated that he was wondering why Car 44 had not overtaken and the driver of Car 44 stated that, not having been aware at that stage that Car 33 was giving the position back, was unaware of the reason Car 33 was slowing.
"In deciding to penalise the driver of Car 33, the key point for the Stewards was that the driver of car 33 then braked suddenly (69 bar) and significantly, resulting in 2.4g deceleration.
READ MORE: Title rival Verstappen 'over the limit for sure' in Saudi Arabian GP, says race winner Hamilton
"Whilst accepting that the driver of Car 44 could have overtaken Car 33 when that car first slowed, we understand why he (and the driver of Car 33) did not wish to be the first to cross the DRS [line]. However, the sudden braking by the driver of Car 33 was determined by the Stewards to be erratic and hence the predominant cause of the collision and hence the standard penalty of 10 seconds for this type of incident, is imposed."
Verstappen was therefore found to have breached Article 2, Chapter IV Appendix L of the FIA International Sporting Code, but keeps his second-place finish and enters the season finale level on points with Hamilton.