Report
Brilliant Verstappen claims maiden title after victory in Abu Dhabi season finale following late Safety Car drama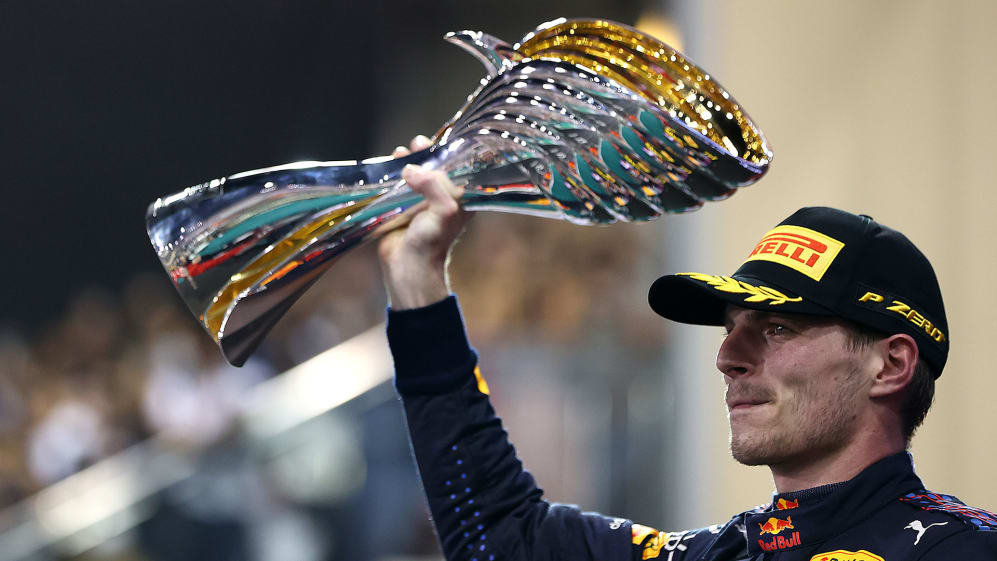 Max Verstappen secured his maiden World Championship with victory in the season-ending Abu Dhabi Grand Prix, Lewis Hamilton finishing second as the race ended in a nail-biting one-lap sprint after a late Safety Car. The result, which saw Valtteri Bottas finish sixth and Sergio Perez retire, means Mercedes have clinched a record eighth consecutive constructors' championship.
Medium-tyred Hamilton jumped soft-shod Verstappen at the start, while the Dutchman came back in Turn 6, nudging him wide and over the run-off, but the Mercedes driver continued in the lead. Stewards decided not to investigate. The pit window opened when Verstappen came in on Lap 13, Hamilton a lap later, leaving Sergio Perez in the lead with the mission to hold off Hamilton.
Perez did exactly that, on Laps 20 to 21 – being dubbed a "legend" by his team mate as he let him past to continue the chase, before pitting on Lap 22. The podium looked certain until he retired on Lap 56 under a Safety Car, which was brought out for a Nicholas Latifi crash.
That Safety Car, during which Verstappen pitted for soft tyres, left the race with just one lap of green flag racing remaining, producing another memorable moment in this epic season. Verstappen did make the pass on Hamilton into Lap 5, the decisive move, and while Hamilton attempted to come back towards Turn 9, there was nothing doing. History was made, as it was always going to be, and the trophy went to the Dutchman for the first time.
Carlos Sainz took the final podium place ahead of AlphaTauri's Yuki Tsunoda in P4 – while AlphaTauri team mate Pierre Gasly rounded out the top five.
Valtteri Bottas struggled to P6, running as low as eighth, and losing a potential podium spot from fourth to sixth under the final Safety Car.
FORMULA 1 ETIHAD AIRWAYS ABU DHABI GRAND PRIX 2021
Abu Dhabi
2021
Race results
POSITION
TIME
POINTS

1

Max

Verstappen VER

Red Bull Racing

1:30:17.345

26

2

Lewis

Hamilton HAM

Mercedes

+2.256s

18

3

Carlos

Sainz SAI

Ferrari

+5.173s

15

4

Yuki

Tsunoda TSU

AlphaTauri

+5.692s

12

5

Pierre

Gasly GAS

AlphaTauri

+6.531s

10
Alpine took points with Fernando Alonso and Esteban Ocon eighth and ninth respectively, with Ferrari's Charles Leclerc rounding out the top 10.
Alfa Romeo suffered a double retirement as Kimi Raikkonen bowed out on Lap 26, team mate Antonio Giovinazzi 10 laps later. Latifi was Williams' second retiree after George Russell bowed out from his tenure with the team with a loss of drive on Lap 27.
Mercedes and Red Bull therefore shared the spoils in this incredible season-ending Abu Dhabi Grand Prix, fit for a season that will no doubt go down as one of the greatest ever.
As it happened
Thousands of people behind the scenes have spent thousands of hours, made countless sacrifices, offering their all until the very end of this longest-ever F1 season. It would all come down to this: the 2021 Abu Dhabi Grand Prix. Two of Formula 1's greatest-ever drivers, Max Verstappen and Sir Lewis Hamilton going toe-to-toe, to land the final knockout blow in a fight for the ages.
Bowing out after two decades, Kimi Raikkonen prepped for his final Grand Prix – with Alfa Romeo team mate Antonio Giovinazzi, Williams' George Russell, Mercedes' Valtteri Bottas and engine suppliers Honda set to leave for new horizons.
Then there were the legends we've lost along the way: Sir Frank Williams, Murray Walker, Max Mosley, Johnny Dumfries, Carlos Reutemann, and Mansour Ojjeh among those sorely missed before a showdown fitting of their towering legacies.
On the grid would be 19 cars (Haas's Nikita Mazepin missing the finale due to a positive Covid-19 test) with soft-tyred Verstappen on pole ahead of medium-shod rival Hamilton, Lando Norris starting third on softs for McLaren and sharing second row with Sergio Perez (softs), Bottas (mediums) and Carlos Sainz (softs) on the third row.
And on the line would be a drivers' championship – Hamilton gunning for a record eighth title, Verstappen going for his first – Mercedes' 28-point lead over Red Bull making them favourites for a record eighth consecutive constructors' championship.
Five lights turned on, five went out, and it was – to borrow the inimitable Murray Walker's trademark phrase – "Go, go, go", for the final time this season.
And it was Hamilton who had the superior launch off the line, taking the lead well before Turn 1 while Norris ran wide and rejoined fourth, but Verstappen came back on the long straight to Turn 6, almost taking the lead with a late lunge but nudging Hamilton wide into the run-off area. The Briton went over the blue strips and retained the lead; the stewards decided not to investigate.
FIA Race Director Michael Masi's reasoning as to why Verstappen had to concede the lead was thus: "He [Verstappen] forced him [Hamilton] out there. That's why we asked him to give back the advantage."
Verstappen's radioed reply was that the decision was "incredible", and on Lap 8 he began to note that his rear soft tyres were starting to drop off a little, sitting 2.5 seconds behind Hamilton ahead. The reigning champion would stretch that gap to 3.5 seconds just a couple of laps later.
Meanwhile, in the opening lap, Sainz took P4 off Norris on the first lap with Bottas dropping to P8 behind AlphaTauri's medium-tyred Yuki Tsunoda. Norris's P5 would be under threat from Leclerc.
Verstappen pitted at the end of Lap 13 from softs to hards and emerged fifth, thundering out of that pit exit and catching Leclerc off guard, the Ferrari driver running wide and locking up soon after. Verstappen made up a place courtesy of Norris on the run to Turn 6 soon after; Leclerc pitted from softs to hards at the end of his 15th lap to emerge 15th.
The Red Bull driver's pit stop triggered Hamilton to do the same a lap later, switching from mediums to hard tyres, emerging second. Perez therefore inherited the lead, Verstappen then running wide at Turn 15 in frenetic chase before swiping third off Sainz on Lap 18 – perhaps a lap later than he would have liked.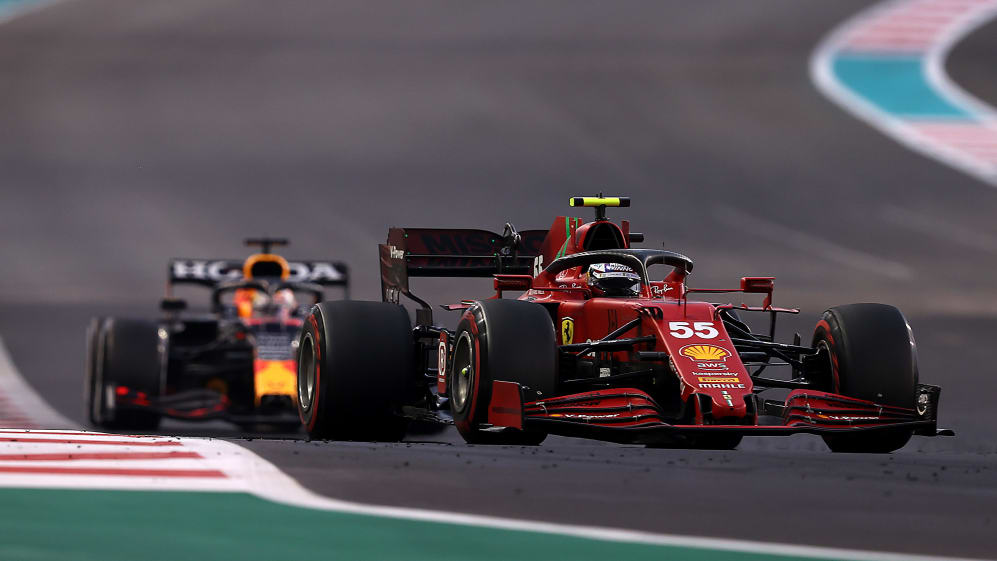 By Lap 20, Hamilton was in DRS range of Perez and the Mexican had been told to hold up Hamilton. So, bearing down on the lead Red Bull, Hamilton made it past him towards Turn 6 but Perez led into the corner. However, the Mercedes driver had a better exit and led into the following. Another twist in the tale as Perez made his way past the seven-time champion going Turn 9 and led into Lap 21.
MUST-SEE: Perez holds up Hamilton in epic battle to play Verstappen back into fight in Abu Dhabi
Perez led by a whisker starting the 21st lap, Hamilton again getting a superior exit out of Turn 5 and pinning the Red Bull to the outside going into Turn 6, finally taking the lead of the race. But Perez had done his job, and done it admirably, holding up the Mercedes enough for Verstappen to make up five seconds and letting his team mate cleanly past before pitting from P3 for hards at the end of the tour.
"Checo is a legend" came Verstappen's response on the radio, the Dutchman now two seconds behind Hamilton.
Hamilton re-ignited the afterburners, however, and continued to steadily build his gap, three seconds ahead by Lap 26 of 58, another second added to that by the halfway point, and the gap steadily increasing.
Just as the season had started, Verstappen bearing down on Hamilton in Bahrain using newer tyres, how it would end? Well, it would be naïve to think this season didn't have another surprise in store.
When the race restarted on Lap 38, Hamilton had a 17-second gap in his favour; Verstappen had new tyres and eight-tenths per lap to make up if he was to win his first title. He made up half a second alone as the VSC ended, closing down to within 12 seconds with 10 laps left as backmarkers began to come into play – a train of midfielders from Alonso to Leclerc costing Hamilton valuable time.
When Verstappen came across that midfield gaggle on Lap 51 he was just over 11 seconds behind Hamilton, the lead now looking insurmountable. That was, until Nicholas Latifi crashed on Lap 53 exiting Turn 14, bringing out a Safety Car. Verstappen again took the chance to pit – this time for soft tyres.
It had turned out that Latifi spun and crashed having fought with Haas's Mick Schumacher for P15, picking up dirt and dust running wide in Sector 3, and spun leaving Turn 14.
On Lap 56, Safety Car still circulating, Perez was brought into the pits to retire, denying him a deserved podium and promoting Sainz. Verstappen had boxed for fresh softs under the Safety Car, and as the laps ticked down and the lapped cars were allowed to clear out of the way of the fight for the lead, it would come down to a one-lap shoot-out between Hamilton and Verstappen.
Hamilton led, until the two went into Turn 5 and that was where Verstappen made the winning pass. The Briton attempted to make it past but his chance at taking a record eighth World Championship was slipping away. And that is how it would end, Verstappen winning his first title by 2.2 seconds at the chequered flag: an epic send-off for this era of F1 and a Hollywood finish to this most dramatic of seasons.
The final podium place went to Sainz, the Ferrari driver having pried P4 off Norris and been promoted when Perez retired, while Tsunoda took fourth, the Japanese rookie having started on medium compounds on P8, battled with Fernando Alonso in defence of P7, and then made it up to fourth on softs in the final Safety Car restart when Perez retired, Bottas falling back to sixth. Pierre Gasly was promoted to P5 at the finish (having gone long in his first hard-tyred stint) with a late swap to softs for the restart, to give AlphaTauri a huge double points finish.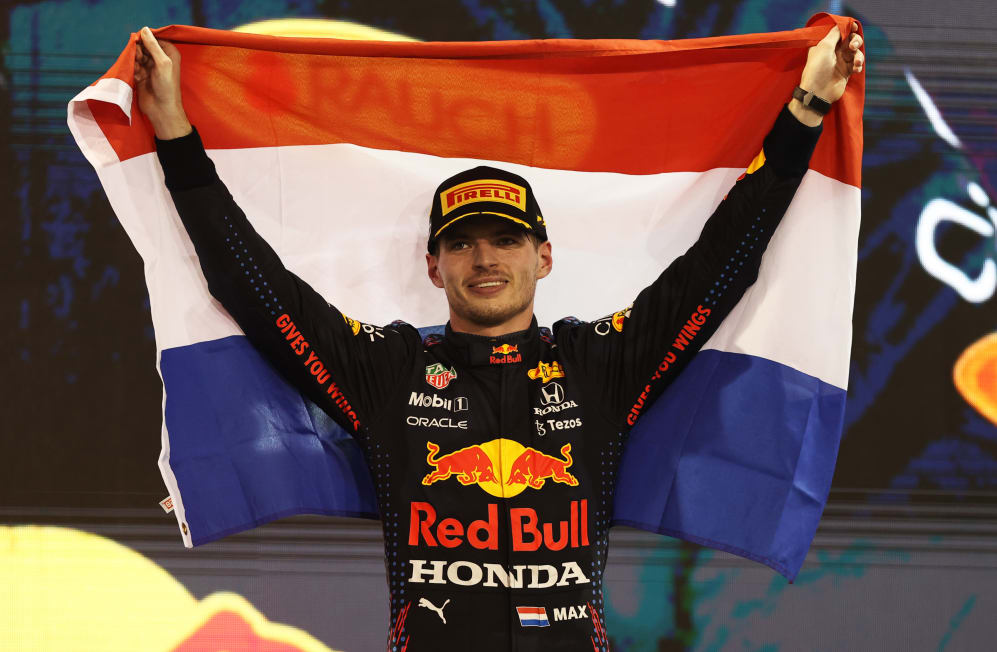 Norris had a late puncture, pitting on Lap 50, and ended up seventh ahead of the Alpine duo – Fernando Alonso having gone long on his starting hard compounds to finish eighth and ahead of team mate Esteban Ocon.
Leclerc lost out early on with a lockup after Verstappen emerged from the pits and ended the race 10th, taking the final point. However, as Sainz took the final podium place, he leapfrogged both his team mate and Norris to take P5 in the drivers' championship, in his first season with Ferrari.
On the run to Turn 6 on Lap 6, Lance Stroll was passed by Aston Martin team mate Sebastian Vettel, who was almost squeezed off the track. The four-time champion ended up 11th, Stroll 13th, with Daniel Ricciardo between them having previously been in contention for points.
In last was Mick Schumacher, the sole Haas driver, with his team mate not starting due to Covid-19.
There were five retirees including outgoing Alfa Romeo driver Kimi Raikkonen on Lap 26, outgoing team mate Giovinazzi 10 laps later, Mercedes-bound Williams driver George Russell on Lap 26, Red Bull's Perez on Lap 56 and of course Williams driver Latifi, whose crash brought out the race-defining Safety Car.
While Hamilton came away without a record eighth championship, Mercedes did, however take a record eighth consecutive constructors' championship in an unfrogettable finish to 2021.
Key quote
"It's just insane. I mean, my goal when I was little was of course to become a Formula 1 driver and you hope for wins, to be on the podium, when they play the national anthem you one day hope they play yours and then when you stand here and they tell you [that] you are world champion it is something incredible and special.
"All the things come back through your mind throughout all the years you spent together, traveling for that goal… and everything comes together in the last lap. Insane, these people, my whole team, my family, my friends, the people… who want to push me to where I am today. They're all here - most of them are here. It's just insane, I lost my voice, but yes. I don't know, it just sounds amazing, honestly.
"It's incredible to see all this orange here but all over the world, they've supported me throughout my whole career… and I hope I can do this for a very long time of course with the support of my great fans.
"Lewis is an amazing driver, an amazing competitor, he really made it really hard for us and everybody loves to see that. Of course the two teams run against each other and we have tough times but I think that's part of the sport, it's emotion, everyone wants to win. It could have gone either way today but for sure next year we'll try again, come back, and hopefully do it all over again." - Max Verstappen, 2021 Formula 1 drivers' world champion, Red Bull.
What's next?
Formula 1's new era dawns in 2022 for another teams' and drivers' title fight. Who will reign supreme next season? The next season begins with the 2022 Bahrain Grand Prix next March.