Carlos Sainz Snr says it's 'a matter of time' before his son gets on top of 2022 Ferrari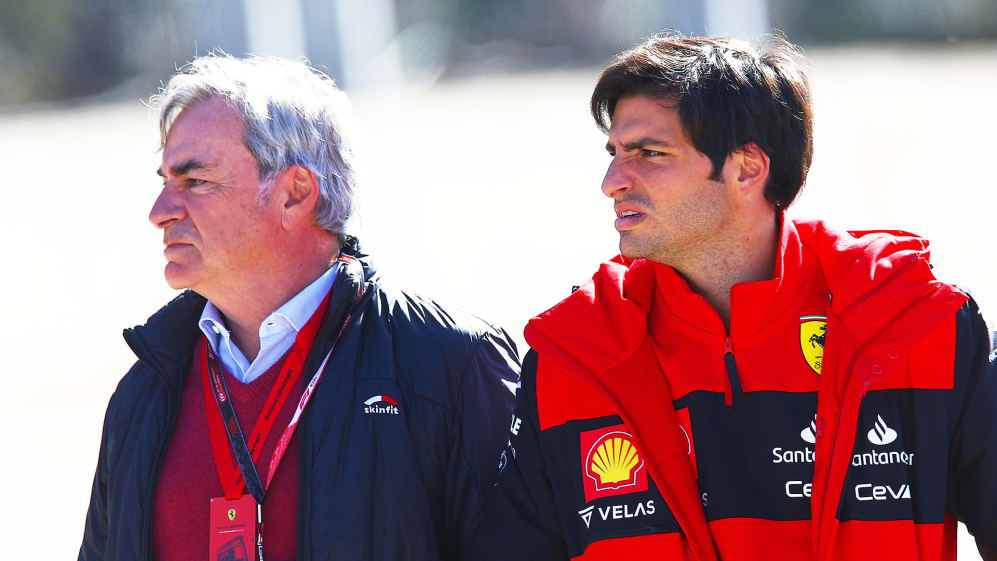 By his own admission, Carlos Sainz has struggled to get to grips with the 2022 Ferrari F1-75. On this week's F1 Nation podcast, his father Carlos Sainz Snr offered his advice on what his son must do to navigate through this tricky period and return to his best.
Carlos Sainz has finished on the podium in three out of the first six races of the season, but he has also made a few errors, crashing out in the race in Australia and in qualifying in Imola. At his home race, he went off at Turn 4 early on, forcing him to recover to P4.
Speaking on F1 Nation after the Spanish Grand Prix, Carlos Sainz Snr weighed in on his son's season so far.
READ MORE: Leclerc's home race hoodoo, rain, and more – 5 storylines we're excited about ahead of the 2022 Monaco Grand Prix
"Obviously, it has not been the weekend that he was dreaming of," he said. "At the moment he is going through a period that he really needs to rethink and try to go step by step.
"Because when you are not confident with the car, mistakes, pressure [can happen]. The build-up to the season hasn't been very smooth; I think he has to, you know, try to sit back and try and build the confidence again."
Carlos Sainz Snr added that it's a "matter of time" until his son gets on the pace.
"Well, I think obviously in life, in motorsport, you go through difficult periods and good periods, you don't need to accelerate when you are up, you don't need to accelerate when you are down.
"You just need to work hard, stay calm, try to stay focused and try to think... of the next one and go step by step. I know he's very capable, so it's just a matter of time before he understands and adapts the car to his style."
READ MORE: Binotto hails 'positive overall weekend' in Spain, despite losing championship leads
Ferrari's Team Principal Mattia Binotto has also backed his Spanish driver to deliver. After a disappointing result in Carlos Sainz's home race, Binotto praised the driver's determination.
"Probably, he still does not get quite the feeling he wants from the F1-75 and it's up to us to help him become completely comfortable with it. He is tenacious, he studies the situation and never gives up and so I am sure that he will soon come to feel really at ease in the car."
Listen to the latest episode of F1 Nation in the podcast player above, or head here to catch it on your favourite platform.