'Crazy… I've not seen fire like that before' – Medical Car team describe scene that awaited them after Grosjean crash
Alan van der Merwe and Dr Ian Roberts leapt into action at the start of the Bahrain Grand Prix, rushing from the Mercedes Medical Car they operate every race weekend to the aid of Romain Grosjean, whose Haas car had speared into the barriers and burst into flames – with the two men later describing the fiery scene that had confronted them after the crash.
Grosjean had spun into the barriers after contact with AlphaTauri's Daniil Kvyat, with the Frenchman's Haas splitting in two and erupting in a fireball, as Grosjean's survival cell penetrated the barriers, leaving the Frenchman scrabbling to escape the flames licking around his cockpit.
Dr Roberts – who, in a practice first initiated by F1 safety guru Professor Sid Watkins, had been following the pack around on Lap 1 in the Medical Car driven by van der Merwe – described the scene that had confronted him when he got to Grosjean's stricken car at Turn 3.
READ MORE: Drivers praise halo and F1 safety as Grosjean makes 'miracle' escape from crash
"The first lap, as normal following them around and just [saw] a massive flame and as we arrived, a very odd scene where you've got half a car pointing in the wrong direction and just across the barrier, a massive heat.
"I could see Romain trying to get up. We needed some way of getting to him. We've got the marshal there with an extinguisher and the extinguisher was just enough to push the flame away as Romain got high enough to then reach over and pull himself over the barrier."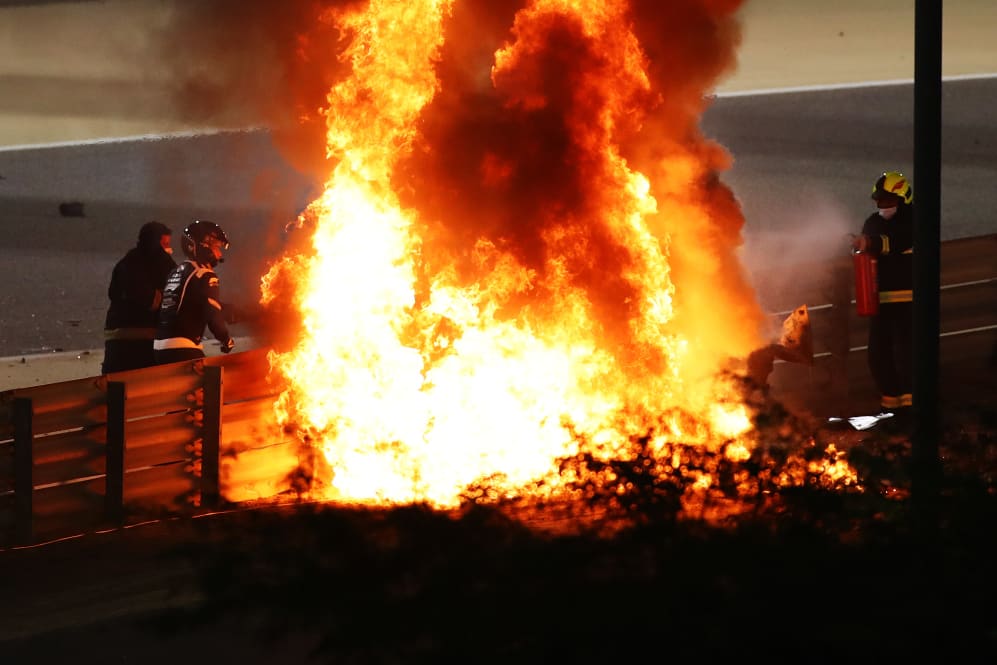 According to van der Merwe, he and Dr Roberts rehearse theoretical medical scenarios that they may be confronted with ahead of each day of action on a race weekend. But van der Merwe, a former racing driver who took over the Medical Car job in 2009, said that what he saw in front of him in Bahrain was unlike anything he'd ever witnessed.
"A lot of this is preparation, but when you get to something like this – we've not seen this combination before," he said. "I've not seen fire like this in my stint as a Medical Car driver, so a lot of it is new and unknown territory, and we can only be as prepared as our own ideas.
READ MORE: FIA have launched investigation into Grosjean crash, confirms Race Director Michael Masi
"We do a lot of checklists and a lot of scene prep, talking about scenarios, but this was crazy. Honestly, to get there and see half of the car, and the other half nowhere to be seen and a huge ball of flame, you have literally seconds, you're thinking on your feet. So preparation only gets you so far, and after that there's a lot of sort of instinctive and quick thinking."
Oops! Error retrieving Twitter post
Grosjean was taken to the circuit's Medical Centre before being airlifted by helicopter to the Bahrain Defence Force Hospital, where he was well enough to record a video assuring his fans that he was okay, the Frenchman having suffered burns to his hands – while x-rays showed that he'd not sustained any fractures. But Dr Roberts described the condition in which he'd found Grosjean immediately after the crash.
READ MORE: Steiner thanks rescue crews as Grosjean escapes burning car with what appear to be minor injuries
"I could see obviously he was very shaky and his visor was completely opaque and melted," said Dr Roberts. "It was a matter of getting his helmet off just to check that everything else was okay. He'd got some pain in his foot and on his hands, so from that point, we knew that it was safe enough then to move him around into the car, just a little bit more protection, get some gel onto his burns and then get him into the ambulance and off to the Medical Centre.
"Nothing went up into his helmet," he added. "Looking at him clinically, we're quite happy with him from a life-threatening injury point of view, and then it was just trying to make him comfortable from the injuries that we could actually see."
Meanwhile, with Dr Roberts joking that he'd "got a good tan" from getting as close as he did to the flames, van der Merwe went on to praise his colleague for his actions in helping Grosjean get away from the fire, as well as lauding Grosjean himself.
"Honestly, that was some bravery there," he said of Dr Roberts' actions. "It is team work, and ultimately, sometimes Ian has to rely on me and vice versa, and today everybody just kind of did their bit – even Romain.
READ MORE: Grosjean describes halo as 'greatest thing' from hospital bed, saying he 'wouldn't be here without it'
"Romain did a huge amount. The fact that he was able to get out of that himself partway, the fact that his shoe came off and just all of these small things; one of those things changed and it could have been a very different outcome. So today, all the teamwork, all the prep, feels worthwhile."
Oops! Error retrieving Twitter post