Feature
TREMAYNE: Grosjean's shocking accident will only spur efforts for even greater F1 safety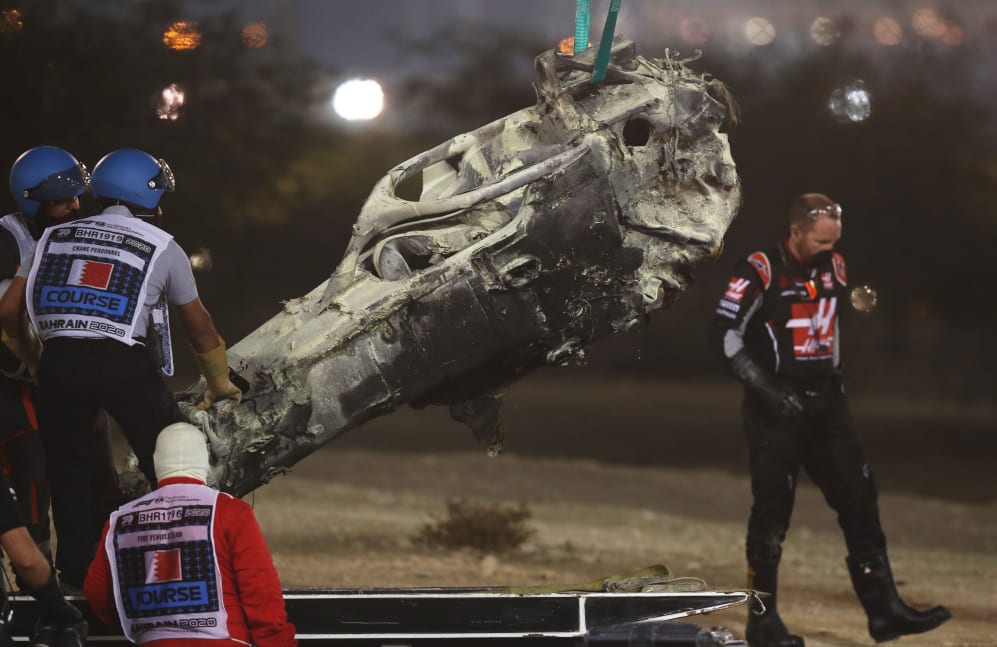 Going motor racing is like owning a pet rattlesnake. You can feed the little critter all you like, trying to keep it happy and contented, but if you are foolish enough to relax your guard for a moment, it's still going to bite you.
Television tends to make F1 seem slower - until something goes wrong and the control of a talented human being is suddenly stripped away - and we have all tended to become used over the years to watching drivers having massive, spectacular shunts from which they walk away.
READ MORE: Drivers praise halo and F1 safety as Grosjean makes 'miracle' escape from crash
But the rattler bit again on Sunday.
I've seen too much of the bad side of the sport, and written even more about it, over the years. And like everyone else, I've got used to how safe it is today, though I never take anything for granted and now and then find myself travelling to races with feelings of foreboding.
But the sight of an F1 car colliding with a barrier and instantly bursting into flames… That was a very nasty surprise that shocked everyone and immediately sent my mind on to red alert. When a car catches fire that quickly you know that the structural devastation has been very serious, and fear the worst.
Later I tried to remember the last time I'd seen something like that, and eventually came up with Gerhard Berger's shunt at Imola's Tamburello corner on April 23rd, 1989. There have been some relatively small flash fires since, but nothing quite like that.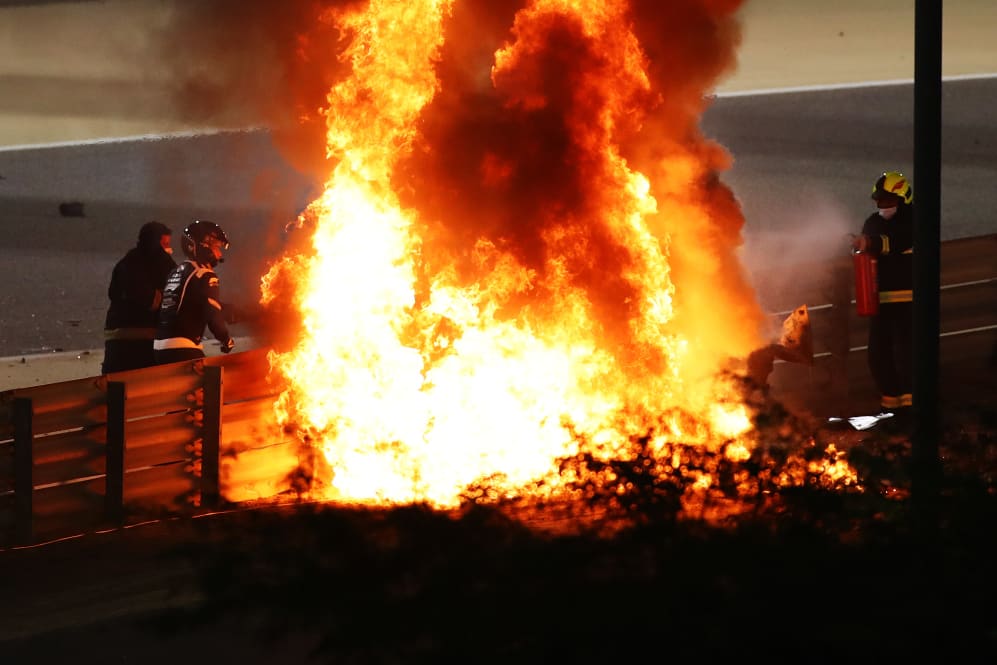 Images of the wreckage reveal just how lucky Romain was. In terms of Armco accidents, it was right up there with John Love's shunt at Kyalami in 1971 when his Surtees went through the barriers but he emerged unscathed. Or the incredible escape Clay Regazzoni had after his F3 Tecno speared head-on between the barriers at Monaco in 1968; they opened up just sufficiently to clear his head and the rollover bar, then closed back down behind them…
READ MORE: Marion Grosjean praises 'superhero' husband, thanks rescuers and pays tribute to Bianchi family
Some will say there shouldn't have been a barrier outside Sakhir's Turn 3 – it was located at 30 degrees to the track as it protected an access point - and that it shouldn't have opened up. But if Romain had hit a concrete barrier or perhaps even a TecPro wall at 220 km/h and 56g, I fear the consequences may have been worse.
As the front end of the Frenchman's Haas had penetrated and been trapped between the barriers, its continuing clockwise momentum ripped the engine and transmission from the back of the monocoque chassis. Yet the safety cell was not compromised and mercifully remained sufficiently intact. Together with the HANS head-restraint system, it continued to protect the driver.
From his bed in the Bahrain Defence Force Hospital in West Riffa, where he was treated for nothing worse than second degree burns to his hands, Romain paid tribute to the other component which had played such a crucial role in his miraculous deliverance.
When the cast titanium and carbon fibre halo became mandatory from the 2018 racing season, many drivers and purists (myself among them) saw it as yet another step by the 'Nanny State'. Romain himself was a vocal critic, saying that it had no place in F1. But on Sunday night he admitted: "I wasn't for the halo some years ago but I think it's the greatest thing we brought to Formula 1, and without it I wouldn't be able to speak to you today."
READ MORE: Grosjean describes halo as 'greatest thing' from hospital bed, saying he 'wouldn't be here without it'
Photographs graphically confirmed that without question the device saved his life. The chassis was cracked by the dashboard, yet the fundamental integrity of the structure and the strength of the halo had prevented the steel barrier from reaching his head.
For me, and I'm sure many others, one of the most uplifting aspects of this whole incident was the behaviour of the crew in the Medical Car. FIA Medical delegate Dr Ian Roberts and his driver Alan van der Merwe are friends with whom I liked to have a brief chat either going to or coming from the grid, in the pre-Covid days, and to say that I was proud of what they did is putting it mildly.
Despite wearing an open-face helmet, Ian helped a marshal with his extinguisher before wading into the inferno and helping Romain out of it, as Alan played an extinguisher on them both.
To put those courageous acts into perspective, I remember talking to Emerson Fittipaldi once about the accident at Brands Hatch in 1971 in which Jo Siffert died in his burning BRM.
"We all stopped close to the accident," he said, "and I jumped out of my car to run into the fire and rescue him. I was absolutely determined. I was wearing triple-layer Nomex overalls, helmets, gloves, balaclava, everything… And yet when I got within 20 feet of it, the sheer heat forced me back. Was incredible."
The idea of having the F1 doctor following the field on the opening lap was first mooted to Bernie Ecclestone by Professor Sid Watkins, one of the greatest people I ever had the privilege to meet. In his time as medical delegate his craggy features were the first thing any driver who'd had a shunt prayed to see peering into their cockpit.
READ MORE: It was a relief to see Grosjean walk away, now his accident needs to be better understood – Ross Brawn
Sid, together with Bernie, picked up the torch that the indefatigable Jackie Stewart had lit and kept red hot after his accident in the rain at Spa in 1966. The introduction of the carbon composite chassis by McLaren's John Barnard and Ron Dennis in 1981 was another major step in safety, followed by the mandatory crash tests.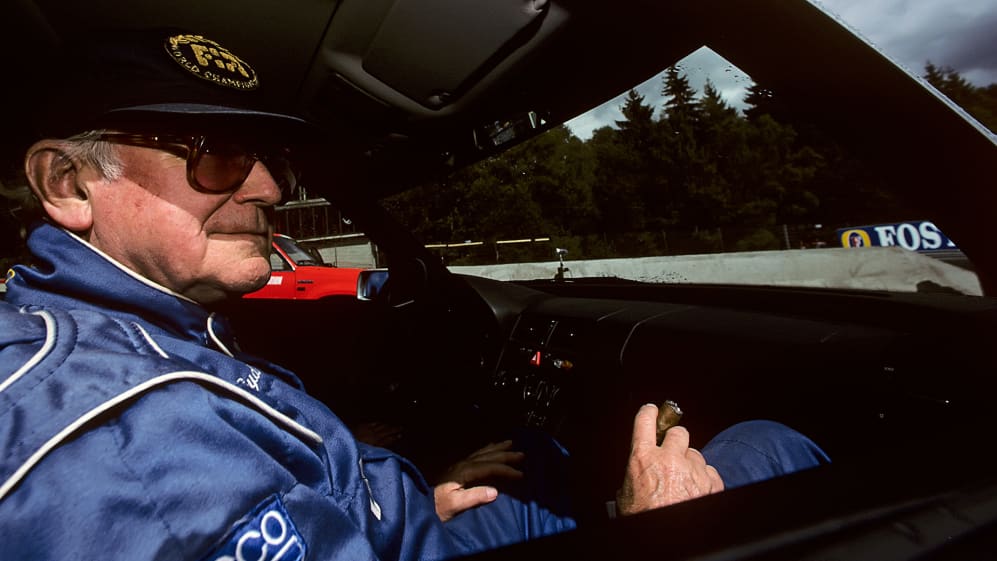 Ever since, unstinting efforts to make cars and circuits safer have been made by the governing body (the FIA), Formula One Management (FOM) and the Grand Prix Drivers' Association (the GPDA, of which Grosjean is a director).
READ MORE: Cars, drivers, safety and pit stops – how F1 has changed in 70 years
The lesson of what happened in Bahrain will have gone deep. Just when it was tempting to think you had thought of all the possibilities that Death likes to play with, he comes up with another.
But we can take heart that some very, very clever people on the FIA's Safety and Circuit Commissions, plus F1's car designers, will investigate every aspect of this incident minutely, looking for ways they can make a dangerous sport safer still. We should all laud them for that.
If these boffins had a motto, it would be a simple one: we never close.