Feature F1 Unlocked
DESTINATION GUIDE: What fans can eat, see and do when they visit Qatar for this weekend's Grand Prix
Having first dipped its toes into the F1 waters in 2021, Qatar returns to the calendar this week with its first event of a new 10-year contract. Located on the outskirts of the capital Doha, the Lusail International Circuit was completed in just under a year and hosted the inaugural Qatar Moto GP in 2004.
Since that first F1 appearance in 2021 the circuit has undergone some changes and improvements with the addition of extra grandstands increasing the capacity from 8,000 to 52,000, while artificial grass now surrounds the track to prevent the encroachment of sand onto the asphalt.
READ MORE > IT'S RACE WEEK: 5 storylines we're excited about ahead of the 2023 Qatar Grand Prix
With all eyes likely to be on Max Verstappen as he chases down his third successive world championship title following Red Bull's clinching of the constructors' trophy in Japan, the Sprint weekend format and motorsport loving crowd should make for a celebratory atmosphere for the track's return to F1 action.
Where and what to eat
The cuisine in Qatar reflects the cultural diversity of the country, with many dishes influenced by Indian, Iranian, Lebanese and North African fayre while other national delicacies are borrowed from across the gulf and reimagined to suit Qatari tastes.
As you might imagine from its location on the coast, fish and seafood feature heavily on menus, but if the fruits of the sea don't float your boat, then there are plenty more tasty offerings to be had, from budget friendly street food and cafes to the more high-end beach clubs and big-name chef run fine dining establishments.
For a taste of authentic Qatar with a side of lively atmosphere, head to Doha favourite Shay al Shamoos – a small, unassuming eatery situated in the heart of the vibrant Souq Waqif.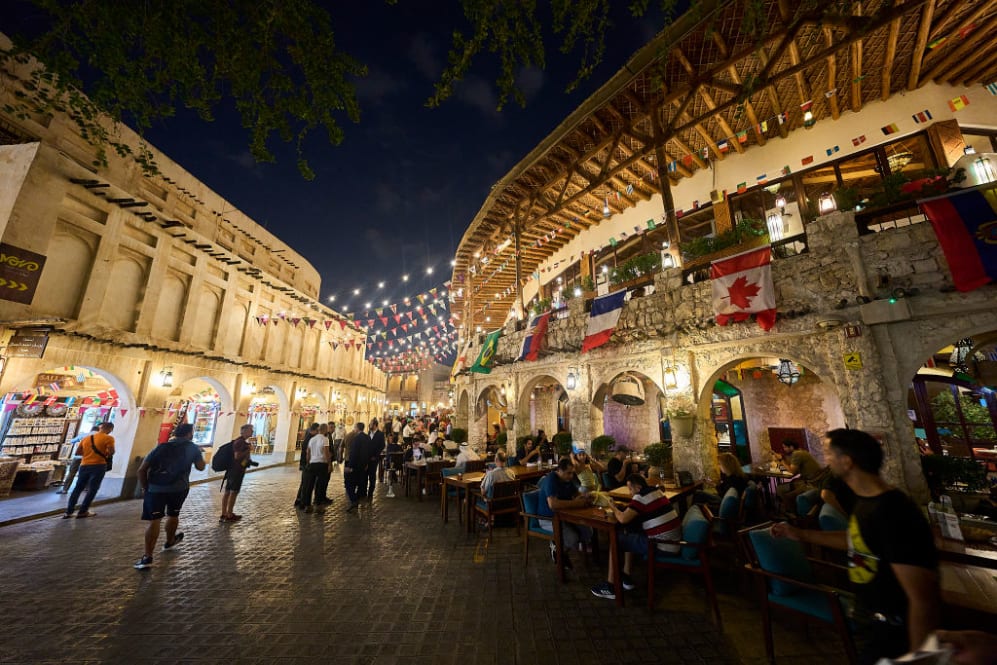 Popular for brunch and busy with Qatari families enjoying local dishes such as Khobiz Regag (traditional crepe-like bread) or Baid Shakshoka (eggs poached in a fragrant tomato sauce) the restaurant also has an outside eating area meaning you can soak up the sights and sounds of the souq while you eat delicious food and drink karak tea (black tea with milk, sugar and cardamom), considered the national drink of Qatar.
Nearby and high above the souq is Al Shurfa Arabic Lounge, a rooftop restaurant located in the boutique Al Jasra Hotel, where you will find an Arabic/Mediterranean menu served in a relaxed setting overlooking the heart of old Doha and the bustling souq below. Why not try a traditional mixed grill to share and then finish off your meal with one of the many aromatic shishas on offer?
F1 NATION: Verstappen goes for a third title, the battle for second and the possible return of Ricciardo – it's our Qatar GP preview
For something loftier still, head to The National Museum of Qatar to experience Jiwan by famed Michelin starred chef, Alain Ducasse.
Named after the Qatari word for the 'perfect pearl' – rose tinted white, perfectly round and with a radiant lustre – Jiwan serves familiar local flavours reimagined, using ancient Bedouin elemental cooking techniques (fire, water, air and earth) to transform textures and familiar tastes and celebrates Qatar's exciting culinary future.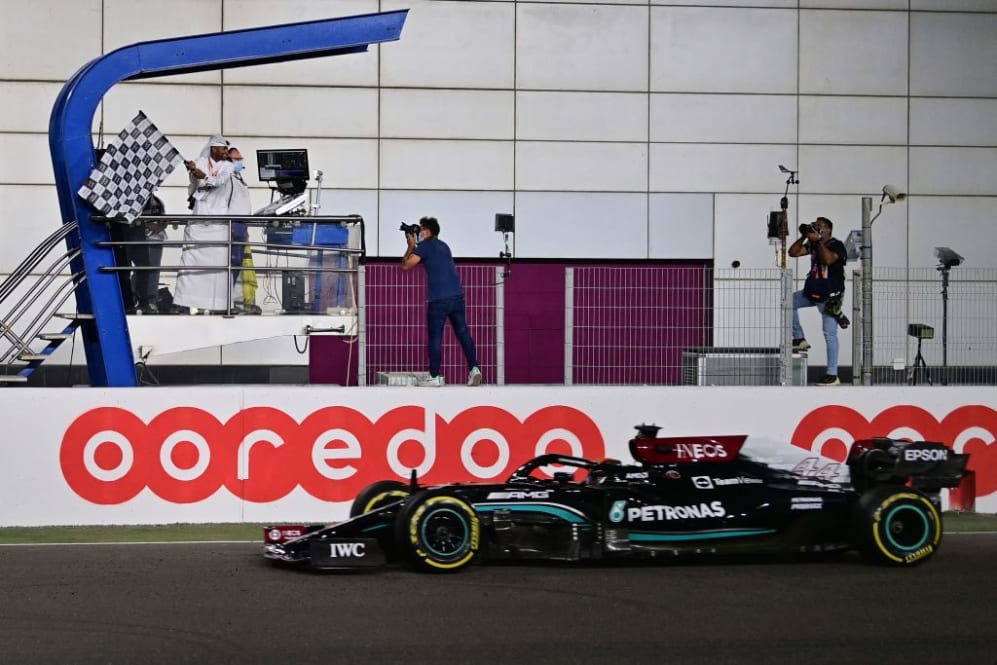 With exquisitely designed interiors and spectacular views over the architectural masterpiece of the museum in which it is housed, and across Doha's Corniche, it's the perfect place to enjoy a few sharing plates of modern Qatari cuisine with friends as the sun sets over the sea.
For a dining experience even closer to the water, check out one of the many beach clubs that have sprung up in recent years which provide unrivalled access to the sea with added creature comforts.
POINTS PERMUTATIONS: How Verstappen can become the 2023 F1 world champion in Qatar
B12 Beach Club located in the West Bay area of Doha, is a day-to-night destination where you can enjoy many water sports and other activities, or simply pull up a sun lounger and relax knowing that you can take advantage of an all-day dining menu of fresh, international crowd pleasing dishes whenever you get peckish. And maybe a sundowner later overlooking the sea while you're at it.
You can't visit Qatar without tucking into the national dish of machboos (sometimes machbous or majboos) which is a deliciously rich and fragrant with spices rice dish similar to a biriyani and usually topped with chicken, although lamb is also often used.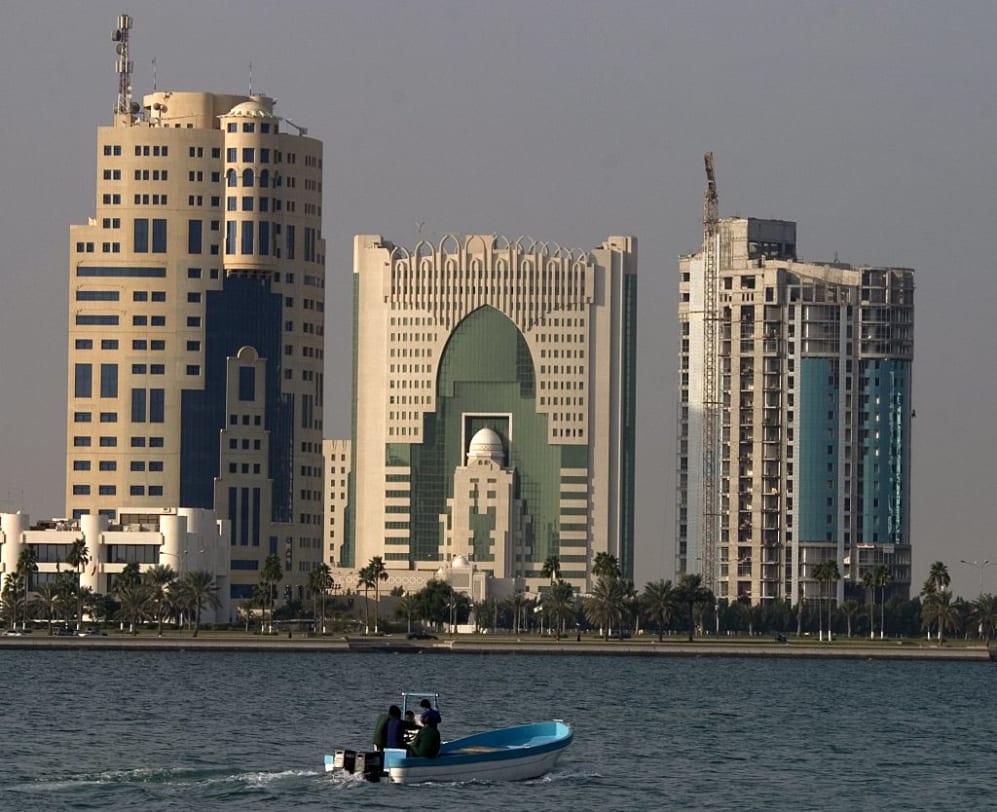 Cooked slowly to ensure richness, machboos is often served in Qatari homes when entertaining guests but luckily you won't have to wait to be invited to someone's house to taste this tasty dish as you can find it on many menus across the country.
With eight outposts across Qatar, Afghan Brothers Restaurants offer many variations on this classic Qatari staple including machboos topped with goat meat, fish or shrimp alongside sides of tabbouleh and fattoush salads.
READ MORE > EXCLUSIVE: From stable leadership to design genius – Former Red Bull drivers on the secrets of the team's success
Where to stay
Downtown Doha has the usual mix of big name hotels, offering plenty of choice for those who want to immerse themselves in the hustle and bustle of the capital city. With the track located 30km away, the efficient and regular Doha Metro will take you nearly all the way there, with frequent bus services from Lusail Metro delivering you to the gates.
Alternatively to make the most of the warm Persian Gulf waters, book one of the many beachfront hotels and relax with your toes in the sand with a cold drink after a long hot day at the track.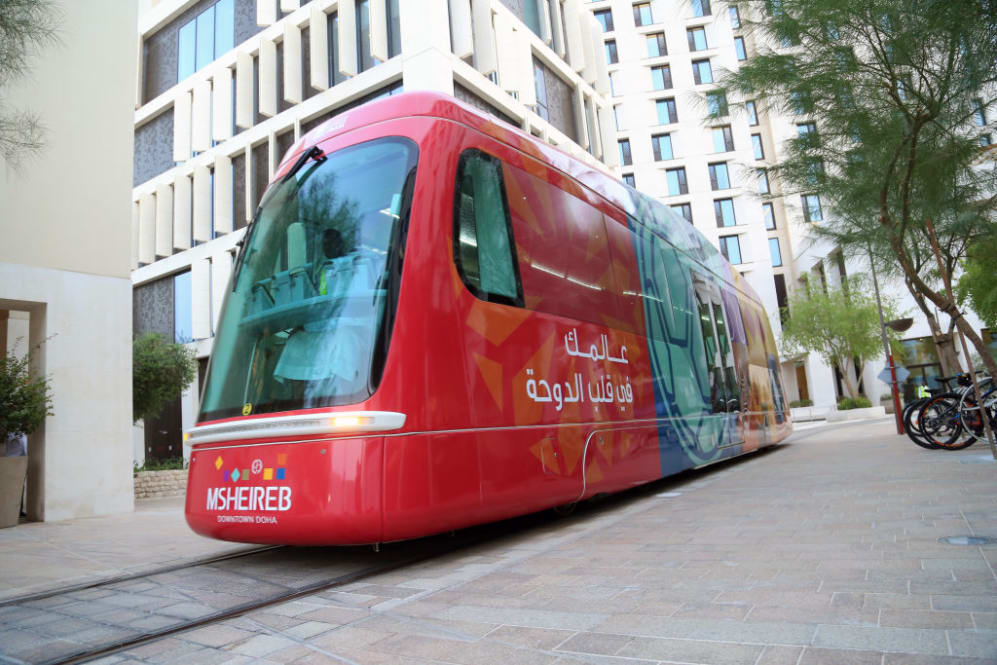 Where to watch the race
Designed primarily with motorcycle racing in mind, this 5.4km track is fast and flowing with medium and high-speed corners dominating. Over one kilometre of the track's total length is made up of the main straight, providing plenty of overtaking opportunities into Turn 1, and the North Grandstand will guarantee you exciting views of the start and rejoining cars from the pit exit.
Elsewhere there are new grandstands for 2023 and the one at Turn 16 provides a broad view of the approach to the last corner and exit onto the main straight – not to mention the pit entry – so you can be across those all important strategy calls.
READ MORE: What next for Liam Lawson after missing out on AlphaTauri seat for 2024?
Non-F1 highlights
Immerse yourself in the sights, sounds and smells of the atmospheric Souq Waqif (Standing Market) where stalls laden with dried fruits and spices jostle for your attention alongside jewellery and traditional crafts, perfect for take home souvenirs. Wander the labyrinthine alleyways and stop for some street food at one of the many vendors serving fresh local delicacies, or pop into an art gallery to admire the work of local artists and craftsmen.
Founded over a century ago, the souq was a popular gathering place for nomadic Bedouins and locals to meet and trade goods but fell into disrepair in the 1990s before a fire destroyed a large portion of it in 2003. This prompted a large scale restoration project to return the souq to its former glory, with the careful refurbishment of the original late 19th century traditional Qatari architectural style building and preservation of other old mud daubed structures, which gives the souq its unique character.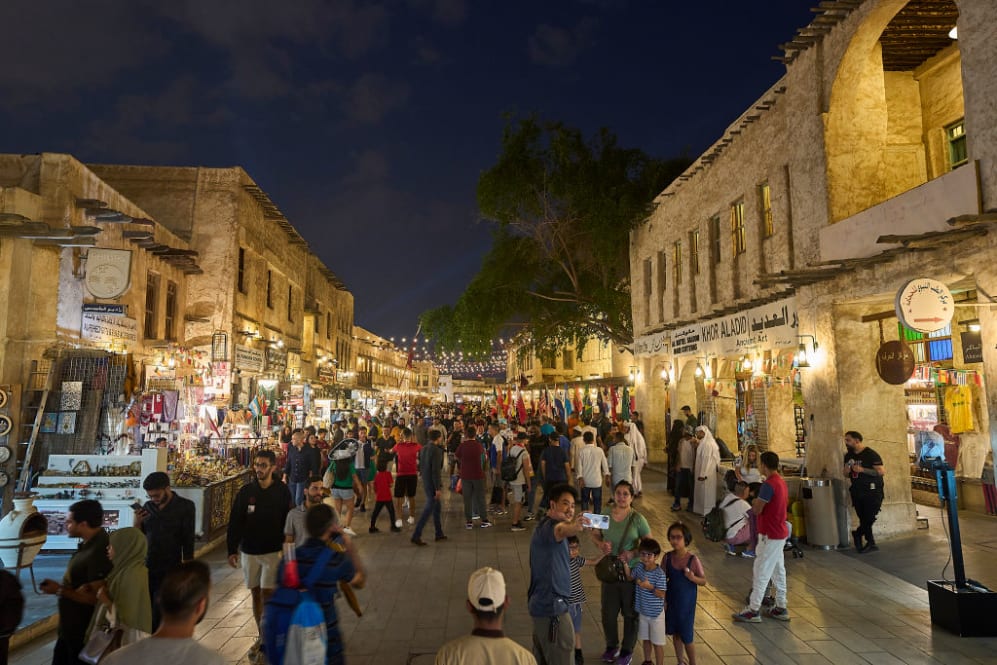 Pay a visit to the architecturally astounding National Museum of Qatar to learn more about the rich history and culture of this small yet diverse Gulf nation. Completed in 2019, the striking and dynamic building has been constructed around the centrepiece of Sheikh Abdullah bin Jassim Al Thani's original palace, which has been carefully restored and conserved for visitors to enjoy.
The bulk of the design takes the form of the natural phenomenon prevalent in Qatar known as the desert rose, whereby crystalline flower forms are created by the interaction of wind, sea spray and sand over millennia.
READ MORE: A closer look at the 12 constructors' title-winning cars Adrian Newey has designed
The interlocking discs of the building are representative of the petals of these delicate and mysterious, naturally occurring objects and world-renowned French architect Jean Nouvel knew that the desert rose was the perfect symbolic element he needed in his design to fuse together Qatar's deep rapport with the flora and fauna of the desert, along with its nomadic people and traditions.
Inside this imposing structure are a series of permanent galleries which tell the story of Qatar through interactive exhibitions, with traditional wooden dhows on display highlighting the country's pearl diving and fishing heritage, along with a sneak peek into Qatar's Auto Museum Project which will bring all things automotive under one roof to inspire the next generation of engineers, innovators and designers through a shared passion for cars.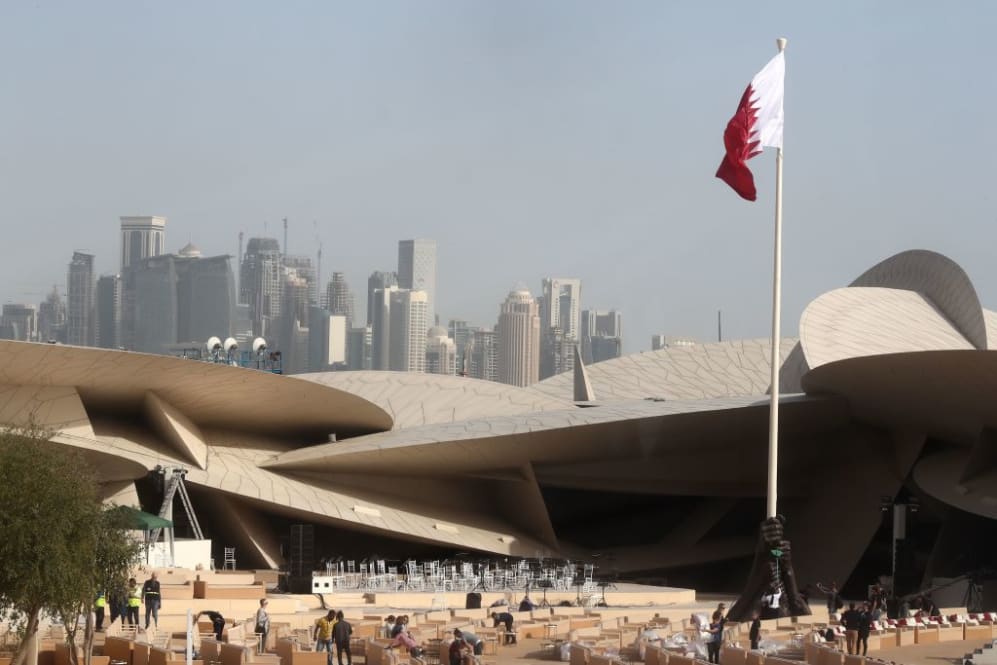 Not to be missed is the incredible sensory experience of Swiss artist Pipilotti Rist's dazzling and immersive installation titled "Your brain to me, my brain to you" which invites visitors to navigate their way through 12,000 LED lights strung on cables, representing the brain's neurons firing and communicating with each other, choreographed to pulsate perfectly to a soundscape and accompanying video installation. It's truly dazzling.
Take a stroll along the 7km long Doha Corniche, a palm fringed promenade which curves around Doha Bay and is punctuated by parks, restaurants and cultural monuments – not least the beautiful Museum of Islamic Art which lies at the southern end of the boulevard. Watch the traditional dhows light up the Corniche as the sun sets or hop on a boat yourself to take in the city's modern and glittering skyline and awe-inspiring architecture from the water.
READ MORE > DRIVING STYLE: Yuki Tsunoda reveals his favourite brands, clothing essentials – and his must-have accessories
The Venice inspired neighbourhood of the Qanat Quartier is truly a feast for the eyes, with its turquoise canals flanked by candy-coloured buildings and graceful, arching bridges, there are Instagram worthy vistas at every turn, not to mention a musical staircase you can play a tune on as you ascend/descend, and stunning views of the Arabian Gulf from the beachfront promenade.
Boasting a track of 0.760km long and eight metres wide, Lusail Karting Track located at the Lusail Circuit is perfect for competitive groups of friends or family, for a shot at racing glory to round off an adrenaline fuelled weekend at the track.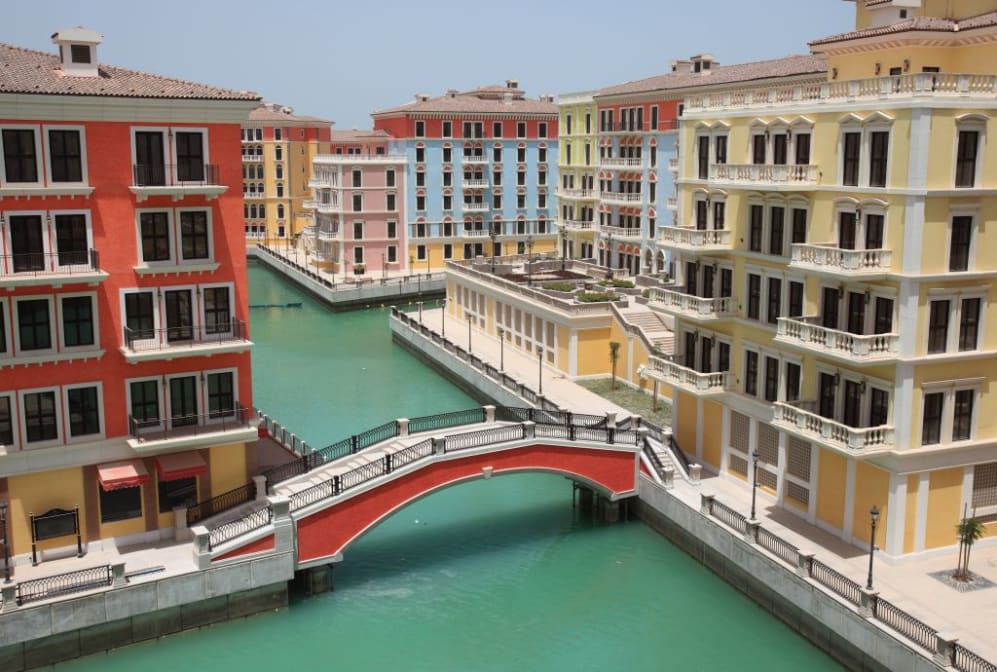 Or if a golden, undulating surface to drive on is more your thing, then why not get up close and personal to Qatar's magnificent sand dunes and enjoy a desert safari in a 4x4? Enhance your experience by adding in a camel ride, and a traditional BBQ dinner under the stars in a traditional tented camp for the perfect Arabian night.
With its guaranteed higher than average temperatures for October, mix of history and rich culture, modern and forward-thinking architecture, thriving arts scene and diverse, delicious food options, Qatar is the perfect warm weather destination for F1 fans with the prospect of some excellent racing under lights to boot.
READ MORE: 'Today was a little present to myself' – The story of Michael Schumacher's 91st and final F1 win
This Gulf state may be small, but it has so much to offer whatever your interests and you will most certainly be welcomed with open arms and generous Qatari hospitality. A desert rose indeed.
Fun fact
The popular sport of camel racing has long been a part of Qatar's national identity with professional camel racing beginning in1972. Traditionally children as young as four were used as jockeys, favoured due to their light weight but thankfully this practice was banned in Qatar in 2005.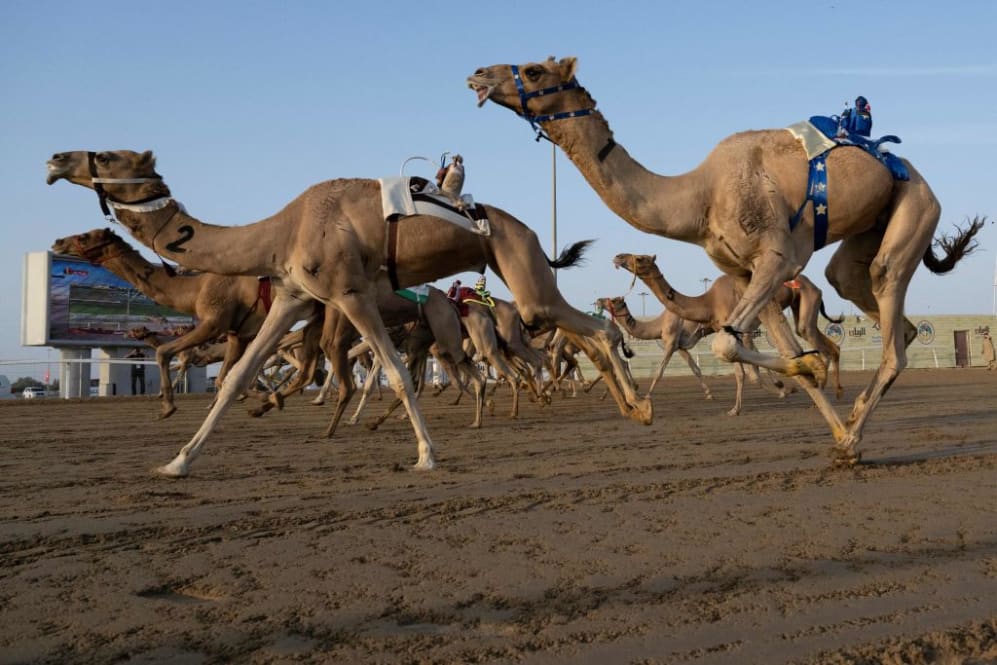 Instead, the camels are now controlled by toddler-sized, remote controlled jockeys clothed in colourful racing silks.
Weighing approximately 25 kilos, the robot jockeys can be instructed to 'pull' on the reins by the operators who drive alongside the camels, and thanks to an in-built speaker the operator can even shout words of encouragement to the long-legged mammals as they gallop along reaching speeds of up to 40mph.
Qatar Destination Guide
Language: Arabic
Currency: Qatari Riyal
Population: Approx. 2.7 million
F1 race held since: 2021
To read on, sign up to F1 Unlocked for free
You'll unlock this article and get access to:
Live leaderboard data
Epic experiences and rewards
Money-can't-buy competitions