Feature
DHL Fastest Pit Stop Award: Red Bull rule in Monaco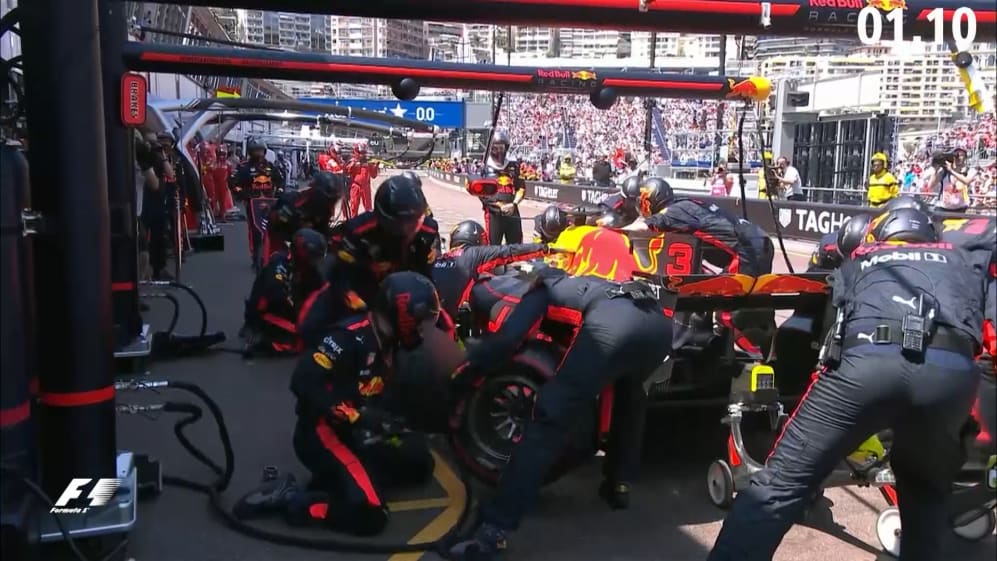 Last year a pit stop blunder cost Red Bull's Daniel Ricciardo victory in Monaco. This year his crew made amends…
Coming into this year's race in Monaco, Daniel Ricciardo admitted he still hadn't quite shaken the memories of 2016's Grand Prix, when a nightmare pit stop dropped him from first to second. Last Sunday however, pit strategy helped the Red Bull driver jump from fifth to third, and claim a third podium in four years on the streets of his adopted home town.
Key to Ricciardo overhauling team mate Max Verstappen and Mercedes' Valtteri Bottas was the Australian's rapid pace as he stayed out for several laps following his rivals' pit stops. It was then down to his team to deliver the goods in the pit lane, which they did with aplomb, swapping Ricciardo's worn ultrasofts with fresh supersoft rubber in just 2.60s to enable him to exit the pits comfortably in third.
It wasn't all good news for Red Bull however: Max Verstappen spent more than 1s longer than Ricciardo in the pit lane, with team principal Christian Horner later saying that margin was the difference between finishing ahead or behind Mercedes' Valtteri Bottas on track.
In an amazingly close fight, Red Bull's chart-topping time was just 0.01s quicker than Mercedes' tyre change on Lewis Hamilton's car, with the Silver Arrows crew servicing Bottas's car only marginally slower than the Brit's to close the gap on Williams in the overall standings to just 17 points.
The reigning pit stop champions had to content themselves with the fourth-best time in Monaco, once again with Felipe Massa at the wheel, while fellow veteran Jenson Button helped McLaren to a season's best sixth place finish on his one-off return to action.
Haas meanwhile backstopped their first ever double points finish in F1 with two top-ten pit stop times – also a first for the American team.
The championship is heating up – but who will come out on top in Canada?