Drivers predicting traffic 'carnage' in qualifying on short Sakhir GP Outer Loop circuit
At an average speed of 233km/h on a lap that takes just 55 seconds, the drivers had a new challenge to contend with on Friday as they took on the Outer Loop of the Bahrain International Circuit for the first time – and the likes of George Russell, Sebastian Vettel and Carlos Sainz predicted the short track would make life very difficult when it comes to finding clear air for qualifying laps on Saturday…
"Different, tricky, not an easy track to say the least," was how FP1 and FP2 leader Russell, who stepped in for the absent Lewis Hamilton, described the track. "It's going to be very tight in quali and the race is going to be carnage, so the next two days are going to be important," he added.
READ MORE: Russell plays down expectations after topping Sakhir practice sessions, saying lap times are 'deceiving'
Vettel, who was less than happy with Ferrari's pace as he finished 16th in FP2, described why traffic in qualifying could make for a 'messy' Saturday evening.
"It's not just the middle section; the whole track is short obviously and it will be the same amount of cars so I guess Q1 will be very tight. The other thing that doesn't help is we have to go very slow in the cool[down] laps to bring the tyres down so that's probably the worst factor.
"One thing is looking for traffic, the other thing is having such big speed deltas so it will be a mess. I hope that nothing happens and we all go through – we can't all go through! – without being impeded and having trouble with traffic and so on," he said.
Mercedes' Valtteri Bottas, who regretted a skirmish with the Turn 8 kerbs that damaged his floor in FP1, and a track limits excursion that left him down in 11th for FP2, had clearly watched F2 qualifying – where Mick Schumacher collided spectacularly with Roy Nissany.
MUST-SEE: Vettel almost collected by Magnussen after massive spin in practice
"I think it's going to be really important to get clear laps. I think F2 was a great example of how messy it can be at the end of the qualifying, so, yeah, we need to prioritise the gaps," he explained.
Sainz, who was frustrated at McLaren's performance on Friday, said the field would voice their reservations about qualifying traffic in the drivers' meeting.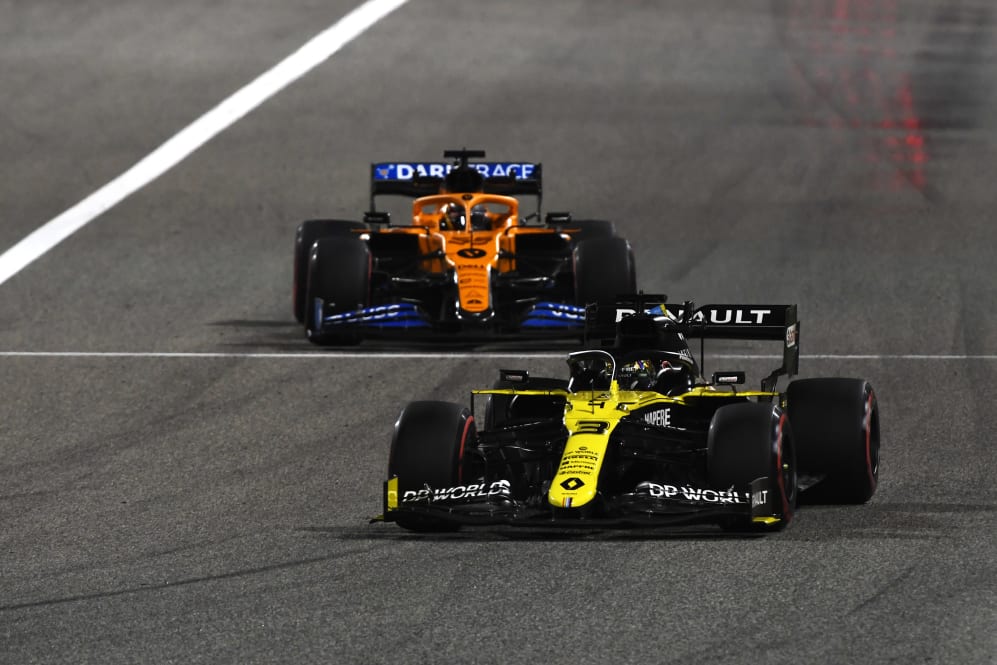 "It's tricky. We're all trying to be as sensible, as safe as we can, but this track is offering some challenges in terms of traffic management," he said.
"I think that there's some ideas and things as drivers that we put out there to the FIA to make it easier around the chicane in the middle sector but yeah we need to find a solution because I think it's on the limit of getting a bit dangerous."
HIGHLIGHTS: Watch all the key action from the opening practice session of the Sakhir GP
AlphaTauri's Daniil Kvyat had one potential solution to the possible traffic jam that awaits the drivers.
"The traffic might become a bit of a lottery so we need to speak tonight at the drivers' briefing, what to do, because it might be a bit strange. I hope maybe we can split into groups in quali; we will see – it's too tight, narrow, for us," he said.
Whatever the solution may be, we look set for a scintillating qualifying session at 2000 local time on Saturday, on this thrilling and rapid variation of the Bahrain International Circuit. After sweeping Friday's sessions, will it be Russell on pole position under the lights at Sakhir?