Russell plays down expectations after topping Sakhir practice sessions, saying lap times are 'deceiving'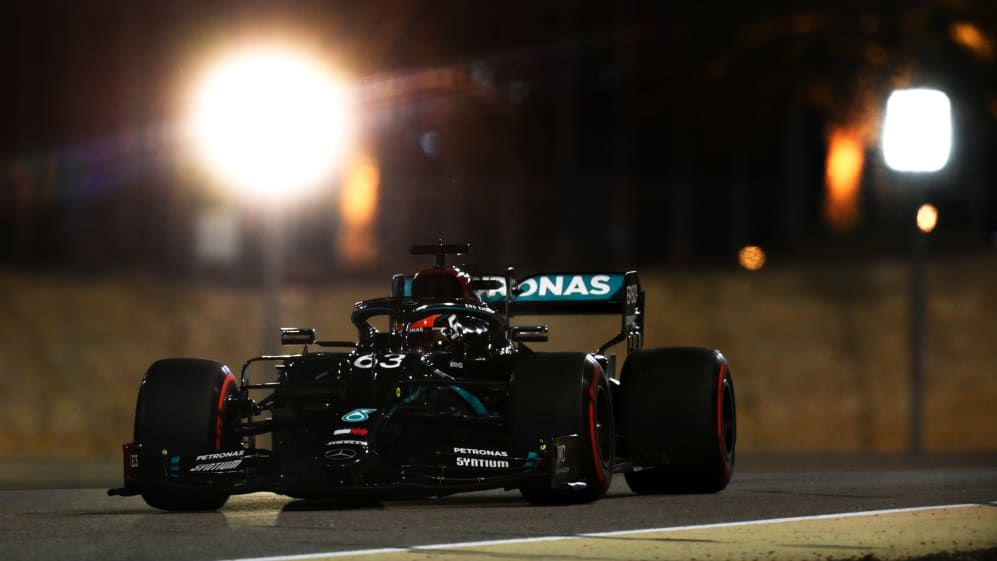 A quick glance at the timesheets from Friday practice for the Sakhir Grand Prix would suggest things couldn't have gone much better for George Russell on his first day sitting in for Lewis Hamilton at world champions Mercedes.
But the 22-year-old Briton was quick to play down expectations afterwards, stressing he still felt he was behind new team mate Valtteri Bottas on pace and that he had a lot to learn going into qualifying and the race.
Dressed in Mercedes black rather than Williams white as 2020 champion Hamilton recovers from Covid-19, Russell set the pace in FP1 as the drivers got used to Bahrain's short, quick and ultimately tricky new outer track layout. Russell then repeated the trick in FP2, but said it wasn't as plain sailing as it might have appeared.
READ MORE: Mercedes sub Russell beats Verstappen to complete clean sweep on Friday at Sakhir GP
"I do think the lap times are a little bit deceiving at the moment and aren't a true representation of our pace," said Russell, who is yet to score his first F1 point.
"I thought FP2 was not a great session for me, I struggled, especially on high fuel, and ultimately that's going to be key on Sunday. So still have a lot of work to do to get comfortable in the car, get comfortable with the set up and make some improvements, because I think tomorrow is going to be a different story."
Asked if he felt on top of the different systems in the car, compared to his Williams, Russell added: "Absolutely not to be honest. There is so much to take in, to learn. Lap after lap I'm just learning more and more. I'm doing my absolute best to be prepared as possible, but jumping in the car with a day and a half notice is tricky. I'm doing my best, it was a good first day but there's definitely work to be done.
"Race starts are ok. They are improving. They are not Lewis Hamilton level to say the least but they are getting better. So loads of practice tonight sat in the car, trying and trying and modifying clutch pedals to try to suit my fingers a bit more. Like I say, there is so much I need to get on top of in a short period of time to do that. I think we're in for a long night…"
READ MORE: Sakhir GP not a shoot-out between Russell and Bottas for 2022 Mercedes seat, insists Wolff
On Thursday, Russell had spoken candidly of how he had just managed to squeeze his tall frame into a cockpit shaped around the smaller Hamilton, even saying he was going to wear smaller race boots in a bid to fit better.
After two 90-minute sessions on Friday, he said he was feeling "pretty battered and bruised" and that more adjustments were needed to make him more comfortable.
"We've already gone through what needs to change. It's not the work of a moment, changing the seat here and there. I'm working hard with the guys to try to improve that for Sunday."
There is so much I need to get on top of in a short period of time to do that. I think we're in for a long night...
Though clearly not happy with where he's at, some will naturally see Russell as the favourite for pole position – quite something given he's yet to make Q3 for Williams. So is he concerned he's set the bar too high with his Friday times?
"I don't know to be honest," he said. "Just because I've been quickest today, that doesn't mean that's where I'm going to be tomorrow. [Max] Verstappen was incredibly quick in the long runs, Valtteri was quickest in P2 before he had his lap deleted. He probably only gained half a tenth in all honesty.
"So I'm probably a tenth and a half behind Valtteri on the low fuel. But we'll see, we are getting better."