Driving style change key to China win, says Hamilton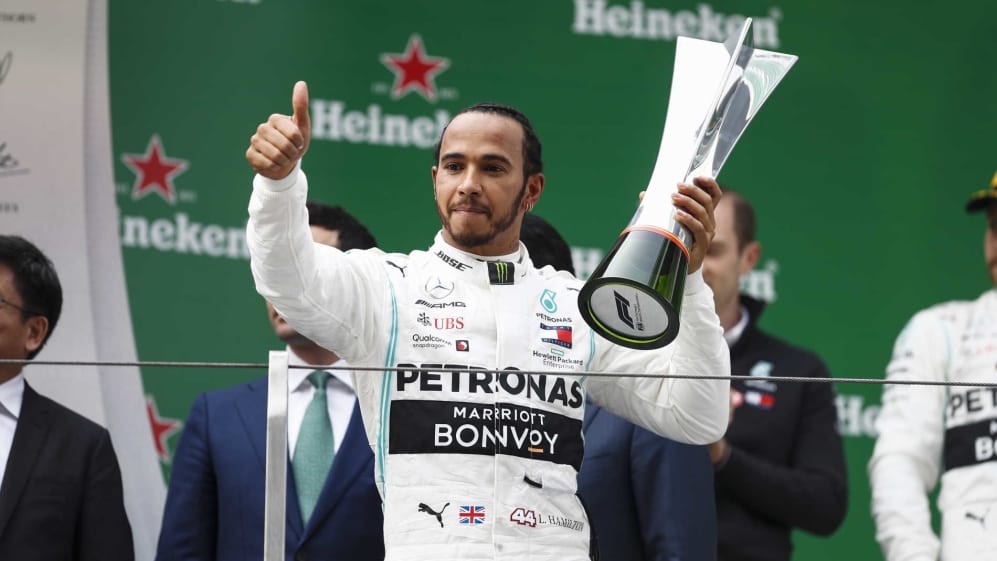 On Friday evening in Shanghai, a frustrated Lewis Hamilton wanted answers as to "what the hell" was going on with his hard-to-handle Mercedes W10. Yet by the end of Sunday afternoon, Hamilton was clutching the winners' trophy and a bottle of champagne, having won the 1000th F1 race. So what had happened in between?
Hamilton's win was his sixth at the Shanghai International Circuit, putting the track on a par with the Hungaroring and Montreal's Circuit Gilles Villeneuve as the Briton's favourite hunting grounds. Despite that, last year saw Hamilton struggle to a distant fourth place in China as his team mate Valtteri Bottas finished on the podium. And speaking after his victory, secured through a brilliant start, Hamilton chalked up the improvement from 2018 to 2019 to a change in his driving style.
Hamilton beats Bottas in China as Mercedes dominate 1000th race
"Through the weekend, the car's really not liked how I drive at this track," said Hamilton. "I was always really quick here and my aggressive driving style worked really well, and then I used that in the last two years and the tyres would not allow it and the car would not allow it and I seemed to have lost a lot of performance.
"I really had to be quite dynamic to change my natural driving style, shift it to a different way. I only really got there at the end of qualifying, and then in the race, it was a little bit back to what my normal driving style would be, so once I got into the lead I was able to maintain position and do what I do."
Hamilton's victory in China was the 75th of his career, and with Bottas following him home, the result marked the first time a team has scored a one-two finish at the first three races of a season since Williams in 1992.
So, with all the early season talk having been about the strength of the Ferrari package this year, did Hamilton now feel that it was Mercedes who were emerging as the team to beat?
"I don't feel like we're the dominant team," he replied. "But I think our overall process has been more solid, the platform, pits tops, performance in qualifying, just very, very much operating at the super-high, 90 percentile.
"So I'm really grateful. The team has done an incredible job. I had no idea that we'd have three one-twos so early on in the season.
"On top of that, Valtteri's really stepped up this year, he's really punching, delivering. Last year, he was on the podium in second here and I didn't back him up as a team mate, being as quick as I should have been. It takes both of us and the whole team to be operating on all six cylinders, and at the moment we are."
Hamilton now heads the drivers' standings for the first time in 2019 with a six-point advantage over Bottas. And while the five-time champion might not reckon that Mercedes are the dominant team this year, they currently enjoy a sizeable 57-point advantage in the constructors' standings over Ferrari.