Podcast
Emerson Fittipaldi on flying the flag for Brazil and the loss of Ayrton Senna
If you had found yourself at Snetterton race circuit in the winter of 1969, you'd likely have spotted a clean-cut Brazilian kid in racing overalls and wondered, 'Why has this guy traded a warm Sao Paulo for a bitterly cold England?' But 22-year-old Emerson Fittipaldi had arrived in the country with a goal – to impress Formula 1 team bosses and become a Grand Prix driver. It would take him just over a year to make it happen.
Even flying into Gatwick Airport for the first time had been a 'Road to Damascus' experience for the young Fittipaldi, as he recalls in the latest episode of the official F1 podcast, Beyond The Grid, presented by Bose.
"I remember I was looking at England," recalls Fittipaldi, world champion in 1972 and 1974. "It was very cloudy and then I saw… some grass and I said, 'This is the ground of Graham Hill, Jim Clark, Jackie Stewart. I'm coming to England!' It was like a big commemoration in my heart. I was so motivated."
Fittipaldi would ultimately catch the eye of Lotus boss Colin Chapman, who promoted him to F1 in 1970. And the Briton – who'd mentored the careers of champions Jim Clark, Graham Hill and Jochen Rindt – spotted championship-winning quality in his young charge after what was only Fittipaldi's second F1 start, at the 1970 German Grand Prix.
"In Hockenheim, I was abusing [the car] more," recalls Fittipaldi, who for that weekend had been given the out-moded Lotus 49 while team leader Rindt got the more technologically-advanced 72. "I was braking late, locking wheels, trying to get the 49 running strong and I finished fourth. It was a very strong finish for the Lotus 49, and I remember after the race, Colin came to me and said, 'Emerson, you are world champion material.'
"A lot of people had the wrong image of Colin. Colin looked like a cold, technical guy, but he had incredible heart, and when he likes a driver... I mean, he came to me and said, 'Emerson, I'm getting very close to you, I don't want to get more close.' He suffered with every driver he lost [to a fatal crash], a lot."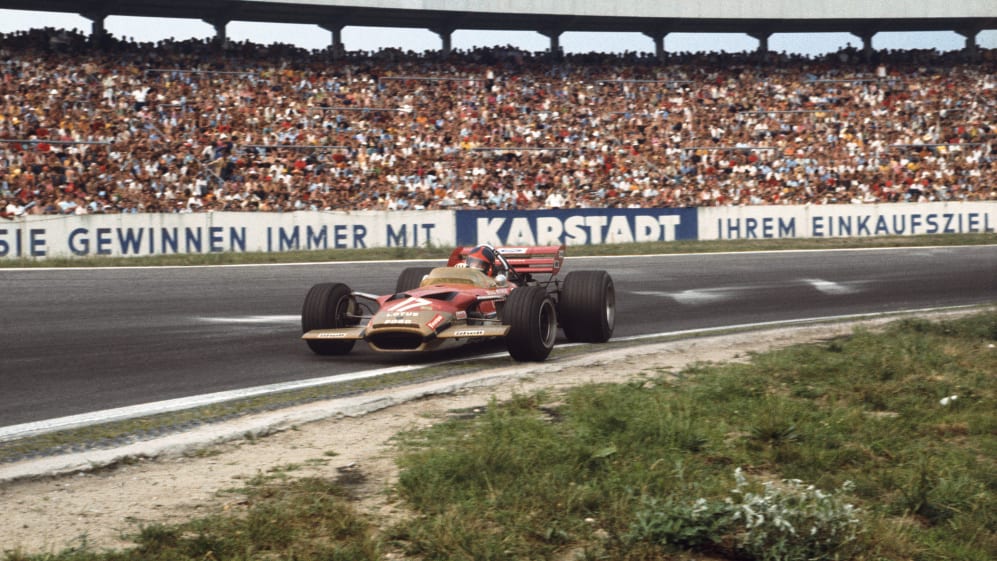 Fittipaldi suffered too when, 20 years after his final title success, his friend and compatriot Ayrton Senna had his fatal crash during the now-infamous weekend at Imola in 1994. Fittipaldi was a pallbearer at Senna's funeral, and the passing of time appears to have done little to heal the wounds created by the loss, as he tearfully tells Beyond The Grid host Tom Clarkson.
"I was testing at the Michigan Speedway [when] the team manager, said, 'Emerson, your family is on the phone, pit, pit.'
"I stopped immediately and then my wife said, 'Ayrton just died at Imola.' I was shocked. We stopped and I went home. It was a big shock because Ayrton, to me, was immortal. He was someone who could not die driving a racing car. He used to watch my Formula 1 tests at Interlagos, he and Milton, his father. I was testing for Copersucar, [and when] he finished testing his kart, he'd come here to watch me. He was 14, 15 years old…"
So, prepare yourself for an emotional rollercoaster ride with one of Formula 1's most open and engaging personalities. You can listen to the episode in the player above, or via Apple Podcasts, Spotify or your favourite podcast app – and don't forget to subscribe to make sure you don't miss out on future episodes.
To check out all the episodes to date, meanwhile, including conversations with Fittipaldi's on-track rival Sir Jackie Stewart and Romain Grosjean, the man whose Haas seat Fittipaldi's grandson Pietro may one day inherit, click here.