Feature
Esteban Ocon on his maiden podium, golfing with Poulter and partnering Alonso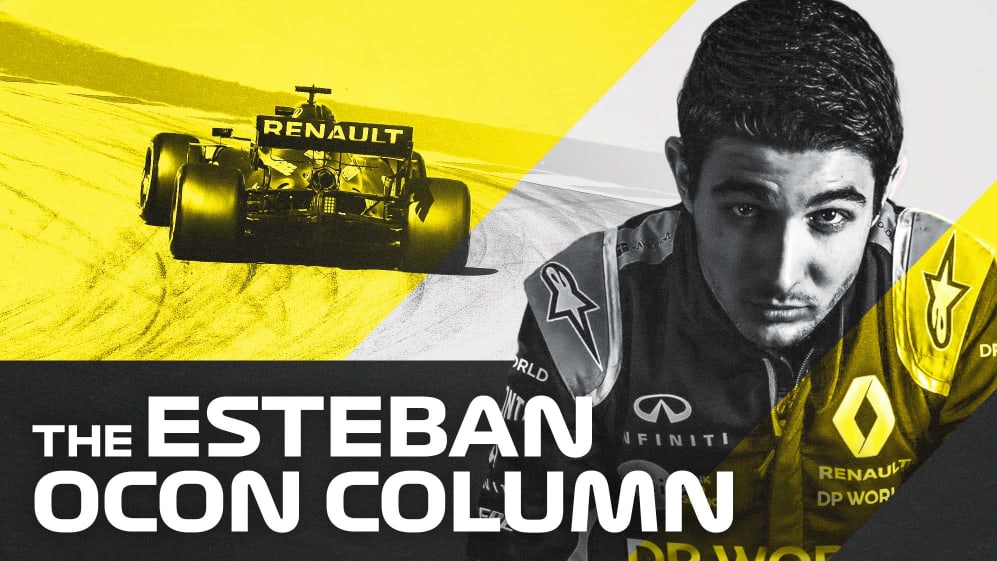 Salut à tous. Well, what a season. It was so unexpected, so busy and intense but also very enjoyable and it was good to be back racing again.
I'd like to say thanks to Formula 1, the FIA, all the promoters and organisers, the team and the fans for making it all possible.
I think as we all flew home from Australia in March, there was a feeling that we'd be very fortunate to be on track at all, so I'm very grateful we could make something work and complete a very good championship season.
The Podium
I'm definitely still on a high from the podium in Sakhir. What a feeling that was. When I first started karting, it was a dream to reach Formula 1 and, of course, the goal is to win races and stand on the podium. What probably made it even better in Sakhir was that it was quite unexpected after starting 11th.
READ MORE: Delighted Ocon reflects on 'difficult journey' to maiden podium after P2 finish in Sakhir
It also shows that you should never ever give up. Anything is possible if you stick at something and I think the podium that day – with Checo winning and Lance in third – demonstrates not to give up. We called a good strategy, drove a strong race and it worked out well at the chequered flag.
It was a weekend of up and down emotions. I was very disappointed after qualifying there. The target is to be in Q3 and push towards the top five, so to miss out was certainly frustrating. I knew there would be some opportunity with the free starting tyre choice, but if you told me before the race I'd be on the podium, I wouldn't have believed it, even though the sub one-minute lap there was always likely to throw up some chances, which we took.
I definitely enjoyed celebrating with the team and seeing everyone's faces at the podium was an amazing moment for me. It took a while for it to sink in because, after the race, it was very busy with all the media commitments and team celebrations.
I was completely drained when I got back to the hotel but the first thing I did was ring my family who were having a drink for me back home. That was a special moment, which I'll always remember.
Ending the season on a high
The final triple header was a busy one with the back-to-back races in Bahrain and then Abu Dhabi. I do like travelling to these places as it's hot and the facilities are some of the best of the year. The first Bahrain race will be one of those moments which will forever be remembered in Formula 1 history with Romain's crash.
READ MORE: F1's team bosses choose their Top 10 drivers of 2020
It was a relief to know he's OK and I did visit him in hospital to wish him well. It's a shame that his Formula 1 career has ended in such a way but he's been great for motorsport in France and I wish him the best for his recovery and future; hopefully in racing.
I think the team and I ended the season with some great momentum. I'll be the first to admit that the start of the season could have been a lot better. We worked hard, continued to understand where to improve and it's certainly been better during these last few races. We fought right to the end in Abu Dhabi and I was really happy to overtake Lance on the final lap for an extra point. That was a nice way to finish.
Goodbye Daniel
Daniel has been a brilliant team-mate. He's been very, very quick all season and he's a great benchmark for me. To be 0.002secs off him in Bahrain was frustrating at the time, but I can take some encouragement from that as the deficit was closing as the races progressed and I knew how well he's been driving this year. He's also great off track with his personality and he does bring a positive energy and motivation to the team. I wish him well for next year, but on-track I look forward to battling with him.
Alonso takes the R25 out for a spin
Next year, Fernando returns. He was with us in Bahrain and Abu Dhabi and I'm sure everyone would have heard or seen his demonstration runs in the legendary Renault R25 – the era which inspired me to race. I found some time in my schedule to watch his laps on Saturday after qualifying. The sound of that car is just amazing, and Fernando definitely knows how to put on a show. I was stood on the pit wall when he came flying past, flat out, inches from us. Wawaweewa, it was awesome!
Golfing with Ian Poulter
After the race in Abu Dhabi, the season was not quite finished. I travelled straight to Dubai for an appearance with our partner DP World with the golf legend Ian Poulter. I've spoken to Ian on a few video calls throughout the year with DP World and we've chatted a bit when we did some online simulator racing during April and May. To meet him for the first time was really cool.
We took each other on in a karting and golf related challenge, which was a lot of fun and it was actually quite a nice way to round off a busy year. I was really impressed with Ian's passion for Formula 1 and cars in general and hopefully we can welcome him to the paddock at some point next year as it would be a pleasure to show him the cars! He did try and show me how to play golf – I've never played before – it was very enjoyable so many thanks to him!
Heading into the off-Season
I flew home on Tuesday and I'm looking forward to seeing my family and friends during this time. It's been a year where I've had to be really disciplined with how I meet people in order to have as little impact on the season as possible.
It's going to be nice to have a few days with some close ones and I actually still need to go and buy Christmas presents! This time of the year is kind of a break but I'm already thinking about next year and being prepared for that. I'll have a busy off-season training and preparing to be in good shape for what will be a long, challenging season.
Thanks for reading my columns throughout this season. I hope they have been interesting and offer some behind the scenes ideas of life as a Formula 1 driver. Next year, I'll be back stronger and faster with Alpine and a new team-mate. I look forward to working with Fernando and helping the team continue making progress and big steps towards the top end of the championship. The hard work begins now!
Happy Christmas to everyone and stay safe.
See you soon, merci!
Esteban