Delighted Ocon reflects on 'difficult journey' to maiden podium after P2 finish in Sakhir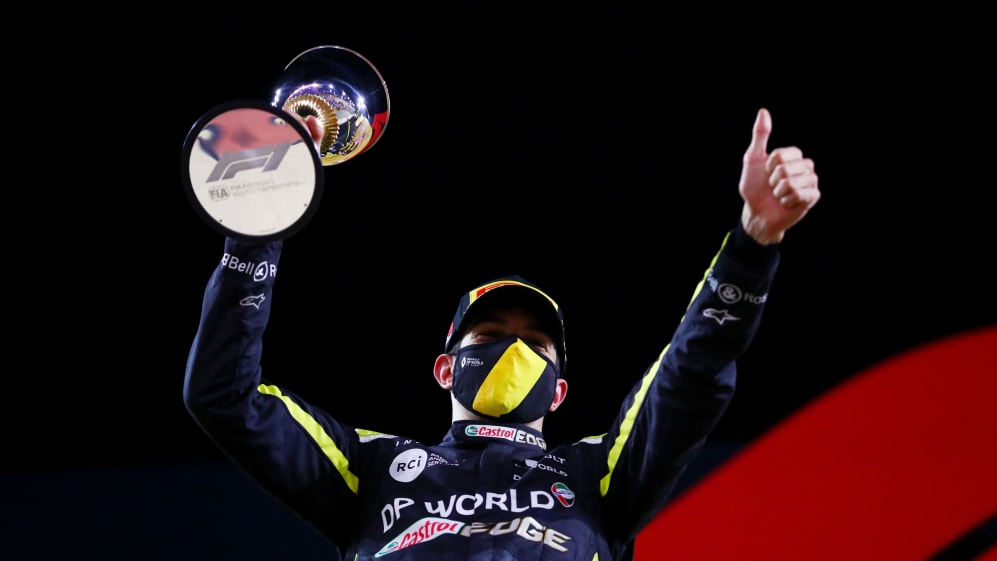 It was fitting that Renault's Esteban Ocon should take his very first F1 podium alongside Racing Point team mates Lance Stroll and Sakhir Grand Prix race winner Sergio Perez, with Ocon having been forced out of that team at the end of 2018 to make way for the new partnership. And after finishing a shock P2 in Sakhir, the Frenchman reflected on what he said had been a challenging 24 months to get to that point.
After demonstrating top-four pace in Free Practice 2 and 3 for the Sakhir Grand Prix, Ocon had been left disappointed after qualifying outside the top 10, as he lined up for the race in 11th.
But that proved to be decisive, with Ocon starting on medium tyres and stopping just once, before benefitting from a nightmare race for the Mercedes duo of George Russell and Valtteri Bottas to follow home the Racing Point of his former team mate and first-time race winner Perez.
READ MORE: Sergio Perez takes sensational maiden win in Sakhir GP as tyre issues ruin Russell's charge
"We had good expectations about today," said Ocon. "We knew what we were going to do with the strategy coming from outside the top 10, free choice of tyres, and that was very interesting for a race like this.
"The graphs were showing that we were going to be coming in the top five and it was going to be a very strong comeback, and the guys on more stops were going to be struggling a bit. But we never thought obviously that we were going to come this close to the win even, so it's been an awesome race."
Ocon has endured a long road to get back to F1, after Lance Stroll replaced the Frenchman at Racing Point at the end of 2018 following its purchase by his father Lawrence, forcing Ocon into a sabbatical before he returned with Renault in 2020.
READ MORE: Russell expresses disbelief that maiden win was 'taken away from us twice' after Mercedes pit drama in Sakhir
And after what had been a low-key season thus far – with Ocon having scored just 42 points to team mate Daniel Ricciardo's 102 ahead of the race – the normally stoic Frenchman admitted that his emotions had got the better of him after he crossed the line for his maiden podium.
"I really enjoyed that race and all the emotions that came when I crossed the line – unbelievable," said Ocon. "I never cry for anything, but I tell you today, the tears they came and they came for a good reason, so I'm really happy.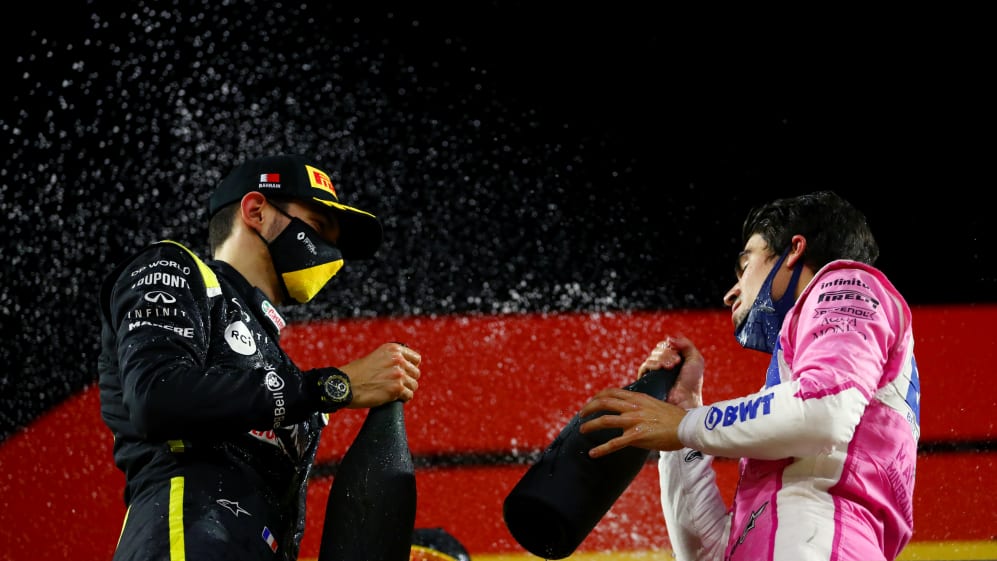 "What a journey, what a difficult journey to arrive here as well. A lot of sacrifices from my early days. It wasn't easy to get into F1, and I stopped obviously last year, so not easy to get back in as well. New team, strong team mate against me.
READ MORE: 'What did he expect?' – Verstappen says 'reckless' Leclerc has to accept blame over first-lap crash in Sakhir
"I think this is what was waiting around, but we didn't get the luck we wanted each time," added Ocon. "We were seeing the progress this year, we were seeing it was coming but it never really paid off until today, and today we made it happen, so I'm very pleased."