Everything felt so good! - Bottas hails 'best race ever' after Australian GP win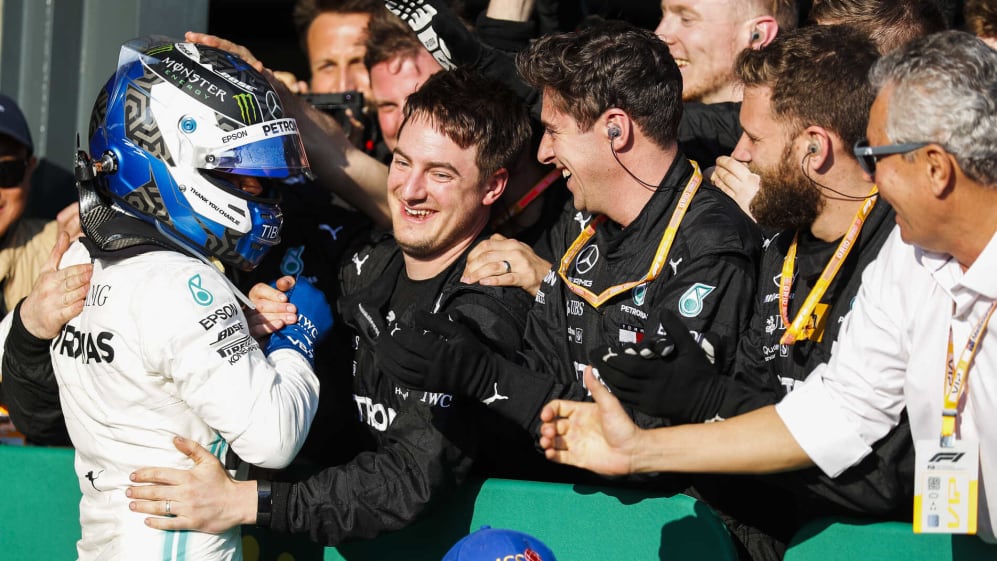 Valtteri Bottas couldn't buy a win in 2018, the Finn ending the season with the unwanted honour of being the first Mercedes driver not to take a victory in the turbo era. But that miserable winless run ended on Sunday by way of a crushing victory in Australia, which saw him finish more than 20 seconds clear of team mate and nearly rival Lewis Hamilton. No wonder Bottas described it as "definitely my best race ever"…
Bottas came into this season saying he felt like a new man having gone away in the off-season and worked hard – both physically and mentally – to put last season's disappointing campaign behind him.
That preparation, which included training in the arctic cold of Lapland, paid him back immediately.
On the sixth anniversary of his F1 debut, the Finn went toe-to-toe with Mercedes team mate Lewis Hamilton in qualifying, missing out on pole by a mere fraction. But he immediately put that disappointment behind him in the race, making an electric getaway at the start to snatch the lead from the world champion into Turn 1.
From there, Bottas controlled the race effortlessly, building a gap so big, he could have even pitted for fresh tyres in the closing stages and still retained a lead over Hamilton, who struggled for pace on his way to a distant second.
Everything felt so good, I had everything under control
"I don't know what to say," said Bottas after jumping out of the car. "The start was really good. It was definitively my best race ever. I don't know what happened – everything felt so good, I had everything under control and it was so good today. Truly enjoyable, and I'm going to enjoy today.
"In the beginning, it was all about managing the race and trying to build a gap. After five, six, seven laps I started to build the gap and I had a great feeling.
"I knew I could do it, I had done it before, it was about being at my best level, at one in the car. The second stint… I don't know. When you're really on it, it feels kind of easy. In the end, it isn't but that's what you brain tells you."
Bottas wanted to pit late on, so he could have a shot at the fastest lap, which this year counts for an extra point, but the team opted not to.
But such was his performance advantage, the Finn still took the fastest lap of the race, crossing the line to win by an impressive 20.8s from Hamilton, a winning advantage that was larger than at any Grand Prix in 2018.
"I was definitively determined to get the fastest lap. It is a new rule for this year, so as I had really strong pace I wanted to go for it in the end. It's always a bit risky with the old tyres but it worked. I'm so happy and cannot wait for the next race!"
This was Bottas' first victory since the 2017 season-ending Abu Dhabi Grand Prix, and the fourth of his career. But could this one be the most important yet? History suggests that the Finn, who holds an eight point advantage over Hamilton in the drivers' standings, is now favourite for the title. Every time that a team has finished one-two in Melbourne, the winning driver has won that year's championship.