'Everything was under control' – Devastated Norris convinced win was on without late rain in Sochi
Lando Norris was just a handful of laps away from converting pole position for the Russian Grand Prix into a sensational maiden victory when the heavens opened and he was left stranded on the track on slicks – with a "devastated" Norris only able to finish P7, as Lewis Hamilton ultimately claimed his 100th F1 win.
Ironically, it had been a perfectly timed tyre change to slicks on Saturday that had given Norris his maiden pole position at the Sochi Autodrom – while Norris then lost and regained the race lead as the Grand Prix got under way, before holding off the charge of Hamilton in the latter stages.
READ MORE: Hamilton takes 100th F1 victory after late rain shower denies long-time leader Norris at Sochi
But uncertainty from both Norris and his McLaren team on when to switch to intermediate tyres as rain started falling in the final few laps was ultimately their undoing, with Norris slewing over the track on his slick tyres before finally pitting, leaving him P7 at the flag.
"I don't know where to start," said an emotional Norris. "Obviously unhappy, devastated in a way. I guess we made a call to stay out; we stand by that call but it was the wrong one at the end of the day. I made a decision just as much as the team. In fact it was more they thought I should box and I decided to stay out. So, my decision – I thought it was the way to go.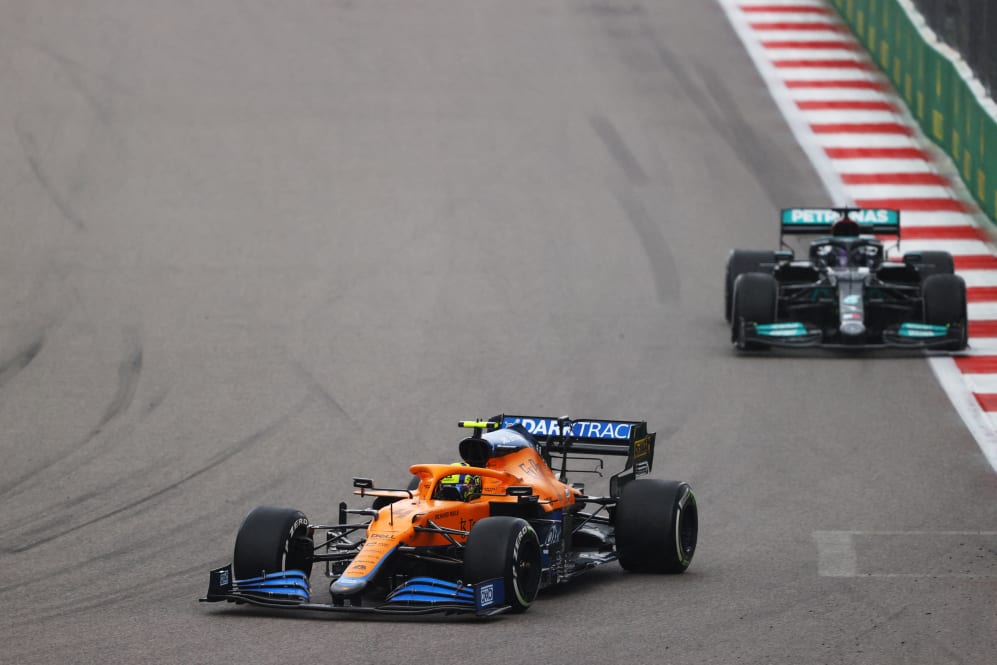 "I think I had the confidence beforehand," added Norris. "I knew I was capable of doing it, I've felt capable of doing it for a while so I don't think that's really changed. Just a bit of heartbreak. I felt like I did everything I could, even when it got tricky at the end. I made a couple of mistakes but still kept Lewis behind and started to pull away a little bit."
HISTORY MAKER: The moment Lewis Hamilton becomes the first driver to reach 100 F1 wins
Hamilton had piled on the pressure against Norris as the lap count ticked down. But asked if he felt that he would have been able to resist that pressure and hold on for what would have been a second consecutive McLaren win (after Daniel Ricciardo's Monza victory) if it had remained dry, Norris replied: "For sure. Everything was under control. I had to do quite a bit of fuel saving and that's when he got quite close to me.
"But as soon as I stopped and I could push, then everything was fine. Even the first, like, four or five laps when it started to drizzle, it was tricky but I still had it under control. I made some mistakes but I guess that's what happens when you're at least leading out of those two [cars], and if he's putting pressure on, you can't just drive slowly and let him past.
"So it was tricky, but what we just, for some reason, didn't see was how much more rain was suddenly going to come. I didn't get told that, I didn't know about that, and I made my decision on… the information that I got before that the drizzle was going to remain a drizzle, not pouring with rain! So I don't know – it was just all going so well, so I guess it makes it even worse.
WATCH: Hamilton and Norris embrace in Parc Ferme
"Not the result we wanted in the end," Norris concluded. "I could have won the race and I didn't so I'm never going to be happy like this. But it's the way it is, the way it went. We made the decisions, I made the decisions that I made and we were obviously wrong at the end of the day, so a tough one.
"But on the positive side I guess I got a couple of points and Daniel [Ricciardo, who finished P4] did a good job as well, so for the team it's still a decent day."