Report
Hamilton takes 100th F1 victory after late rain shower denies long-time leader Norris at Sochi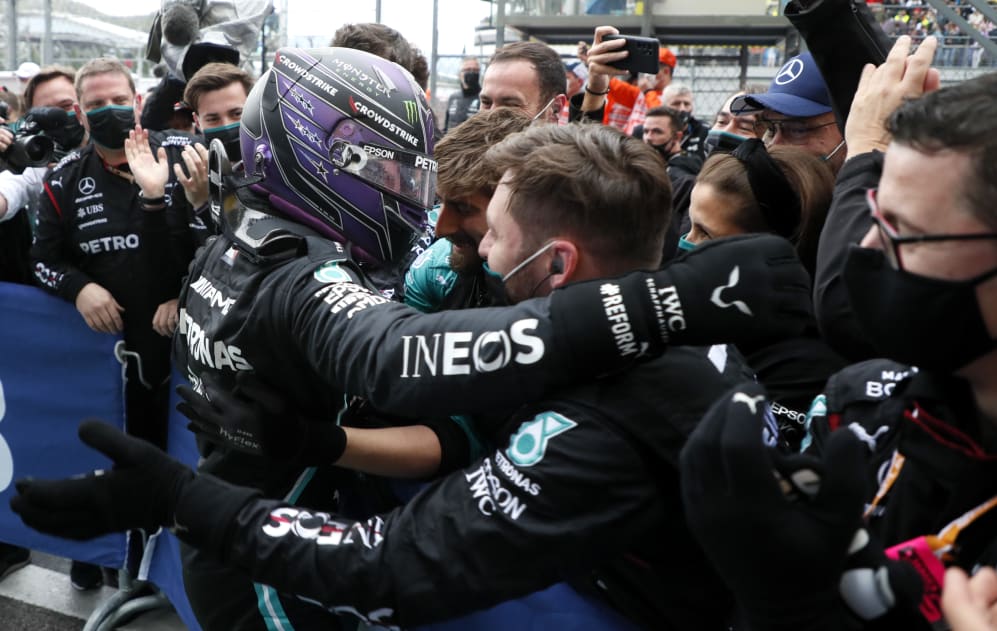 Lewis Hamilton took his 100th Grand Prix victory in a Russian Grand Prix that started in dry conditions and ended under rain, the Mercedes driver making a late switch to intermediate tyres to take the lead when pole-sitter Lando Norris agonisingly slid out of the lead with just two laps left. Max Verstappen made it from P20 to P2, and Ferrari's Carlos Sainz took third having started second.
Grid penalties were the talk of the town on Sunday morning with Valtteri Bottas the latest to take the hit, Mercedes putting a new power unit into his car to see him start 16th with the knowledge that Max Verstappen would start 20th (having taken a new Honda engine earlier in the weekend) and Charles Leclerc 19th with a new Ferrari unit.
HISTORY MAKER: The moment Lewis Hamilton becomes the first driver to reach 100 F1 wins
As for tyres, there was a mix of mediums and hards on the grid with the first five drivers – Norris on pole, Sainz second, Russell third, Hamilton fourth and Ricciardo in P5 – on mediums, and only Fernando Alonso starting sixth, Sergio Perez (P8), Pierre Gasly (P11), Bottas, Antonio Giovinazzi (P17), Leclerc and Verstappen starting on the hard compounds.
Although he fell to seventh at the start, Hamilton's pace was competitive on his medium tyres and he pitted on Lap 27 for hards, before Norris – who had scored a sensational first pole on Saturday and duelled with Sainz early in the race – and once the pitstop sequences had finished by Lap 38 it was Norris leading a rapid Hamilton. The pair were just one second part in the closing stages. And then the rain hit.
FORMULA 1 VTB RUSSIAN GRAND PRIX 2021
Russia
2021
Race results
POSITION
TIME
POINTS

1

Lewis

Hamilton HAM

Mercedes

1:30:41.001

25

2

Max

Verstappen VER

Red Bull Racing

+53.271s

18

3

Carlos

Sainz SAI

Ferrari

+62.475s

15

4

Daniel

Ricciardo RIC

McLaren

+65.607s

12

5

Valtteri

Bottas BOT

Mercedes

+67.533s

10
Lead pair Hamilton and Norris stayed out after others pitted for inters and it was the Mercedes man who made the decision to pit first, switching with three laps left – as Norris stayed out, a first ever F1 victory almost within touching distance. The McLaren driver did his best to keep the lead but, with the rain getting heavier by the second, he eventually slid off the track and Hamilton passed him for P1.
Norris eventually finished seventh having pitted at the very end, and escaped with a reprimand after crossing the pit entry line twice on his way in.
READ MORE: 100-time GP winner Hamilton insists Norris has 'many wins ahead' after McLaren man is denied maiden victory in Russia
Verstappen, from 20th on the grid, finished an incredible second after switching from hards to mediums midway through the race and cruising through the field. And it was Ferrari's Sainz who took the final podium place – having briefly led over Norris – with an early switch to hards from mediums.
Valtteri Bottas started 16th but took fifth having pitted for mediums just after Verstappen, while Fernando Alonso started sixth and finished there with a long first stint on hard tyres. Kimi Raikkonen kept his cool to make up places in the late wet conditions and finished eighth – leaving Sergio Perez and George Russell to take the final points for Red Bull and Williams, respectively.
Norris came away with Driver of the Day honours, but the pain of having a maiden Grand Prix victory wrenched away from him in the final laps with the rain falling at Sochi, in what must go down as the most entertaining and dramatic Russian Grand Prix to date.
As it happened
Qualifying for the Russian Grand Prix, in which Lando Norris took a shock pole position ahead of Carlos Sainz and Williams' George Russell and Mercedes' Lewis Hamilton, may have been a wet session – but the race would prove to be anything but a dry affair.
Championship leader Max Verstappen would start 20th for Red Bull, Ferrari's Charles Leclerc 19th, and Valtteri Bottas 16th thanks to engine penalties. Bottas's penalty, announced just before the Grand Prix on Sunday, was of particular significance as he would have the tough job of holding Verstappen off at the start.
READ MORE: 'Everything was under control' – Devastated Norris convinced win was on without late rain in Sochi
Despite a 70% chance of rain, conditions stayed dry for the start and most of the drivers opted to start on mediums bar Alpine's Fernando Alonso, Red Bull's Sergio Perez, AlphaTauri's Pierre Gasly, Bottas, Alfa Romeo's Antonio Giovinazzi, Leclerc and Verstappen, who began on hard tyres.
As the lights went out, Norris led away while Sainz squeezed into the inside of Russell going into the kink at Turn 1, Russell forced to go out wide and losing Norris's slipstream. Sainz took the lead into the Turn 2 braking zone while Norris and Russell followed. Meanwhile, Stroll had made a stunning start from seventh to go P4, Daniel Ricciardo stayed fifth and Hamilton had fallen to seventh behind Fernando Alonso.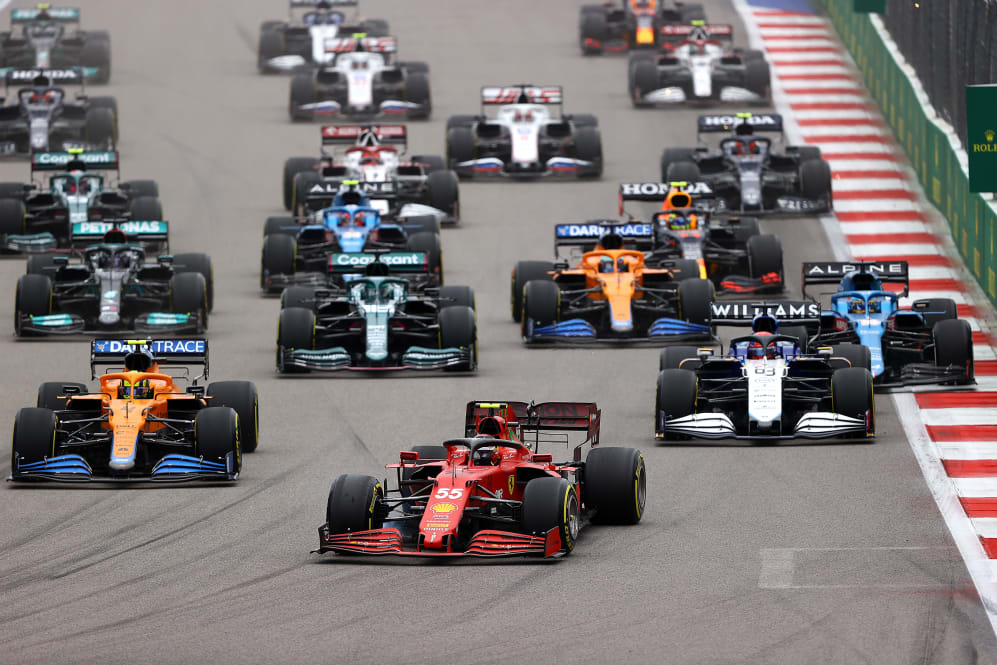 Leclerc charged from P19 to P12 with the inside line at Turn 2 while Verstappen made a steady jump up two places from last, Bottas taking two places from P16. Bottas's mission may have been to hold off Verstappen but on Lap 6, he was passed for P14 by the Dutchman with ease down the inside of Turn 13.
Verstappen had a new Honda engine in his car but the same drive and talent that has seen him produce stunning drives from the back before. He would soon pick off Leclerc on his way into the top 10.
Russian GP Facts & Stats: Mercedes remain unbeaten in Russia, as Hamilton hits F1 century
Meanwhile, Aston Martin triggered the undercut with Stroll pitting from fourth and emerging 15th in free air on Lap 13. Williams' Russell responded from third and emerged behind Stroll a lap later.
Sainz was then caught by Norris on the back straight, the McLaren driver going down the inside of Turn 12 and leading the race into Turn 13, causing the Spaniard to pit for hards on Lap 15 and emerge ahead of Stroll.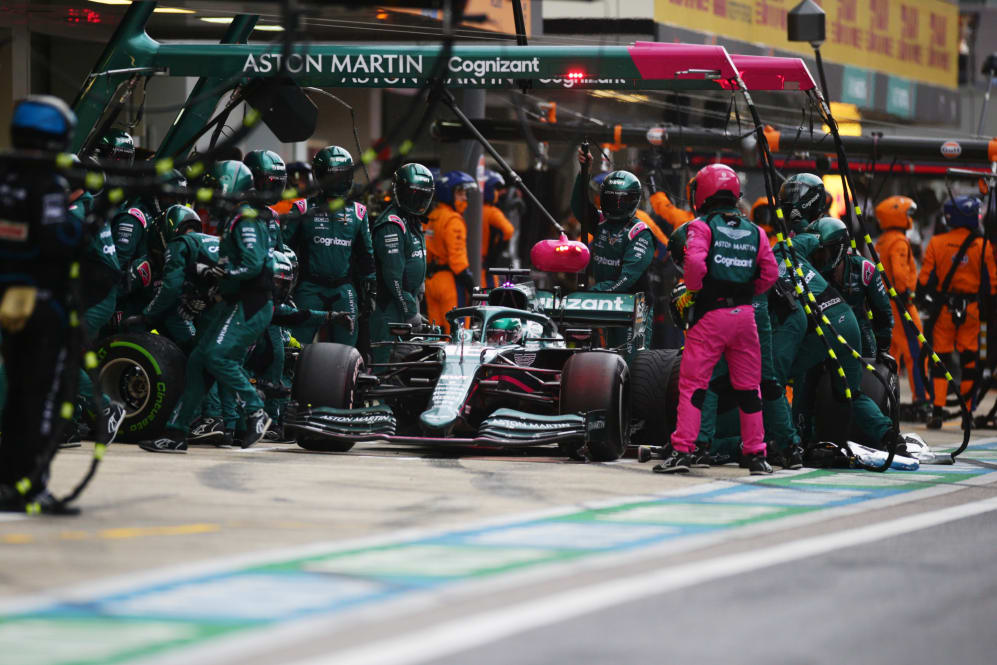 Hamilton stayed out, hoping for track position, but was still stuck behind McLaren's Daniel Ricciardo in P3 as the race neared one-third distance. Verstappen was getting too close to comfort, setting fastest laps – and he was just eight-seconds behind Hamilton on Lap 17. Norris continued to lead, his team mate holding station in P2 as McLaren dreamed of another stunning result after their amazing one-two at Monza.
Ricciardo made the decision to pit on Lap 23 from P2 and a slow release from his box saw the Australian lose a few seconds and emerge 14th. Although Hamilton was 13 seconds behind leader Norris, he was finally in clean air and what followed was a flurry of rapid tours of Sochi. The Briton made up ground but bit the bullet on Lap 27, pitting for hards – while Verstappen also chose to pit (for mediums) seconds later. They emerged ninth and 12th, respectively, but Verstappen soon swiped P11 off Russell (who had pitted much earlier) and only had Ricciardo between himself and Hamilton.
Norris responded to the championship protagonists' pistops on Lap 29, a solid stop seeing him emerge in P4 – ahead of a massive train of cars – with Leclerc, Alonso and Perez ahead, and none of them having pitted.
"Lewis, we can win this race," were the words from Mercedes boss Toto Wolff on Lap 30 after the Briton dispatched Stroll and Sainz for P6. Gasly was next. Then Hamilton was up to P5 on Lap 31, with Norris just eight seconds ahead.
Those who hadn't pitted were leading and on Lap 35 it was Leclerc who came in first, his stop not so quick – leaving him 13th – while Perez and Alonso followed on Lap 37. Perez's pit stop lasted nearly nine seconds but he still emerged ahead of Alonso. Thanks to those slow tyre changes, Sainz and Ricciardo capitalised.
Now attention turned to the matter of the Norris-Hamilton battle, the two drivers duelling for the lead and just a second apart. It looked like it would be a straightforward race between them until the end. That was, until the umbrellas emerged with just over five laps remaining. Would the drivers make it home and dry on slicks? Or would a switch to intermediates be necessary?
Hamilton continued to chase, resisting calls to pit to inters as others around him switched to the green-banded rain tyres. And with just three laps left he would finally take the plunge, emerging well behind Norris – the McLaren driver leading, but on slick tyres.
The rain tumbled down, the gap between Hamilton and Norris shrinking by the corner, and then came the moment that changed the race: Norris slid off the track on the penultimate lap. His hopes of a maiden win were over in the cruellest fashion, and he limped back to the pits for those intermediates, collecting a reprimand for crossing the entry on his way in.
As for Hamilton, he duly took the lead and held it for the last lap for his 100th Grand Prix win.
Verstappen was assured a top five finish before the rain fell, but a calculated switch to brand new inters helped him clinch P2 from last on the grid, ensuring that even in the most eventful race, he could secure a podium – albeit 53 seconds off his rival Hamilton.
Sainz completed the podium for Ferrari, having gained the lead at the start and pitted earlier than his rivals to stay in the hunt before a pitch-perfect switch to used intermediates. In fourth was Daniel Ricciardo, the Australian up to P2 before pitting on Lap 23, his late-race pace proving enough to beat Mercedes' Bottas. The Finn's hopes of a top-five finish seemed slim as he was running in 14th before the rain came, but he rallied in the wet after a Lap 47 stop for inters, to pull of a fortunate recovery to P5 from P17.
Alpine's Fernando Alonso started sixth and finished there having pulled off a long first stint on hard tyres. He was classified ahead of Norris, the heartbroken McLaren driver picking up Fastest Lap and Driver of the Day honours as a consolation.
Kimi Raikkonen enjoyed the rain to finish eighth for Alfa Romeo, while Sergio Perez – who lost out thanks to a slow late stop – and Russell rounded out the top 10 for Red Bull and Williams, in P9 and P10 respectively.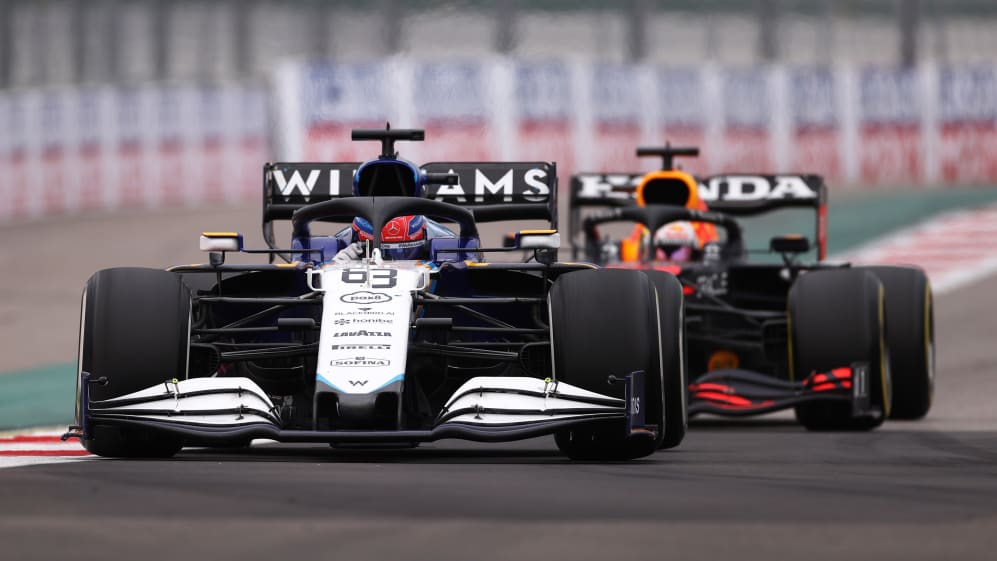 Russell took the final point as behind, Aston Martin racer Stroll had a calamitous end to the race, hitting team mate Vettel (P12), Pierre Gasly of AlphaTauri (P13) and spinning on his way to P11 – with a 10-second penalty for his troubles after the race.
Esteban Ocon took 14th for Alpine having started ninth, the weather ruining his hopes of points, while Leclerc's recovery drive ended in disappointment as he settled for P15 from 19th.
Alfa Romeo's Antonio Giovinazzi started 17th thanks to an engine penalty taken on Sunday, but still finished ahead of AlphaTauri's Yuki Tsunoda – who started 12th and lost places after pitting as the rain fell.
Nikita Mazepin took 19th for Haas in his home GP debut – while Mick Schumacher was the sole retiree with a mechanical issue seeing him retreat to Haas's garage on Lap 33.
The key quote
"I just want to say a big thank you to all these fans; we've got such a great crowd here. I know it's not been the best weather but what a race it provided. So a big thank you to everyone in Russia for having us. It's taken a long time to obviously get to [win number] 100 and I wasn't even sure whether or not it would come.
"Lando did such an amazing job. He had incredible pace, he's doing such a great job for McLaren, and it was very bittersweet obviously to see my old team ahead – they're doing so well, obviously they won the last race – they're doing fantastic, obviously powered by Mercedes.
"So it's good to see us united again and obviously the team made a great call right at the end. I didn't want to let Lando go and of course I didn't know what the weather was doing but I'm incredibly grateful to all these men and women that are here and back at the factory because, wow, 100." – Lewis Hamilton, Mercedes
What's next?
With victory #100, Hamilton's title lead stands at just two points over Verstappen – while Mercedes are 33 points ahead of Red Bull. One week to catch our breath, and then the Turkish Grand Prix follows on October 08-10.