Interview
Exclusive - Horner on Honda, Max, and Red Bull's future vision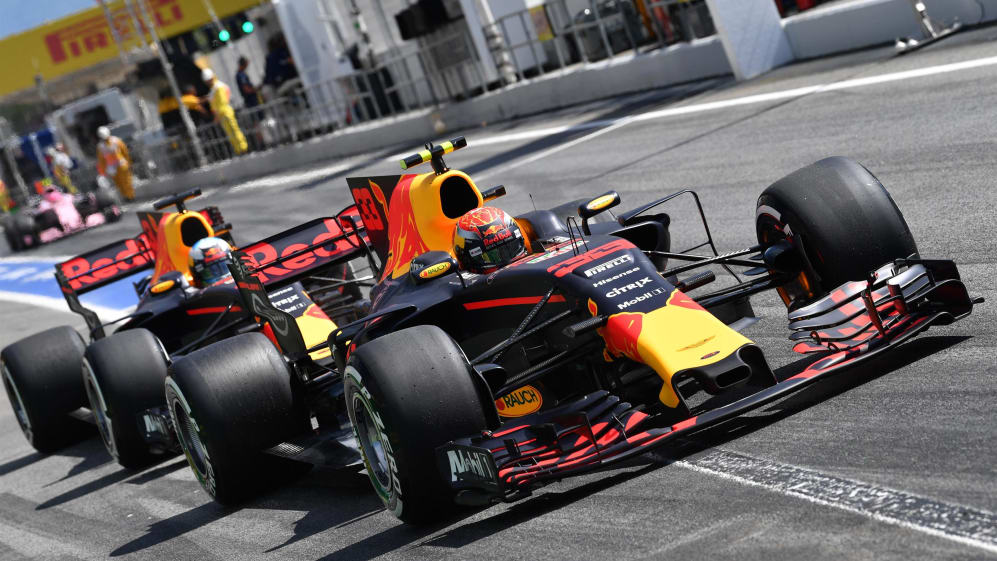 They have won races this year, but Red Bull are still a long way off returning to title contention. Will that change next season? If not, when? And with whose engine in the back of the car? We sat down with team principal Christian Horner to talk points, power units and more…
Q: Christian, it seems like good things come to those who wait – after a difficult start to the year, Red Bull have been on an upward curve recently…
Christian Horner: Yes, what I am particularly pleased with is the second half of the season. We've been much stronger than in the first half. The chassis is now right there.
Q: The team is set to finish third overall – can you still embrace the 2017 season? Third is not really Red Bull standard…
CH: We definitely can take positives out of it. We've won two races and had all in all 12 podiums finishes so that really is a positive side. Daniel (Ricciardo) has driven very well; so has Max. But then we had more reliability issues than in the last ten years! Particularly on the power unit side with Max (Verstappen). That has been pretty disappointing, but right now things seem to be moving in the right direction.
Q: Twice you have beaten the leading teams and engines of Mercedes and Ferrari. Were these 'driver wins' or 'car wins'?
CH: In Azerbaijan Daniel drove a great race, but he also capitalised from the misfortune of others – but yes, he was there to get the result done. Malaysia was probably the first race in the hybrid era where we've won on genuine merit. We overtook Lewis Hamilton for the lead and pulled away.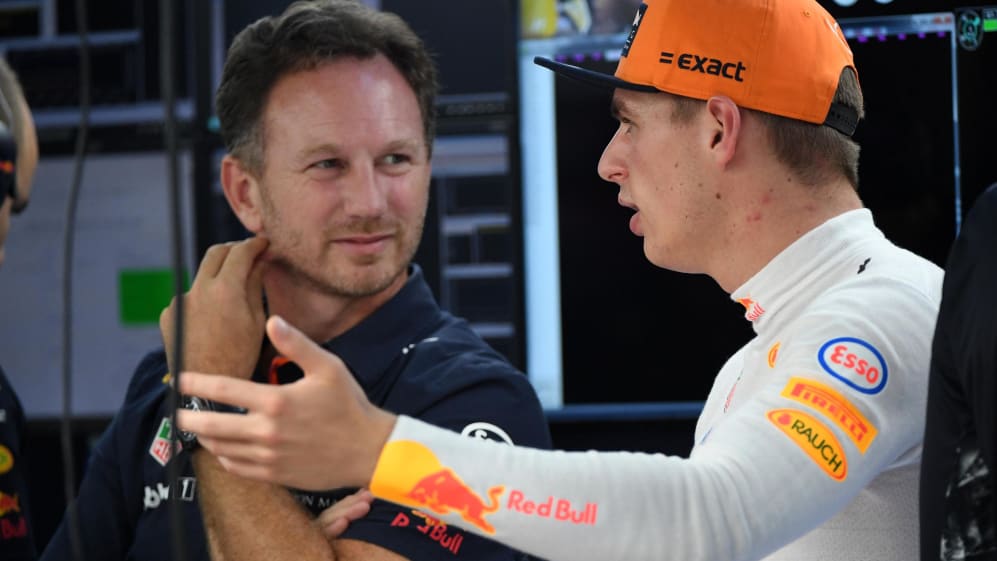 Q: The RB13 has not been the usual 'high-end' vehicle that one has come to expect from Adrian Newey and crew. Why?
CH: Yep, we had some issues at the beginning of the year. The correlation between our simulations – one being the wind tunnel and the other being CFD – and we really didn't start to address that before the first European race in Barcelona. But then from there on the car got better and better.
Q: Max Verstappen. You have him. Obviously Mercedes wanted him. He signed with you this past weekend until the end of 2020. What did you bring to the table to secure the contract?
CH: Max is at an age where it is not about financial rewards, but all about performance. And what he has seen behind the scenes is how hard the team works and of what it is capable. And with the engine regulations fixed until 2020, we're all relying on the convergence of the power unit. As soon as this happens we hopefully will give him a car that will compete right at the front of the field.
Q: With what engine in 2019 and 2020?
CH: Well, everything is open for 2019. Nothing is fixed. We will make a decision around spring to early summer next year.
Q: Your sister team Toro Rosso switch to Honda power next season and team principal Franz Tost said that it is 100 percent better being the only client of Honda than being team No 3 for Renault. Will you use Toro Rosso as your test bed to see if a switch to Honda could be an option in 2019 and 2020? And with another heavyweight like McLaren coming on board as a Renault engine customer, who will then be the third team in the pecking order?
CH: Aha. Well, Renault has always provided a fair service. Every world championship, every Grand Prix victory we have achieved has been with a Renault engine – as a customer. They have always been very fair in providing equal services, so we have faith that this will continue. Yes, it is great that Honda remains in the sport and for sure, it is a great deal for Toro Rosso being a works team. And, of course, from a Red Bull Group perspective it gives the opportunity to follow the progress of Honda before having to make a decision in springtime next year what our engine is for the future.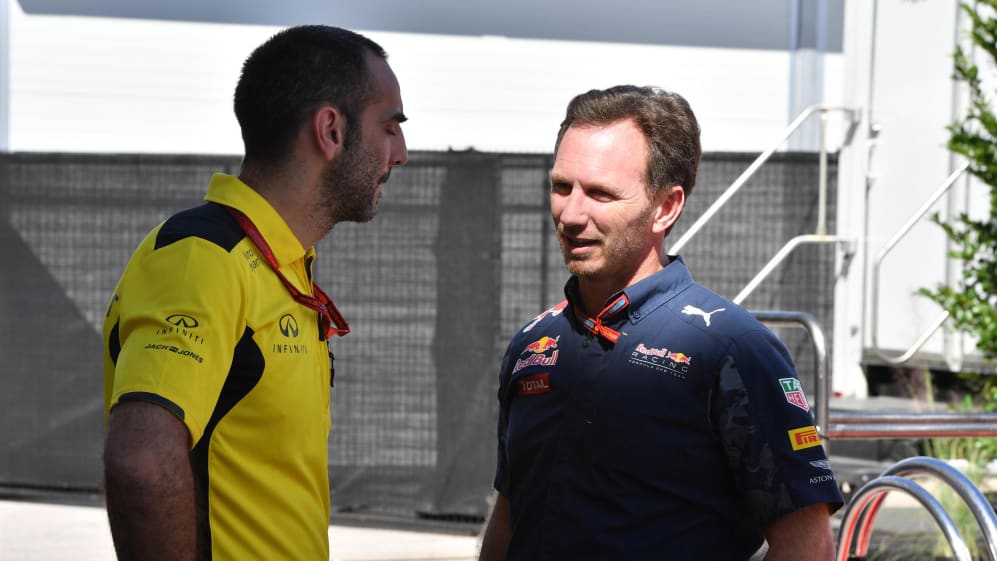 Q: Are you happy with McLaren joining the Renault engine customer line-up? Where will that put you? And Renault also want to get their own team to the front…
CH: McLaren will go through a natural honeymoon with Renault. Fernando Alonso was their driver and so on, but we need to focus on our own business. As long as we get a fair service from Renault, that's all we ask. And, of course, they want to bring up their own team, so we rely on their integrity as in all the previous seasons – in good and bad times, they have always provided parity of equipment.
Q: Red Bull partners Aston Martin have made it known that if the engine regulations past 2020 change to a feasible – and financeable – situation, they want to be the independent engine manufacturer. Is that one of the balls you have up in the air?
CH: Aston Martin is an interesting prospect – and it will really depend on what the regulations are for 2021, on which we will get the philosophy of the FIA and FOM the week after Brazil. If it allows an independent engine manufacturer to be competitive, a company like Aston Martin could quite easily work with a third party like Cosworth. From our perspective it all will depend on what the rules are and if an independent could be competitive. I think it is important for Formula One – for the commercial rights holder – to have a competitive, independent, cost-effective engine.
Q: What about your vision for the future of F1 racing?
CH: Our objectives are reasonably similar to Liberty's. For us F1 needs foremost to be entertainment. To engage with the fans it needs to put on great races and have great drivers battling it out every weekend. Technology needs to play a lesser role, as costs are far too high. I think if we go to basics, to what F1 should be, you actually find that Red Bull and Liberty vision is relatively aligned. Red Bull's existence in Formula One is a global marketing platform for the brand. We want the drivers to be heroes, we want to have great races – and want to win great races – and big events. Some of the venues that have been talked about in the future are highly exciting as well. So time will tell.
Q: Usually at this time of the season Red Bull start threatening to quit F1 if the engine regulations aren't changing. It is surprisingly quiet so far. Could that mean there might be a real breakthrough just around the corner?
CH: Well, Red Bull Racing has been around now for 13 years. And prior to that we have been involved with the Sauber team and prior to that even as a sponsor, so we can show over 20 years of involvement. The desire is absolutely to continue. Red Bull is as committed as every team in the paddock. Of course we have our moments where the love of Formula One is tested. (Laughs) And we have Max just signed to the end of 2020, so that is a pretty clear indication that we are not going anywhere!