EXCLUSIVE: 'It was obviously pretty tense' – Webber looks back on his rivalry with ex-team mate Vettel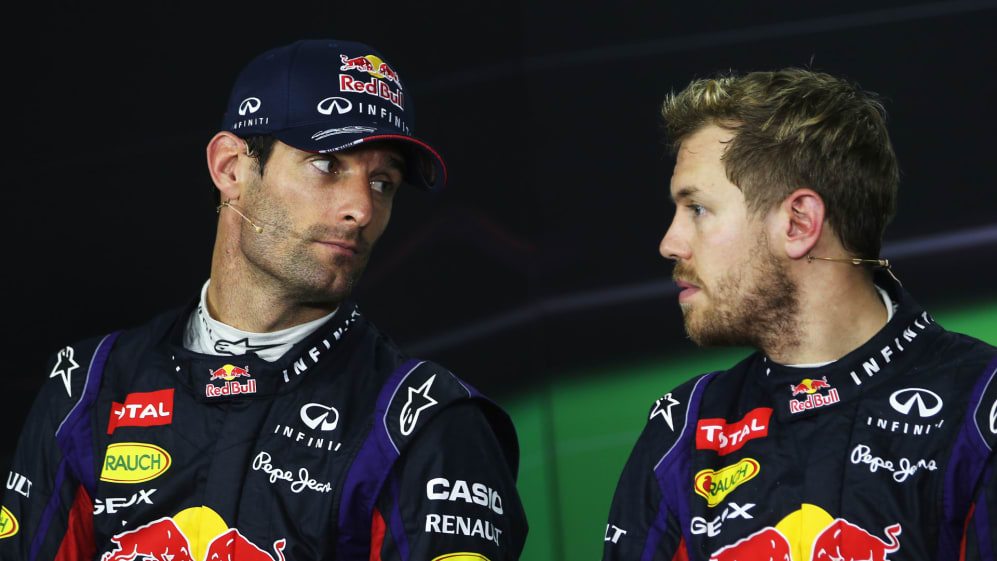 Mark Webber has given his frank opinion on former rival Sebastian Vettel, who won all four of his titles alongside the Australian during a sometimes fractious period as team mates at Red Bull.
Vettel spent 94 Grands Prix alongside Webber – his longest-standing team mate – having joined Red Bull in 2009, before leaving as a four-time world champion at the end of 2014. The pair served up a few flashpoints – most notably their collision in the 2010 Turkish Grand Prix and the famous 'Multi 21' saga of 2013 – as they went wheel-to-wheel for championship supremacy.
WATCH: Webber reveals his biggest regret over 'Multi 21' battle
"Look: an incredible career, untouchable in the [championship] years," said Webber after Vettel announced his retirement in Hungary last week. "Certainly, he loved when Pirelli turned up and he was an absolute masterclass I think for a lot of us, in those years, through the blown diffuser days. And there was a lot of regulations that he certainly worked incredibly hard to understand and did a great job.
"And obviously he racked up a phenomenal amount of success in a short period of time, which is something that all of us colleagues have respect for.
"But I think he's made the right call. Obviously, it's totally down to the individual at that point, there's no one else who can make that decision for you, but I don't think it's a surprise. I think it was pretty obvious it was coming and fair play, off he goes."
Webber, who took all nine of his Grand Prix wins with Red Bull, admitted that things were "strained" at the team as he reflected on the "tense" five-season rivalry between himself and the four-time champion, before Webber retired at the end of 2013.
"I mean, God, we're fine now. It was obviously pretty tense when you're fighting for championships at the front together," continued the Australian. "We had a few years where I was [in contention]; a couple of years where I wasn't.
ANALYSIS: Piastri, Ricciardo, Williams and more – where next for F1's 2023 driver market?
"It always gets a bit strained – it's easier to be team mates when you're fighting for points but obviously, championships and wins is a bit more challenging, which is obviously well-advertised in lots of different scenarios throughout the sport. We weren't alone in that sense.
"Now, obviously he's changed his whole position, hasn't he? As his career's gone on, especially in the last year or so, his whole position has changed in terms of what he's motivated by and looking forward to in the next phase of his life, and fair play."
Vettel's final race in Formula 1 will be the season finale Abu Dhabi Grand Prix in November.
TREMAYNE: Why F1 will lose one of its greats – both on and off track – when Vettel retires at the end of 2022