Feature
F1's most memorable car launches: BAR 01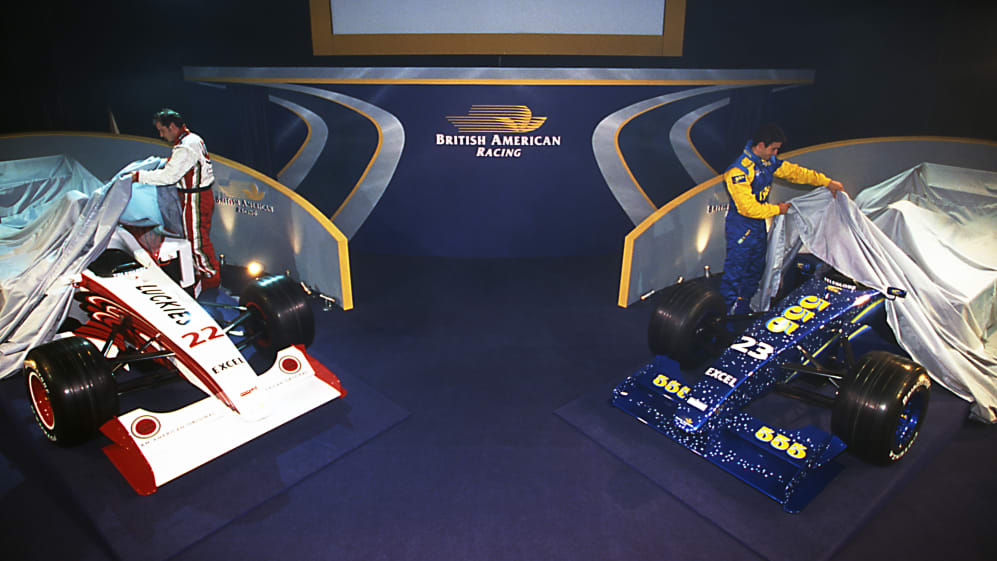 After a long winter, the F1 car launch season is the reviving tonic that puts the pep back in the steps of Formula 1 fans the world over. But before the covers start getting pulled off the latest generation of contenders, we wanted to look back at the most shocking car launches in F1 history. From parading pop stars to some truly eye-catching (read: eye-watering) liveries, we bring you the reveals that have made the front pages as well as the back pages over the years. Today's offering: the BAR 01.
When?
January 6, 1999
Where?
Brackley, UK
What?
Journalists were understandably a bit head-scratchy at the first ever BAR launch when they spied not one but two cars under the sheets. All became clear when drivers Jacques Villeneuve and Riccardo Zonta arrived on stage wearing different-coloured overalls, before revealing a pair of cars wearing different-coloured liveries. British American Tobacco, the team's backers, had obviously calculated that they could get more commercial bang for their buck by advertising two of their brands – Lucky Strike and 555 – in a Grand Prix, rather than just one.
Unfortunately for them, the pair of mismatched BARs were welcomed like a bout of norovirus by the FIA, who argued that both a team's cars should wear decals that were substantially similar. The solution to this impasse, as it turned out, was even more shocking than the launch reveal, with BAR opting to run one half of the car in the Lucky Strike colours and the other half in the 555 colours, with a zip up the middle completing the effect.
It was a dodgy look for what turned out to be a bit of a dodgy car, with Villeneuve retiring from the first 11 Grands Prix of the year, while Mika Salo, a three-race stand-in for the injured Zonta, gave the team their best performance of the year with seventh at the San Marino Grand Prix, despite an electrical problem meaning the Finn didn't actually see the chequered flag.
Enjoy these other memorable F1 car launches…