Report
Verstappen wins in Mexico as Hamilton clinches fifth world title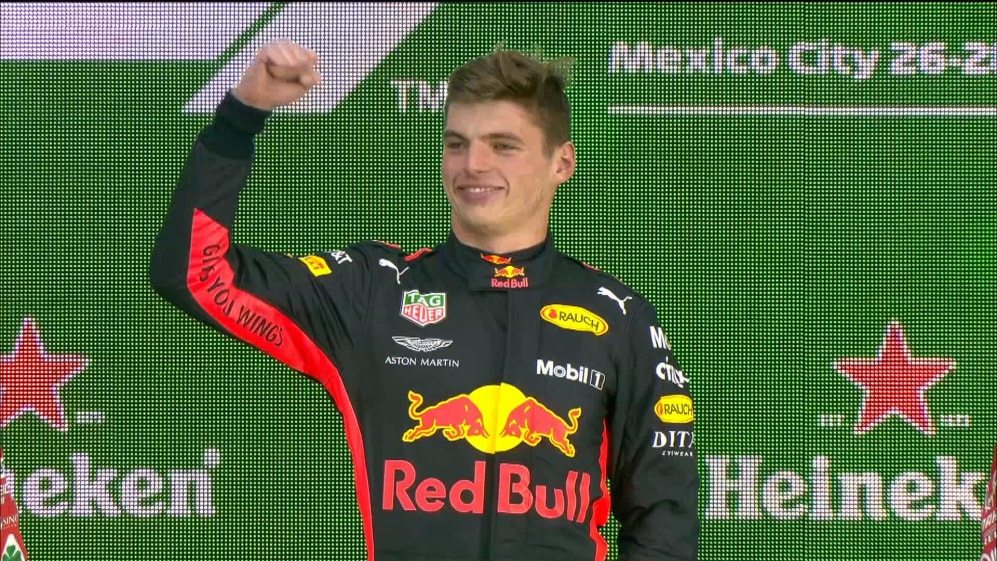 The champagne and the big trophy in Mexico City went to Max Verstappen, the Dutchman driving an exemplary race to repeat his 2017 victory at the Autodromo Hermanos Rodriguez. But while it was a fifth race win for Verstappen, it was a fifth title win for Lewis Hamilton, the British driver's fourth place enough to see him crowned champion with two races to go, becoming only the third ever driver, behind Juan Manuel Fangio and Michael Schumacher, to claim five world championships.
Verstappen's win was arguably the most polished of his career so far. He was incisive off the line to pip his pole-sitting team mate Daniel Ricciardo before enjoying a mostly lonely race out at the front of the field.
Sebastian Vettel knew that his chances of staying in the title hunt were minimal coming into the race. But despite putting in a fine performance – including executing a terrific move on Hamilton on lap 39 – to finish second, it wasn't enough for Vettel to deny Hamilton.
The German inherited that second place after Ricciardo suffered his eighth DNF of the season, after his engine appeared to let go on lap 62. It was a cruel twist of fate for the Australian, who had himself looked a shoe-in to make his first ever podium appearance in Mexico City.
Vettel was joined on the podium by his team mate Kimi Raikkonen, the Finn having had a mostly quiet afternoon but doing enough to deny Hamilton a podium finish on his momentous title-winning day. That left the Mercedes boys to finish fourth and fifth, Hamilton ahead of Valtteri Bottas, with Hamilton massively dropping his pace towards the race end to make it home safely and claim the championship.
Some fine midfield performances saw Nico Hulkenberg take sixth – good news for Renault on a day when Haas failed to score – Charles Leclerc finish seventh, while the beleaguered Stoffel Vandoorne was eighth to equal his best performance of the year.
But despite a crushing win for Verstappen to put Red Bull on top for the first time since Austria, the plaudits today have to go equally to Hamilton, the British driver now forming part of an exceptionally rare group of Formula 1 drivers.
The race as it happened
Less than 24 hours after his jubilation at taking pole position, Daniel Ricciardo's dreams of converting that into a victory all but ended within the first five seconds of the Grand Prix start, as his RB14 bogged down horribly off the line. That allowed team mate Verstappen to launch himself into the lead while Lewis Hamilton pounced on Ricciardo's misfortune to move himself into third.
Once Ricciardo had got back up to speed, he was left to duke it out for third place with Valtteri Bottas into Turn 1. The Australian won out, demoting Bottas into the path of Sebastian Vettel. And after a string of first lap incidents that hadn't gone the German's way this season, this time Vettel was incisive, fairly muscling past Bottas through Turns 4 and 5, his front left tyre making the lightest of contacts with Bottas' front wing before the Ferrari driver resumed in his well-earned fourth.
Further back, contact between the Force India of Esteban Ocon and Renault's Nico Hulkenberg claimed an unlikely victim, as a piece of Ocon's front wing skated underneath the McLaren of Fernando Alonso, ultimately causing the Spaniard's retirement five laps later.
Out front, Verstappen was in no mood to hang around, and immediately set to putting in quick laps to try and open up a gap to the chasing Hamilton. But tyres were clearly going to play a big role in this race, and Lewis Hamilton's ultrasofts were looking angry by the time he became the first of the front-runners to pit on lap 12, Mercedes double-stacking Hamilton and Bottas together and giving both drivers supersofts, Ricciardo and Verstappen following suit on laps 13 and 14. That left the Ferraris running one and two until they too double-stacked for supersofts on lap 18.
As the race settled into its rhythm, Verstappen was looking indomitable out front, pulling away from Hamilton as behind, Vettel, driving a great race, got after Ricciardo's third place. Once again, the Ferrari man was steely, firmly shouldering his way through into Turn 1 to claim P3 on lap 34.
And then, five laps later, came the confrontation that everyone had been waiting for, as Vettel closed in on Hamilton in P2. Would there be fireworks? Tyre-rubbing? Recriminations? Not this time, just some great wheel-to-wheel racing between two fine champions, Vettel DRS-ing past Hamilton into Turn 1 and then holding fast to take second. The championship might have been a step too far – but would a race win for Vettel be possible?
It became slightly more likely on lap 62 when Ricciardo pulled off to the road and out of second place at Turn 1, after suffering his second technical failure in as many weeks to deny Red Bull a chance to take their first one-two finish since Brazil 2013 in the process.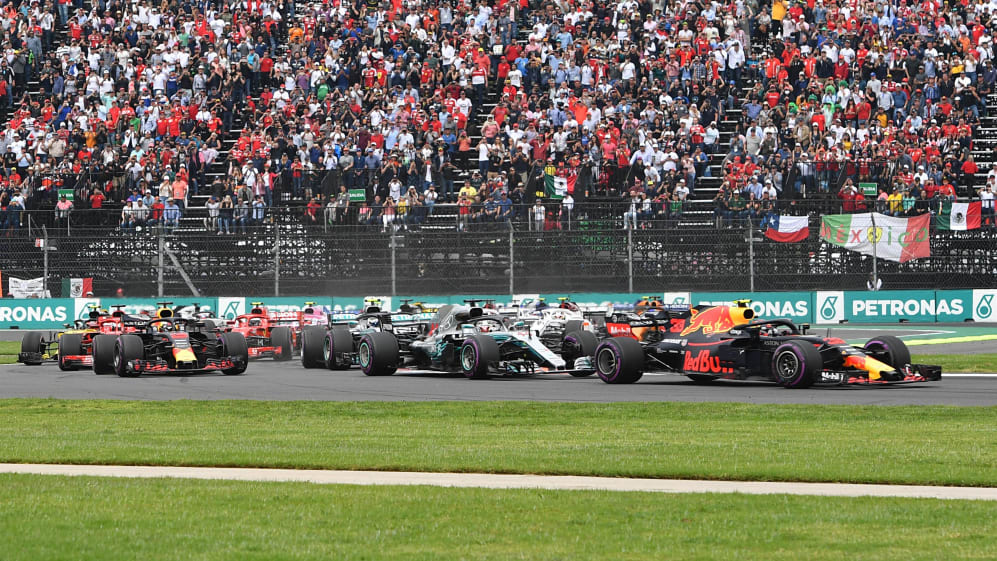 Unfortunately for Vettel, though, Verstappen was too far gone, as the Dutchman romped home to the fifth win of his career, with Raikkonen ending up a quiet third to help keep the constructors' battle between Mercedes and Ferrari rumbling on until Brazil.
Hamilton, despite knowing that a top-seven finish would be enough to take the championship, endured an unhappy Grand Prix, relaying a series of edgy messages back to his team about everything from his tyres to his lack of interest in Raikkonen's current position, his pace nowhere near that of the Red Bulls and Ferraris ahead as he struggled with graining throughout.
But as he rounded the final corner to claim fourth - his joint second-lowest finishing position of the year – it all ceased to matter, as Hamilton drove his way into the history books. And though Vettel had arguably been the better driver on the day, there was no way for the German to hide his dejection as he stood being interviewed following yet another championship bid going up in smoke.
"It's a very strange feeling right now," said Hamilton. "To complete this, when Fangio did it with Mercedes, is an incredible feeling. It's very, very surreal at the moment."
Further back, Haas endured one of their worst performances of the year as Kevin Magnussen and Romain Grosjean finished as the final two runners, something that won't have helped the American squad as they sought to claim Renault's fourth place in the constructors' standings. That dream became even more distant after Nico Hulkenberg emphatically claimed the 'best of the rest' mantle in sixth – although team mate Carlos Sainz retired on lap 31, having looked set for a major points haul himself – while Stoffel Vandoorne had one of his best performances of the year to finish eighth and claim his first points since Baku all the way back in April.
But while it was Hamilton who was busy setting records, the 'Driver of the Day' vote quite rightly went to Max Verstappen, the Dutchman putting together one of his most convincing race performances to offset the stinging disappointment he'd felt at being beaten to pole by Ricciardo yesterday.
"Amazing," said Verstappen. "To be honest with you, I didn't sleep very well last night, so I was really determined to win."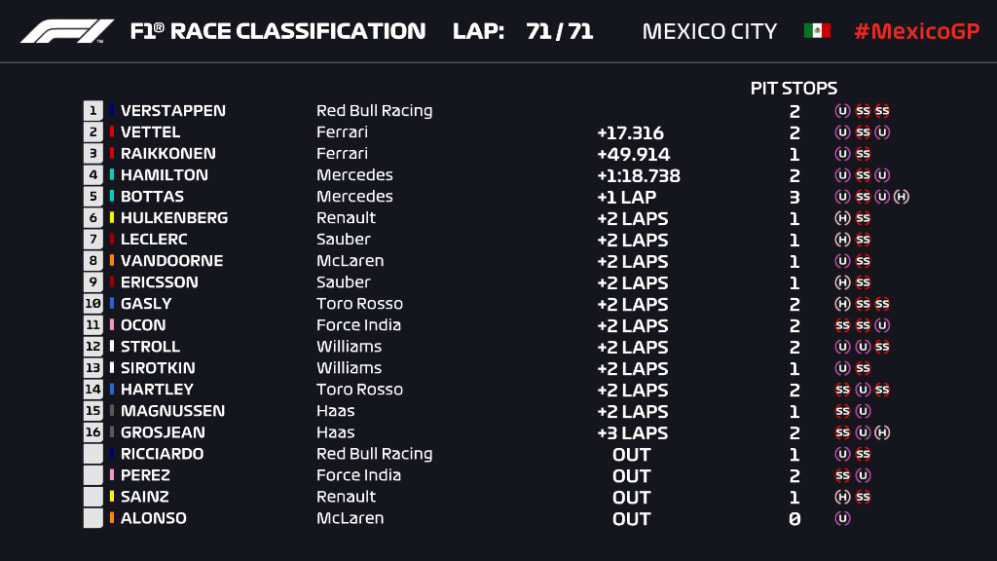 The key quote
"The start was the key… I was really determined to win last night and luckily we did that. Amazing job by the team as well. We had the right tyres available and the car was working really well. It was a shame to lose Daniel, I think we could have had a one-two or at least two cars on the podium. And of course then afterwards you want to make sure that yours doesn't retire. [Now] I'm going home so really happy about that." – Max Verstappen
The key stats
For the third time in his five championship-clinching races, Lewis Hamilton has failed to finish on the podium (along with 2008 and 2017). It's also the first time Hamilton's been off the podium in 10 races.

This is the first time Max Verstappen has won twice at the same venue.

Verstappen also claims the record for the most amount of victories (five) without ever claiming pole, surpassing Bruce McLaren and Eddie Irvine.

Second marks Sebastian Vettel's best finish since the Belgian Grand Prix back in August.

Valtteri Bottas now only has two races to avoid becoming the first Mercedes driver to fail to win at least one Grand Prix in a season in the post-2014 hybrid era.

Nico Hulkenberg has finished sixth in the past two races, and is now 12 points clear in the 'best of the rest' race. Seventh will mark his best ever championship finish, with The Hulk having never been better than ninth in the title race previously.

Stoffel Vandoorne ends the longest point-less streak of any active driver – he'd gone 15 races without a top 10 finish up until now.

Marcus Ericsson claims his first consecutive points finish since the 2015 Italian Grand Prix.

Poor Sergio Perez had the misfortune of retiring at his home race, despite having only not finished three of the previous 68 Grands Prix.

Pierre Gasly gives Toro Rosso their first point in Mexico since 2015.
DRIVER OF THE DAY – Max Verstappen
DHL Fastest Lap
Valtteri Bottas (Mercedes) – 1m 18.741s
What's next?
One title race might be settled, but there's still the constructors' to be sorted, and battle will recommence between Mercedes and Ferrari at the Brazilian Grand Prix on November 9-11. Will Valtteri Bottas get his chance at victory? Will Daniel Ricciardo be able to make it onto the podium as his time with Red Bull comes to a close? Exciting times are still ahead people.