Report
F1 Esports Series Pro Championship: Longuet cruises to victory in Round 10 at Suzuka as Ronhaar closes on Blakeley
Alfa Romeo's Nicolas Longuet took an emphatic victory at Suzuka on Wednesday evening, claiming his first win since 2020, with the Grand Final of the 2022 F1 Esports Series Pro Championship Grand Final well under way.
The Frenchman started on the front row of the grid alongside ever-present qualifying expert Thomas Ronhaar, but using the superior grip of the medium tyres he got the jump and won the race down to Turn 1.
Ronhaar was a threat for the closing stages and may have even taken a third win of 2022, if not for some defensive driving from Jake Benham, which allowed Longuet to build more of a lead.
READ MORE: Who will be crowned champion in the final 3 events of the thrilling 2022 F1 Esports Series Pro Championship?
Longuet and team mate Dani Bereznay were two of just three drivers to start on the mediums – the other being Alpine's Patrik Sipos – and before long Bereznay made it an Alfa one-two, surpassing Ronhaar for second on Lap 4.
After building a huge lead, Longuet ditched his mediums in favour of the hards on Lap 12. A few laps later, Ronhaar did the opposite, and emerged with the gap to P1 halved.
Ronhaar, however, was held up massively by the Mercedes of Jake Benham, who toured the circuit on his old tyres, refusing to let the title contender through.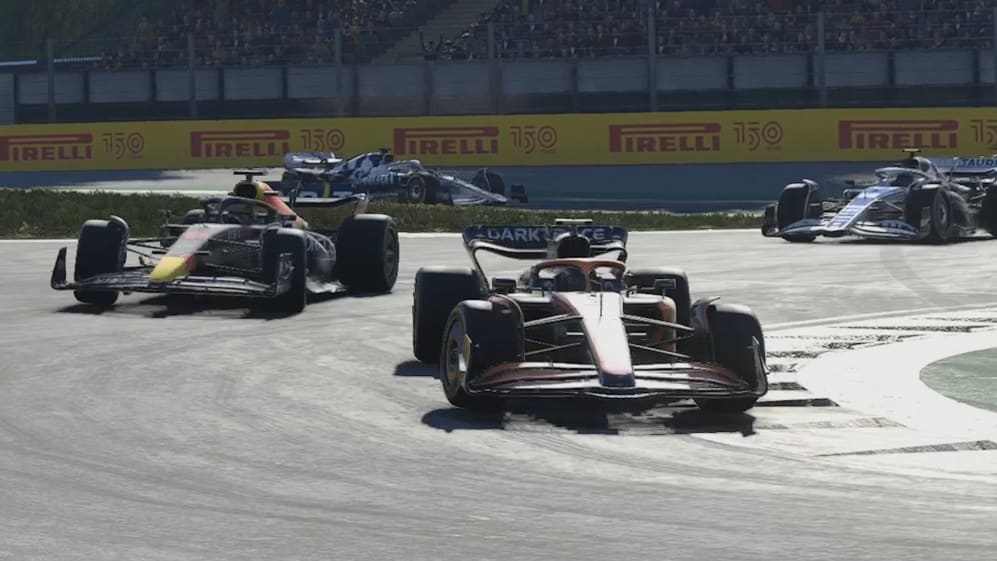 The chaos reached its pinnacle on Lap 19, first with Bereznay spinning out of the points. Simon Weigang, Daniele Haddad and Joni Tormala then got tangled up, dropping all three of them from the fringes of the top 10.
Out in front, Ronhaar finally got past the wall of Benham, but it was too late, and the Dutchman ran out of laps to catch his rival. Behind the top two, Frede Rasmussen had a quiet ascent to P3, putting himself back in title contention.
McLaren Shadow pairing Lucas Blakeley and Bari Boroumand took top-five finishes, earning the squad their first teams' championship. Brendon Leigh, Sebastian Job, Matthijs van Erven, Fabrizio Donoso and Marcel Kiefer completed the points.
BEYOND THE GRID: Enjoy the best moments from 2022, featuring Vettel, Russell, Sainz and more
Outside championship contender Jarno Opmeer failed to finish the race. Already compromised by getting knocked out in Q1, his race through the pack was halted when he spun racing Donoso. Devastated, he retired from the session, and now sits 34 points off the title lead – improbable, but not impossible.
In the drivers' standings, Ronhaar is just five points behind Blakeley, with Rasmussen a further 14 points off the lead.
The action resumes on Thursday evening, when we're off to Interlagos, Brazil. Join us from 1530 UTC for the qualifying show, with the race beginning at 1900 UTC. Head to the official F1 Esports website for more information.
Oops! Error retrieving Twitter post