Podcast
F1 NATION: The gang look ahead to Silverstone as Mercedes detail 'bigger, more visible' upgrade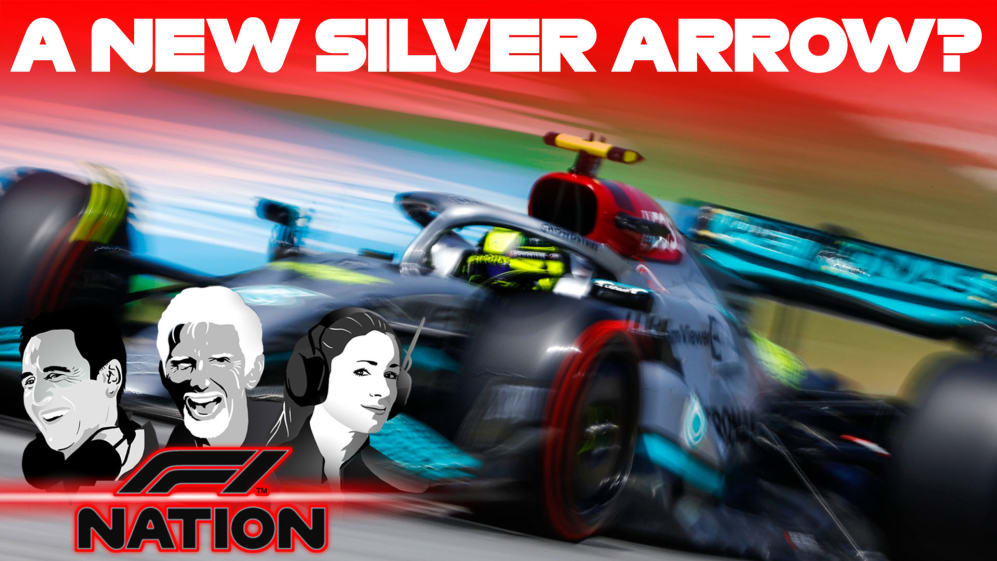 In this week's F1 Nation, Tom Clarkson and Damon Hill talk all the big topics ahead of the 2022 British Grand Prix – with Mercedes' Trackside Engineering Director Andrew Shovlin revealing how the Silver Arrows are gearing up to take on Ferrari and Red Bull at home...
Damon starts with his British GP memories and brings it back to the present, weighing up how Max Verstappen and Charles Leclerc stand ahead of this Silverstone skirmish.
This might be the Ferrari and Red Bull show but Mercedes are hoping to crash the party with a host of new parts, and who better to explain the upgrades than Shovlin?
READ MORE: An all-British Mercedes line-up and Leclerc on the attack – 5 storylines we're excited about ahead of the 2022 British GP
"The reality is, we've been updating the car pretty much every race, but fairly subtle updates in the recent ones, trying a few experiments, but Silverstone is one of the target events for us where we're going to bring a bigger and more visible package – and hopefully we'll make a step forward… " begins Mercedes' engineering chief.
"Not quite [sidepods] but we're looking at different front wings, rear wings, there'll be some changes on the floor, so a few other bits and bobs. But a lot of development this year is going on under the cars where people don't see it, but this will be a bit more obvious to those looking."
Will the new upgrades bring Mercedes closer to the top two teams?
"Well, we hope so," replies Shovlin. "This team's had a very good record of bringing updates that have worked and literally year after year everything we've made, we put on the car [and] it seemed to deliver and with these latest regulations, that hasn't been the same.
WATCH: Relive the key moments from last year's controversial British Grand Prix
"We've been working quite hard to understand those issues and we've made a fair bit of progress… but we don't yet have the level of confidence to say that we can go back to our old level of operation where we can bolt things on and get on with the weekend. We will be checking that this is performing as we hoped it should.
"But as I said, we've learned quite a lot in recent months so we're optimistic that it should be a step forward. Hopefully the circuit will suit us as well."
To hear more from Shovlin on the mindset of Mercedes' engineers, their plan for Silverstone – plus much more including the latest 'Ask Damon', listen to F1 Nation in the player above or head here to catch it on your preferred platform.