Feature
Need to know: Russia
From session times to previous winners, we break down the key facts, stats and information ahead of the fourth round of the season...
Sochi: fast for a 'street' track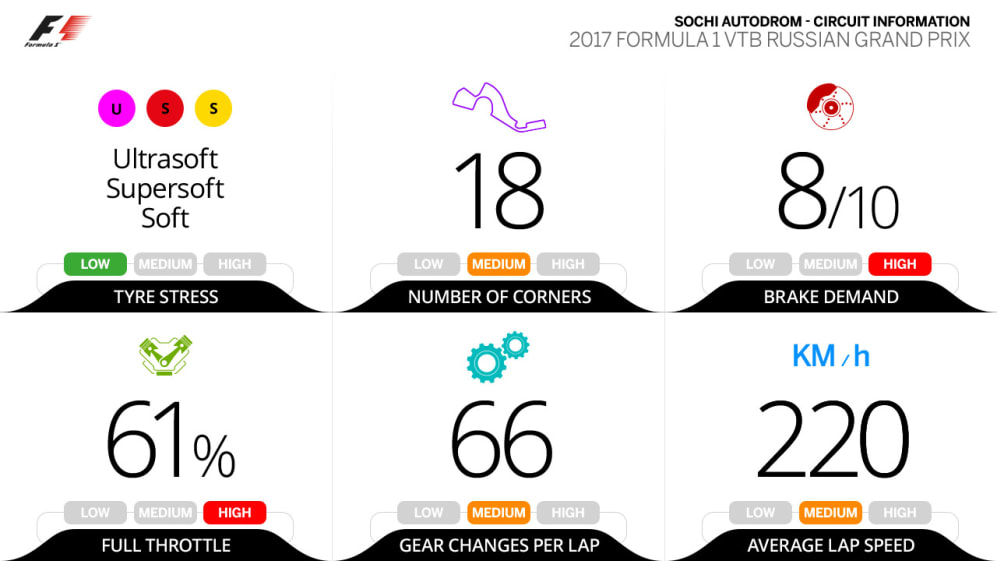 Opened in 2014 using roads linking Sochi's various Olympic venues, Russia's F1 circuit is something of a curiosity in that it's a purpose-built facility which shares many of the characteristics of a street circuit, such as right-angled bends, close concrete walls and limited run-off. Having said that, in speed (and length) terms it's more akin to Baku than Monaco, with its relatively stop-start layout placing big demands on both the power unit/energy management and brakes.
The key corner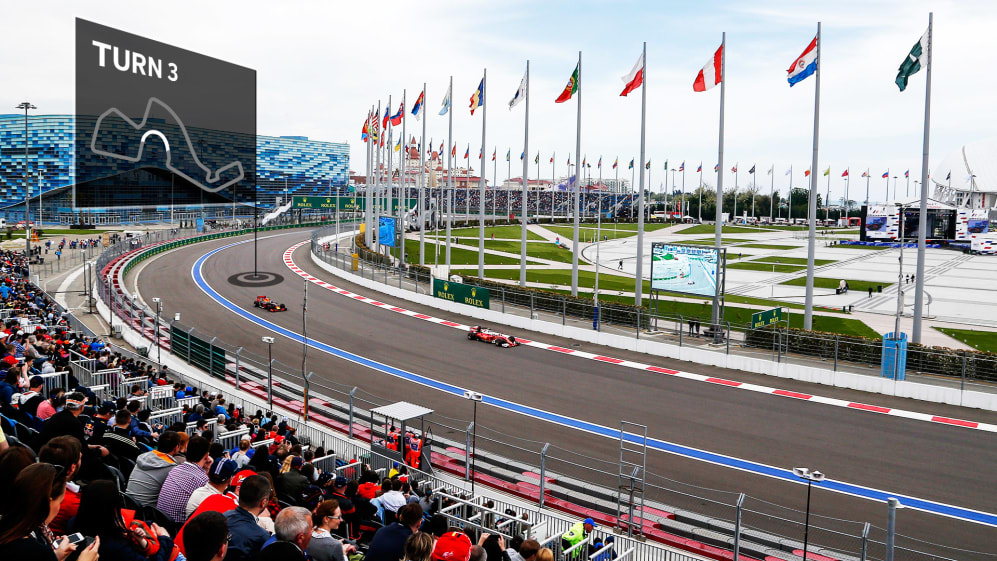 Sochi's signature corner is the high-speed, long-radius left-hander at Turn 3, which skirts around the flag-lined Olympic Medal Plaza. The corner is not only a good barometer of car balance and performance, it's also one that places big demands on the drivers from a G-force perspective – not least because with the beginning of the season dominated by clockwise circuit layouts, the drivers haven't had to deal with any left-hander like this. The question is, with 2017's faster machinery, how many more Gs will the drivers be pulling through Turn 3 this year?
Hamilton the man to beat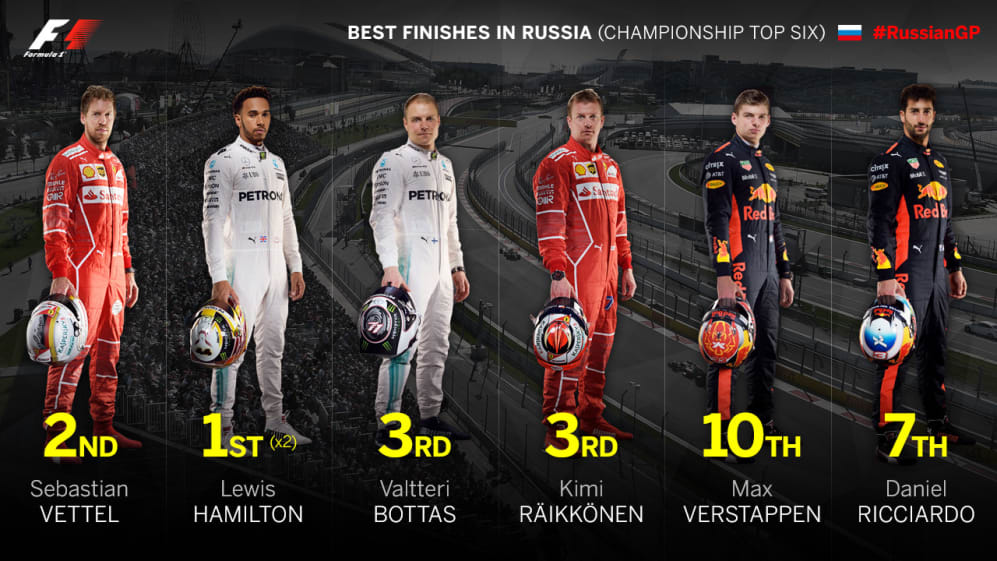 Sebastian Vettel may have been victorious in two of the first three races of the year, but on paper the man to beat in Sochi is the driver directly below him in the current standings: Lewis Hamilton. The three-time world champion won the first two races in Sochi, and he might have made it a hat-trick last year if power unit problems hadn't beset him ahead of Q3 and consigned him to a P10 grid slot. Car advantage or not, that he recovered to finish second (to former team mate Nico Rosberg) says much about Hamilton's prowess around a track that rewards drivers who possess excellent brake feel.
Ferrari looking for first front-row start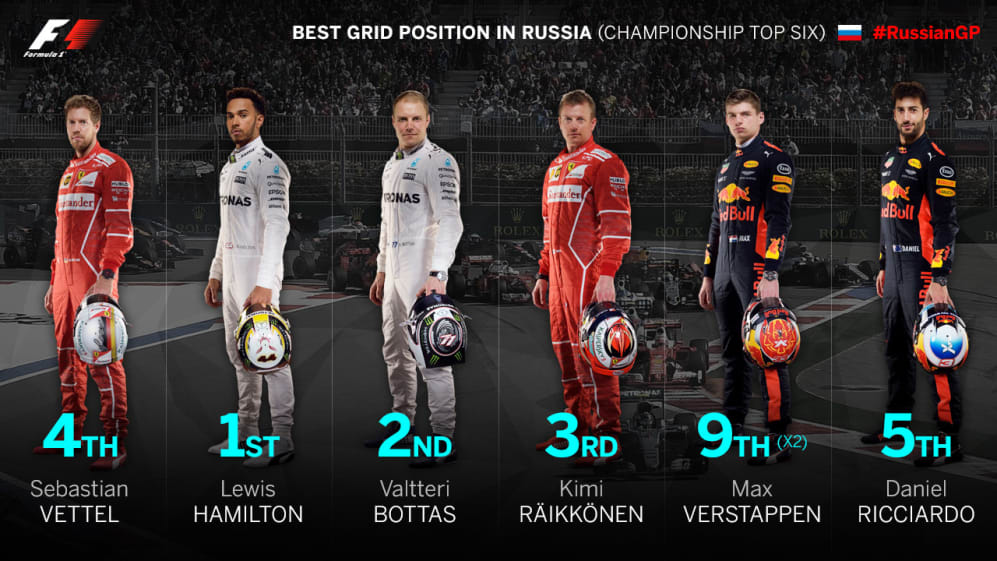 Mercedes' domination of Sochi has been such that only one other team has ever made it onto the front row at the Russian circuit, and that was Williams who claimed P2 last year with current Silver Arrows star Valtteri Bottas (in Hamilton's Q3 absence, lest we forget). In the same session Kimi Raikkonen secured third on the grid for Ferrari, their best Sochi starting slot – but will this be the year they finally break onto the front row? And even if they don't, does it matter? Yes, all three victories in Sochi have come from the front row (two from pole, the other from P2) – but Vettel won last time out in Bahrain from P3…
Quote unquote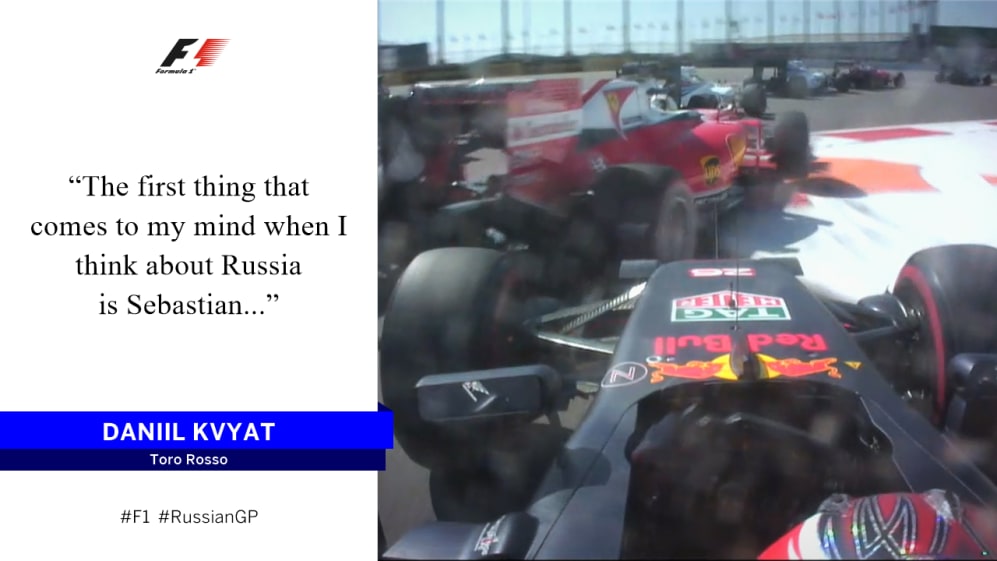 After a fine fifth place finish on home soil in 2015, Daniil Kvyat found himself the centre of attention for all the wrong reasons last year in Sochi when he hit Sebastian Vettel not once but twice on the opening lap, resulting in the German's retirement. It proved to be Kvyat's last act in Red Bull machinery as he was subsequently sent back to Toro Rosso with Max Verstappen going in the opposite direction. After scoring in Australia, Kvyat has missed the points in the last two races. What better place then to get back into the top ten - and banish the memories of 2016.
A record set to fall?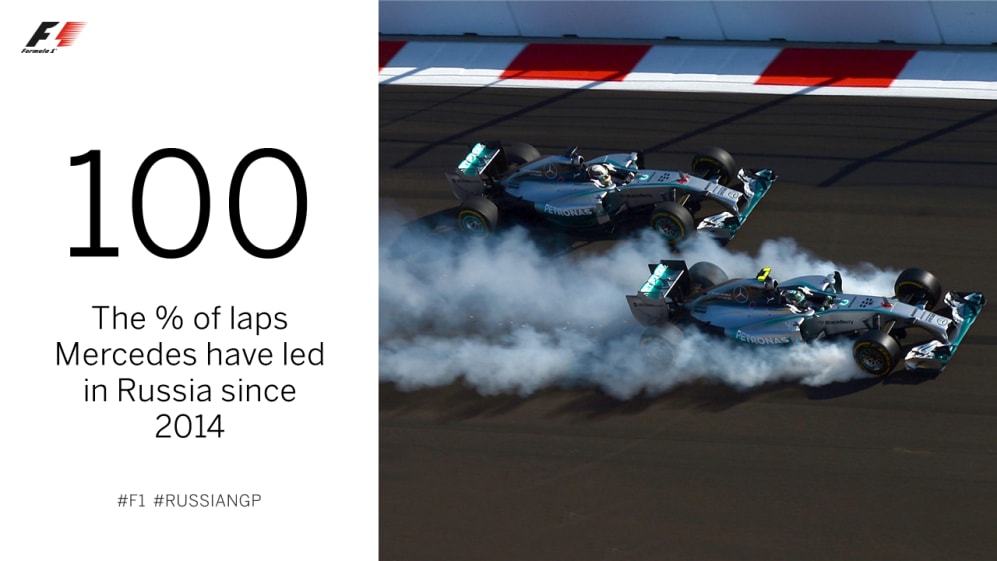 We mentioned Mercedes' previous domination of Sochi – and here it is in black and white. Of the 159 racing laps held to date in Russia, the Silver Arrows have led them all (100 to Lewis Hamilton, the rest to Nico Rosberg). This year's laps led split after three races? Mercedes 95, Ferrari 75...
Will anyone else join the Sochi podium club?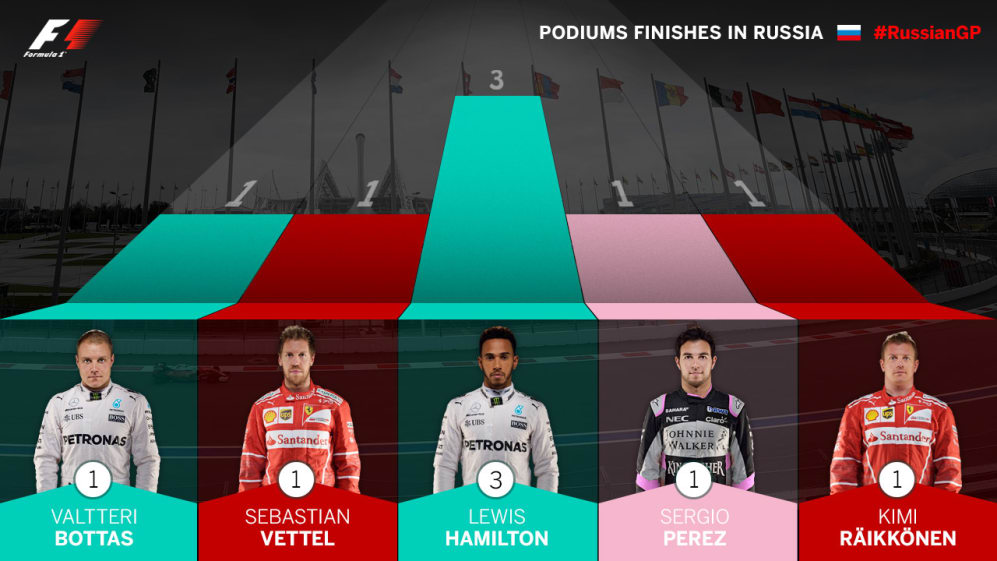 Only five of the current grid have ever stood on the rostrum in Russia, with Lewis Hamilton a perfect three for three. Ferrari, Williams (with Bottas) and Force India have also gained podiums – but Red Bull are still waiting for a first, with their best result in Sochi Daniil Kvyat's fifth place in 2015. The Milton Keynes team failed to end their four-year search for a Bahrain podium last time out – what chance of a Sochi podium this weekend?
Williams looking to extend brilliant Sochi run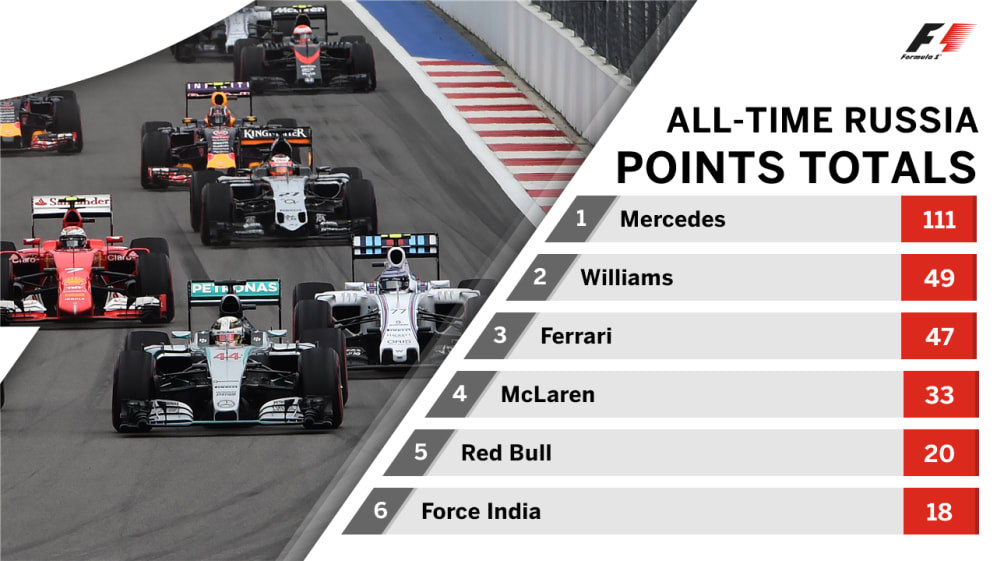 Other than Mercedes, the team that has shown best at Sochi in the three previous races is Williams. Valtteri Bottas and Felipe Massa finished fourth and fifth here last year, and they might have been third and sixth in 2015 had Kimi Raikkonen not clattered into Bottas on the last lap. Given their recent travails, some might be surprised to see McLaren with the fourth-best points haul in Russian Grand Prix history, but the Woking team have scored points in every race to date, including a fabulous sixth place with Fernando Alonso last year. On current form, a repeat looks unlikely…
Those all-important session times...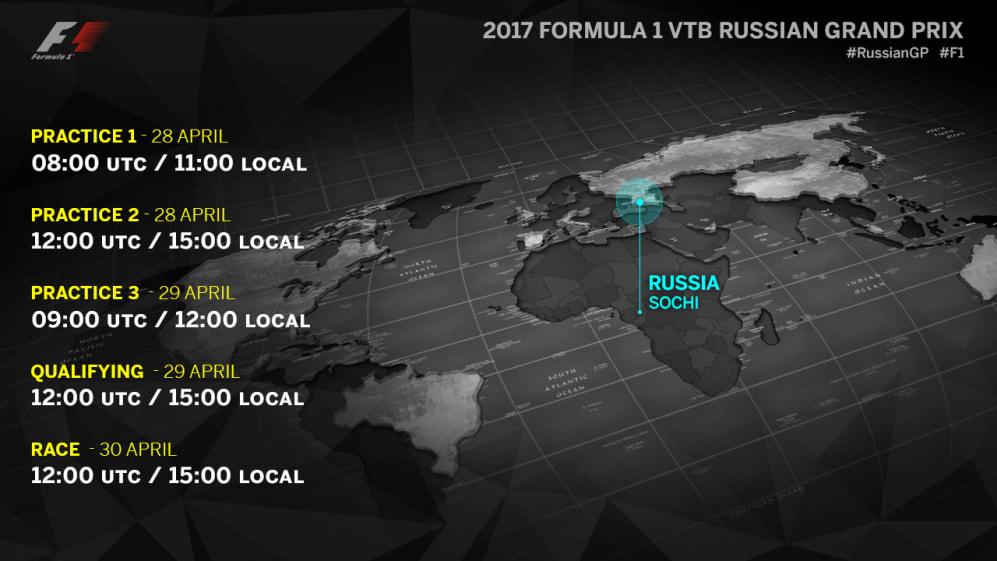 Don't forget, if you are registered with F1® Access (it's free!) you can follow live timing and commentary from Russia on Formula1.com, or by downloading the Official F1 App. For more details, click here.